Spring Break Safari: Reflection Riding Arboretum and Nature Center
What if you could. . .  
. . .be a Junior Naturalist and explore over 300 acres of wildlife habitats, study native animals and plants, and meet the endangered American red wolf right here in Chattanooga?
Be a Junior Naturalist
Friday, March 11 - Sunday, April 17, 2022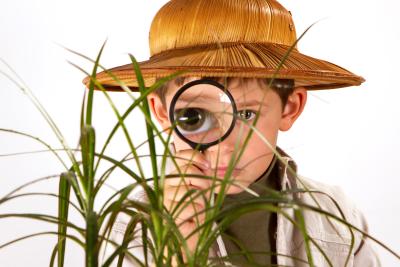 Junior Naturalists! Join us for a Spring Break Safari at Reflection Riding.  
Did you know safaris aren't just for far-away destinations? There are so many things to see right here in Chattanooga and spring can be the most exciting time to explore the forests and fields. You can see wildflowers, birds, butterflies, and even certain species that live nowhere else in the world except here in the Tennessee Valley!  
On our exciting safari, you'll discover a few of the animals and plants that we love most—including Tennessee's official state tree and bird. If you're lucky, you'll hear the haunting howls of the magnificent endangered American red wolf. Be sure to ask for an update on whether we have new pups. Note that during the breeding season we have to let our wolves have their quiet time without large groups of humans but small group tours can be scheduled in advance. 
Ready to explore? Check-in with the Welcome Center staff—who will have a campfire ready to warm you up if it's a cooler spring day. They'll let you know what's currently blooming and what fun events are planned for the day. Everything changes with the weather on our outdoor campus so be sure to check back regularly to learn what's new. 
This Safari takes you through several different wildlife habitats within a short walk of the Welcome Center: the bottomland forest where we have a new Nature PlayScape to explore, the Blue Heron wetland with its magical treehouse, boardwalk, and canoe launch on Lookout Creek and Candy Flats, a large pasture providing magnificent views of Lookout Mountain. Longer hikes are available if you have more time to explore our 300 acres.  
Details
Hours: Tues.-Sat. 9 am-4 pm 
Tickets: By donation, pay as you can. Plan your visit here.  

Cost: We suggest $15 per family. Behind-the-scenes tours require reservations and additional fees. 
Details subject to change. Check the website for the most current information and all Reflection Riding Arboretum & Nature Center spring happenings!