Holiday Events in Chattanooga
In addition to the Holiday Trail of Lights, winter in Chattanooga features an array of festivals, holiday events, Santa sightings, shopping, live music and entertainment scattered throughout the city.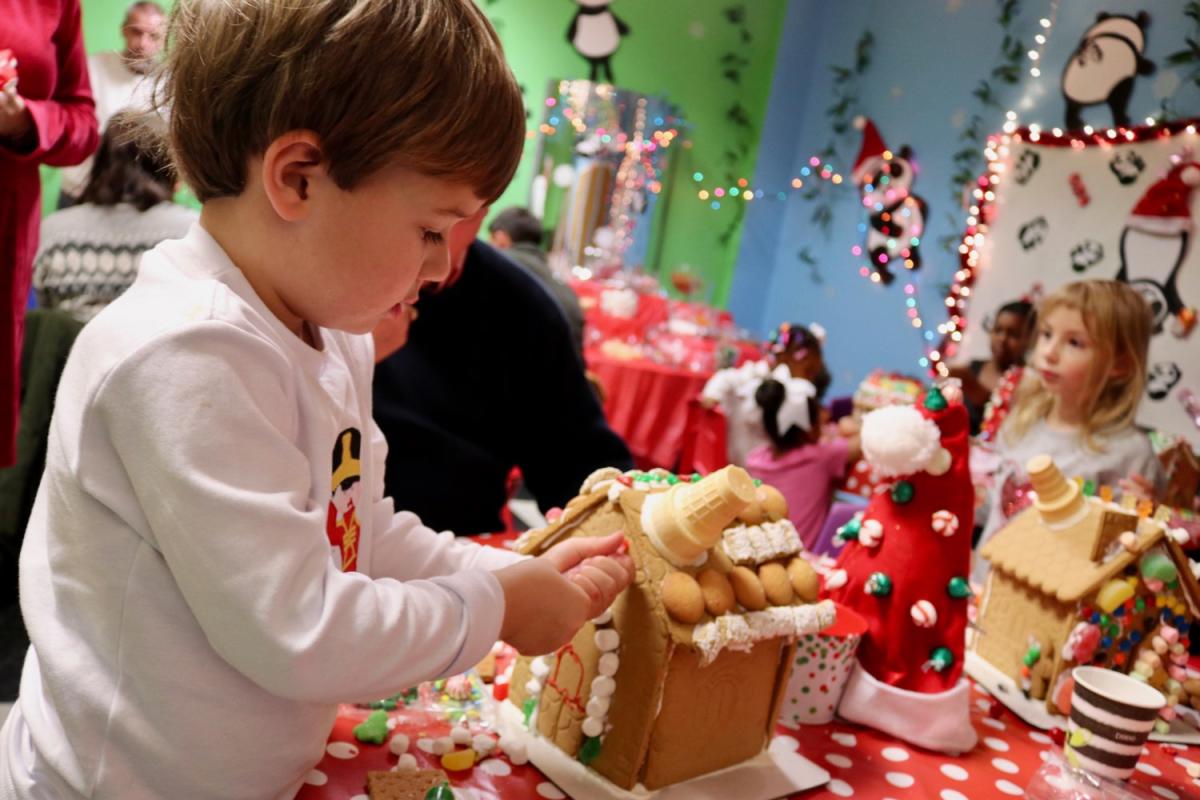 In addition to the Holiday Trail of Lights, winter in Chattanooga features an array of festivals, holiday events, Santa sightings, shopping, live music and entertainment scattered throughout the city.
Santa's Wonderland at Bass Pro Shops
Nov. 8-Dec. 24, 2020
Bass Pro Shops is proud to invite families to the beloved tradition of visiting Santa Claus in person this holiday season, with a reimagined free Santa's Wonderland experience in Chattanooga. The contactless visit with Santa includes a comprehensive approach to help ensure everyone's safety throughout the event.
Tennessee Valley Railroad's Christmas Dinner Train 
Nov. 20-Dec. 28 
Enjoy a four-course dining experience on board a restored 1924 dining car this holiday season. The excursion trains will depart from Chattanooga's Grand Junction Station at 7 p.m., traveling at a leisurely pace through portions of urban East Chattanooga before reversing direction and returning to Grand Junction. The travel time is just right for the complete meal on a vintage dining car. 
Holiday Window Treasure Hunt on the North Shore
Nov. 18, 2020-Jan. 3, 2020 
The NorthShore Merchants Collective is hosting its 6th Annual Holiday Window Treasure Hunt to benefit the Northside Neighborhood House. The safe, outdoor, family-friendly game features hidden treasures, beautifully decorated holiday store windows and three gift baskets. The hunt begins during the North Shore's Holiday Open House Week on Monday, Nov. 18 and runs through Jan. 3, 2020. To join the fun, pick up a game card from any of the 28 participating businesses. The game directs participants to the North Shore's sidewalks to look for unlikely hidden items in the windows of local businesses. 
Holiday Open House on Manufacturers Road
Nov. 18-23 
Enjoy a festive outing at the shops along Manufacturers Road in Chattanooga, including the stores at Signal Mill and 2 North Shore. Santa will make an appearance Saturday, Nov. 23, for socially distanced photos outside at Signal Mill. Pets are welcome for photos with Santa! 
Gingerbread Workshops at the Creative Discovery Museum 
Nov. 27-29, Dec. 5-6, 12-13, 19-20 
Kick off the holiday season with this sweet tradition. The whole family will enjoy creating sweet and sticky houses from gingerbread, icing, candy and other sugary confections. The workshop includes hot chocolate, cookies, pre-built houses, icing, candy and holiday music. Admission to the Creative Discovery Museum is included for non-members participating in the workshop. Reservations are required in advance. 
Holiday Lighted Boat Parade 
Nov. 27, 2020, 5-8:30 p.m. 
Enjoy holiday lights along the Tennessee River with this cheery event at the Chattanooga Riverfront. View the Lighted Boat Parade from many points along and over the river. The boats are expected to float under the Walnut Street Bridge somewhere between 6:30-7 p.m. 
Southern Belle Riverboat's Breakfast with Santa Cruise 
Dec. 2020 
Start the day with a pancake breakfast on the Southern Belle! After breakfast, be razzled and dazzled by a magic show and enjoy a visit with the man in the big red suit to find out if you've made the naughty or nice list this year. Call (423) 266-4488 to schedule.
It's a Wonderful Life: Live Radio Play 
Dec. 4-20 
With It's a Wonderful Life: Live Radio Play, Joe Landry has adapted Frank Capra's beloved holiday classic film for the stage as a 1940s radio broadcast with a small ensemble playing a few dozen characters to tell the story of the idealistic George Bailey. It's a fresh and inventive way of reconnecting with a classic story of love and redemption. 
Tennessee Valley Railroad's Hiwassee Holiday Train 
Dec. 5-20 
All aboard for a Hiwassee Holiday Adventure! The Santa Train will operate along the beautiful Hiwassee River from Delano to Reliance. Upon departure, riders will enjoy light refreshments, storytelling and Christmas carols.  
Chattanooga Holiday Market at the Chattanooga Convention Center  (FREE) 
Dec. 5-6, 12-13 & 19-20 
As part of the Chattanooga Market, this market offers a special holiday theme with live music, caroling, festivities, and more than 200 vendors providing a great assortment of unique, locally hand-made items, holiday décor, and artisan foods for all of your holiday gift needs. 
Lodge Cast Iron Bake-Off (FREE) 
Dec. 12, 11 a.m.-3 p.m. 
The annual Lodge Cast Iron Bake-Off features our city's most prominent and rising chefs. It's a chance to watch live as they create culinary delights for a panel of judges. 
Christmas Cookies and Fancy Treats Baking Class
Dec. 15, 6-9 p.m.
Enjoy an evening filled with learning, baking and tasting. Chef Heather has created this new class to spark baking creativity. Everything you make in class will go home with you to enjoy with your family and friends. Create peppermint patties, fudge, madeleines and a couple other surprises! Hands-on with chef demonstrations. For ages 12 and up.
Gingerbread House Decorating Competition
Dec. 15-17, 2020
Join the Houston Museum of Decorative Arts in some holiday fun! We will be holding a gingerbread house decorating competition that will be judged on December 17th. You decorate your gingerbread house at home then bring it to the Houston Museum between the 15th and 17th of December. For kids 8-14. First, second and third place take home a prize!
NYE Champagne Cocktails (Virtual)
Dec. 17, 2020
In this cocktail class, we will be discussing and tasting drinks inspired by the most important wine: champagne! These drinks are the perfect thing to serve at your stuck-at-home NYE party. Participants will learn the basic skills needed to replicate three tasty drinks at home, as well as fun ways to impress your friends and families with homemade ingredients and fun garnishes. At the end of the class, everyone will receive access to all of the recipes and instructions on how to impress your family and friends!
Georgia Winery Christmas Open House
Saturdays through Dec. 19
Join in this magical wine & shopping experience! Enjoy Hot Mulled Wine, the release of our new seasonal wine Santa's Helper, and enjoy refreshments while shopping for unique gifts for everyone on your list! Gift baskets start at $22.95 or let us custom make the perfect basket for you (must be able to pick up the next business day).
Scenic City Dance Presents: The Nutcracker
Dec. 20-21, Times Vary
Follow Clara and the Nutcracker Prince through a magical dream. This ballet brings character to life and takes you through a whimsical experience of snow and sweets.
Painting Happy Hour: Nordic Gnome
Dec. 21
It may be snowing outside, but with his cozy hat and cheery disposition, this little gnome friend isn't bothered by the cold. (The woolly whiskers probably don't hurt, either.) He loves chocolate chip cookies, hot cocoa, and long chats by the fireplace. With this little guy around, you can't help but feel warm inside! Join Amy Brauer of Nooga Studio to paint your own Nordic Gnome friend to bring some hygge to your home this holiday! This beginner-friendly holiday class makes for an easygoing painting experience and a winner for your wall.
Gingerbread House Making Workshop 
Dec. 22, 6-9 p.m. 
This class will include making your very own gingerbread dough (great for gingerbread houses or cookies!). You will also roll the dough, cut out your pieces using a template and bake. Chef Heather will walk you through mastering royal icing to "glue" your house together and decorating. There will be many fun edible decorations for you to choose from to make your own masterpiece. Hands-on with chef demonstrations. For ages 12 and up.
Click HERE for a list of where you can see Santa and HERE for more Christmas music in Chattanooga.