Holiday Events in Chattanooga
In addition to the Holiday Trail of Lights, winter in Chattanooga features an array of festivals, holiday events, Santa sightings, shopping, live music and entertainment scattered throughout the city.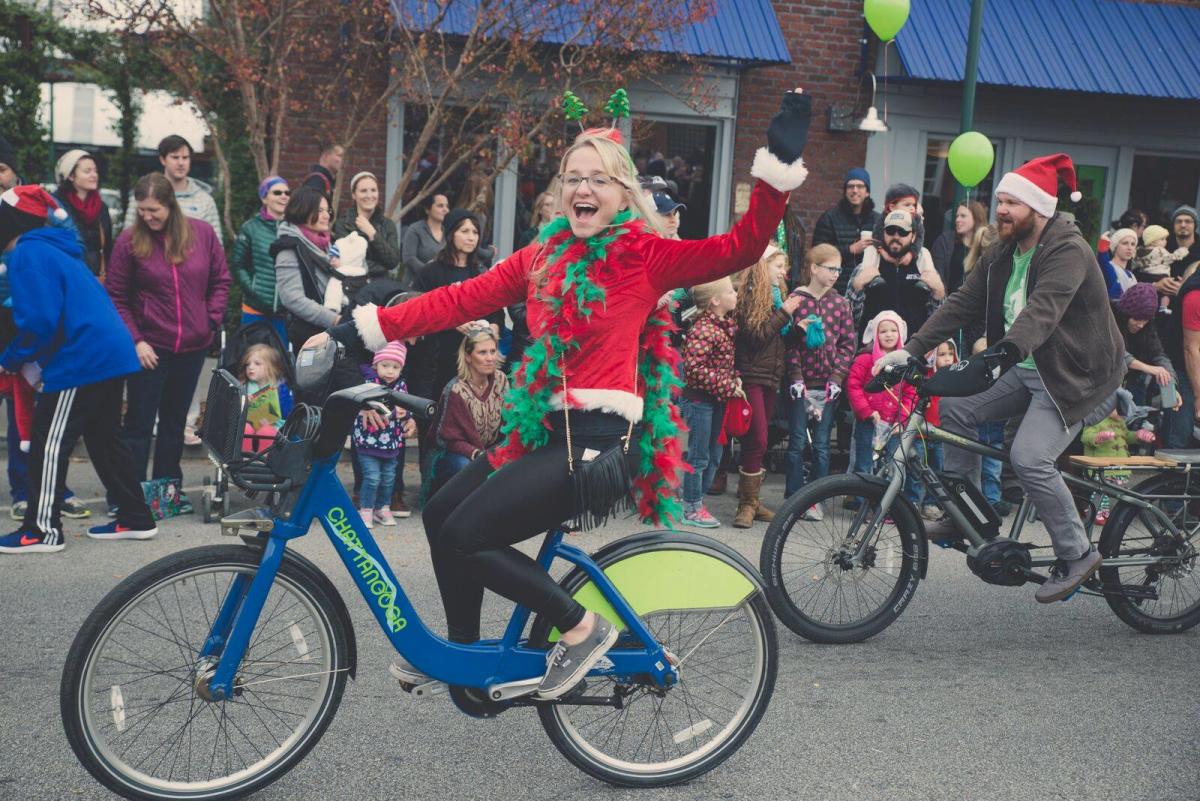 Holiday Trail of Lights Selfie Station at the Chattanooga Visitors Center
Nov. 15, 2019-Jan. 17, 2020, Fri. & Sat., 10 a.m.-5 p.m.
Stop by the Chattanooga Visitors Center at The Block (215 Broad Street) to snap a selfie with some fun and festive props! You can even include your pet (on leash). Post your selfie with #TrailofLightsCHA. Get to know our Visitors Center staff, and receive a free Moon Pie when you stop by to snap a #TrailofLightsCHA selfie! Chattanooga Visitors Center is closed on Thanksgiving, Christmas and New Year's days. FREE
Tennessee Valley Railroad's Christmas Dinner Train
Nov. 15-Dec. 29
Enjoy a four-course dining experience on board a restored 1924 dining car this holiday season. The excursion trains will depart from Chattanooga's Grand Junction Station at 7 p.m., traveling at a leisurely pace through portions of urban East Chattanooga before reversing direction and returning to Grand Junction. The travel time is just right for the complete meal on a vintage dining car.
Snow Day at the Creative Discovery Museum
Nov. 16, 12-4 p.m.
Let it snow! Let it snow! Let it snow! Spend the afternoon enjoying the first "snow fall" in Chattanooga with special guests Jack Frost and Suzy Snowflake, who will help welcome the first "snowfall" of the year. The first flakes will fall at 1 p.m. After that, the snow will fly every 30 minutes, with the final flurry at 4 p.m. Between wintery precipitations, wander and enjoy wintry activities throughout the Creative Discovery Museum.
U.S. Capitol Christmas Tree Tour at Miller Park 
Nov. 21, 11 a.m.-2 p.m.
A special Miller Park Farmers Market event: Enjoy a full farmers and gift market, food trucks, music and more at the Miller Park Holiday Market and U.S. Capitol Tree Visit on Thursday, Nov. 21. With the festivities starting at 11am, the U.S. Capitol Christmas tree will make a stop in Chattanooga at the market from 11:45 a.m. to 12:45 p.m. as it makes its way from New Mexico to Washington, D.C. Under the theme of Delivering Enchantment, the 60-foot tall Blue Spruce is making a 2,000-mile expedition culminating with the official tree lighting on the West Lawn in early December. Open to the public and free for all to enjoy, including music from Dan Pinson and a special visit from Santa and Mrs. Claus.
Holiday Window Treasure Hunt on the North Shore
Nov. 22, 2019-Jan. 5, 2020
The NorthShore Merchants Collective is hosting its 5th Annual Holiday Window Treasure Hunt to benefit the Northside Neighborhood House. The game features hidden treasures, beautifully decorated holiday store windows and a gift basket worth over $1,000. The hunt begins during the North Shore's Holiday Open House on Friday, Nov. 22 and runs through Jan. 5, 2020. To join the fun, pick up a game card from any of the 28 participating businesses. The game directs participants to the North Shore's sidewalks to look for unlikely hidden items in the windows of local businesses.
Scrooge: A Unity Carol at Lee University Dixon Center
Nov. 22-24
Come experience a timeless masterpiece from the brilliant mind of Charles Dickens. This production tells the story of Ebenezer Scrooge as he journeys through his past, present, and future to melt his cold heart. Told through dance and drama, Unity Dance Troupe portrays this beautiful story with a few twists, laughs, and tears. This production will be sure to get you and your family in the Christmas mood!
Gingerbread Workshops at the Creative Discovery Museum
Nov. 29-30, Dec. 1, 7-8, 14-15, 21-22
Kick off the holiday season with this sweet tradition. The whole family will enjoy creating sweet and sticky houses from gingerbread, icing, candy and other sugary confections. The workshop includes hot chocolate, cookies, pre-built houses, icing, candy and holiday music. Admission to the Creative Discovery Museum is included for non-members participating in the workshop. Reservations are required in advance.
Tennessee Valley Railroad's Nightcaps with St. Nick
Nov. 29-Dec. 22, 5:30 p.m. & 7:30 p.m.
Board a first-class observation train for a 75-minute trip to the North Pole. Along the way, guests will enjoy holiday alcoholic beverages, dessert and singing carols while costumed entertainers read "Twas the Night Before Christmas." Upon arriving at the North Pole, St. Nicholas will board the train and talk about Christmas past. Adults-only excursion.
Cirque Dreams Holidaze at the Tivoli Theatre
Nov. 29, 7:30 p.m.
Cirque Dreams Holidaze brings its latest electrifying and reimagined live family holiday spectacular to Chattanooga's Tivoli Theatre with an unforgettable performance. This critically acclaimed extravaganza is both a Broadway musical and new Cirque adventure wrapped into the ultimate holiday gift for the entire family!
Holiday Cheer at the Pier and Lighted Boat Parade
Nov. 29, 2019, 5-8:30 p.m.
Enjoy holiday lights along the Tennessee River with this cheery event at Ross's Landing and the Chattanooga Riverfront. Visit with Santa Claus, view the Lighted Boat Parade and enjoy food and kids' activities. End the night with a bonfire and fireworks!
Southern Belle Riverboat's Breakfast with Santa Cruise
Dec. 2019
Start the day with a pancake breakfast on the Southern Belle! After breakfast, be razzled and dazzled by a magic show and enjoy a visit with the man in the big red suit to find out if you've made the naughty or nice list this year. Call (423) 266-4488 to schedule.
Tennessee Valley Railroad's Summerville Santa Special
Dec. 1-22
All aboard for a Georgia holiday adventure: The Summerville Santa Special Train Ride! Trains depart from the festively-decorated, historic Summerville Depot for a one-hour and 15-minute ride to Trion and return. Along the way, riders will be treated to light refreshments, storytelling and Christmas carols. As the train pulls into Trion, Santa Claus will climb aboard and walk through the train greeting children during the return ride to Summerville.
Chris Tomlin Christmas: Christmas Songs of Worship at the Tivoli Theatre
Dec. 3, 7:30 p.m.
Chris Tomlin is one of the most heralded singer-songwriters in the world. Selling more than a million of albums and streaming billions of tracks, TIME magazine claims he is likely "the most often sung artist anywhere." This holiday season, the Grammy winner will perform a variety of favorite Christmas carols, holiday tunes, and worship songs.
MAINx24 24-Hour Festival in the Southside District (FREE)
Dec. 7
Celebrate Main Street and the Southside District for a 24-hour long festival held the first weekend each December. The packed schedule of entertainment includes fashion shows, parades, parties, live music, Big Wheel contest, chili cook off, an ice-skating rink and so much more. MAINx24 includes free and paid activities.
Bluff View Art District's River Gallery Demo Days (FREE)
Dec. 7, 14, times vary        
Interact with some incredible artists as they demonstrate their work at River Gallery, an early 1900s home filled with paintings, sculpture, ceramics, wood, jewelry and media in abstract, conceptual, realistic and representational forms. On Dec. 7, artist Scott Hill will be part of a Block Party, where he will be revealing new special painted blocks.
Tennessee Valley Railroad's Santa's Hiwassee Holiday Train
Dec. 7-22
All aboard for a Hiwassee Holiday Adventure! The Santa Train will operate along the beautiful Hiwassee River from Delano to Reliance. Upon departure, riders will enjoy light refreshments, storytelling and Christmas carols. When the train arrives at the turn back location in Reliance, Santa will board and walk through the train greeting children.
Chattanooga Holiday Market at the Chattanooga Convention Center (FREE)
Dec. 7-8, 14-15, 21-22
As part of the Chattanooga Market, this market offers a special holiday theme with live music, caroling, festivities, and more than 200 vendors providing a great assortment of unique, locally hand-made items, holiday décor, and artisan foods for all of your holiday gift needs.
Family Fun Day at the Hunter Museum
Dec. 8, 2-4 p.m.
Celebrate the holiday season and create memories with your kids and grandchildren on Sunday, December 8 at the Hunter Museum! During Family Fun Day, kids will get to try a variety of hands-on art making including collage, weaving, drawing and more. Join the holiday excitement and take a picture with Santa Claus, write a letter to the North Pole, listen to a beautiful hand bell choir and go on a wild scavenger hunt in the museum. Free with museum admission. Ages 17 and under free.
Holiday Jubilee at The Read House
Dec. 13, 5-8 p.m.
Join The Read House for an evening filled with holiday activities including Santa's workshop, where you can enjoy a host of arts and crafts including ornament decorating, writing notes to Santa and cookie decorating in the Green Room. The evening will also feature photos with Santa in the Read House's Library and the opportunity to vote on your favorite Chattanooga themed gingerbread house. The jubilee is complete with complimentary Christmas treats, a hot chocolate bar, live entertainment and Happy Hour specials with holiday cocktails.
Chattanooga Ballet Presents The Nutcracker at the Tivoli Theatre
Dec. 13, 7:30 p.m., Dec. 14, 2 & 7:30 p.m., Dec. 15, 2 p.m.
The Chattanooga Ballet presents Chattanooga's own production of The Nutcracker, featuring the return of the Chattanooga Symphony Orchestra and exciting new choreography by Chattanooga Ballet's new Artistic Director Brian McSween. Come experience the magic of the season and let your holiday spirit soar in this family-friendly ballet. Join Clara and her Nutcracker Prince as they battle the Mouse King and embark on a journey through the Land of Sweets with the Sugar Plum Fairy.
PJ's & Polar Express 3D in IMAX at Tennessee Aquarium
Dec. 14-15
Head inside under the Tennessee Aquarium's lighted candy cane peaks for some holiday fun. The Polar Express 3D returns to the Tennessee Aquarium IMAX 3D Theater this season with the always-popular PJs and Polar Express screening happening on Dec. 14 and 15.
Robert Earl Keen: Countdown to Christmas at the Walker Theatre
Dec. 15, 8 p.m.
Robert Earl Keen announces the launch of his eighth annual Christmas show with his most extensive tour yet! In honor of the 50th anniversary of the Apollo 11 moon landing, Keen's theme for this year's tour is Countdown to Christmas: Lunar Tunes & Looney Times. He and his band will pay homage to the space race and all things celestial in an out-of-this-world evening of family holiday fun.
Nooga Nutcracker at the Walker Theatre
Dec. 21, 2:30 & 7:30 p.m.
Chattanooga Dance Theatre's Sixth Annual Nutcracker at the Walker Theatre will take you on a magical adventure set in your very own Scenic City.
Home for the Holidays at the Tivoli Theatre
Dec. 21, 7:30 p.m., Dec. 22, 3 p.m.
The tradition continues as the Chattanooga Symphony & Opera presents Home for the Holidays, the annual holiday music experience that's perfect for the whole family! This year's performances will feature Signal Mountain native and internationally acclaimed vocalist Seth Carico, conductor David Torns, the CSO Chorus directed by Darrin Hassevoort and the Metropolitan Bells directed by Gary Bynum.
Jim Brickman: A Christmas Celebration at the Walker Theatre
Dec. 23, 8 p.m.
Jim Brickman returns to Chattanooga this Christmas to wow the crowd with his uplifting, family-friendly, holiday concert tradition. The best-selling piano artist of our time, Jim Brickman and his special guests, will dazzle audiences with holiday favorites, #1 hits, vibrant vocals, laughter & joy, in this bright, festive winter's night celebration.
Moscow Ballet's Great Russian Nutcracker at the Tivoli Theatre
Dec. 24, 12 & 4 p.m.
Step into a simpler time filled with sweet dreams and Christmas magic with the Moscow Ballet's Great Russian Nutcracker. With world-class artists, over 200 dazzling costumes, stunning sets, towering puppets and soaring birds, don't miss your chance to ring in the holidays with this acclaimed Christmas extravaganza. Celebrate this cherished holiday tradition and relive the dream with Tchaikovsky's timeless score.
Click HERE for a list of where you can see Santa and HERE for more Christmas music in Chattanooga.