Accessibility
Sporting events in Chattanooga enjoy large participation numbers because of the city's central location in the Southeast. Chattanooga is within 150 miles of 14 Million people and within 250 miles of 27 million people. Additionally, an easy and close airport makes traveling in by air a breeze.

By Car - There are three major highways that merge in Chattanooga, I-24, I-75 and I-59.  Within two hour's drive the residents of Atlanta, Nashville, Knoxville, Birmingham and Huntsville can all be in Chattanooga. 

By Air - CHA is just 15 minutes from Downtown Chattanooga and only a few minutes from Hamilton Place Mall.  This airport is easy and quick with professional service to match.  The airport has direct flights to eight cities and one stop service to 1,000 cities.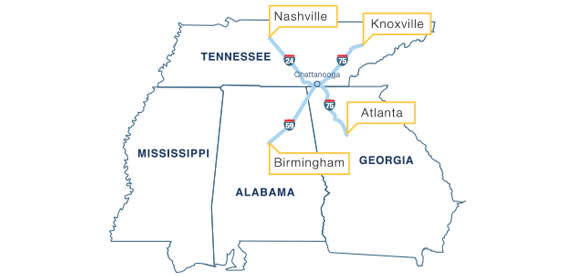 Getting Around Chattanooga
Chattanooga has many ways of getting around without needing a vehicle. First, Chattanooga is a very walkable city with a compact Downtown with restaurants, attractions and things to do around every corner. But, if you need more mobility, there are plenty of options.

CARTA's Free Electric Shuttle operates Downtown and connect the heart of the Downtown Riverfront and Aquarium to the Northshore and Southside by the Chattanooga Choo Choo. Shuttles run as frequently as every five minutes.

Bike Chattanooga is also a unique and fun way to get around town. You can rent one of the 400 bicycles from any of the 40+ stations around Downtown Chattanooga. A pass is just $8 a day and allows usage of the bicycle for up to 60 minutes at a time at no extra charge.