Whether you're coming to Chattanooga for the first time or you've lived here all your life, knowing the best place to have a meeting, convention, wedding ceremony or reception among other things, will set you above the rest! This guide will give you all you need and more to make the important events what they should be. Take a look at the top 12 hotels in Chattanooga to host an event.
The Chattanoogan Hotel
1201 Broad St Chattanooga, TN 37402
(423) 756-3400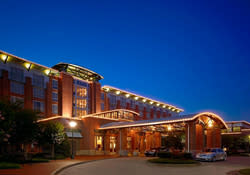 Throughout the year, the hotel offers a wide variety of overnight packages, promotions, and special events. The Chattanoogan is conveniently located within walking distance of many retail establishments, restaurants and places of interest. It is just a block away from the city's electric shuttle, which provides complimentary transportation in downtown Chattanooga.
With a variety of rooms and an amphitheater to choose from, your needs are sure to be met at the Chattanoogan. With the largest room being 7,752 sq. ft., this is a great space for large conferences or events to be held.
Chattanooga Marriott Downtown
Two Carter Plaza Chattanooga, TN 37402
(423) 756-0002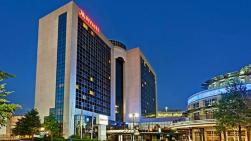 The city's premier hotel in downtown Chattanooga, the Marriott hotel offers the ultimate choice in superb accommodations. Perfectly positioned in the heart of downtown, the Chattanooga Marriott is surrounded by shopping, dining, and many entertainment venues. 
The Chattanooga Marriott has a large plaza that holds 500 guests and a Lookout Mountain Room that holds 40 guests for those more intimate gatherings with many other rooms to choose from. Come let the team at the Chattanooga Marriott host you for your next visit to beautiful downtown Chattanooga! 
The Westin
801 Pine Street Chattanooga, TN 37402
(423) 531-4653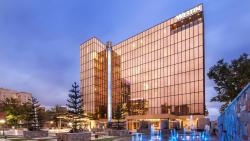 Enjoy scenic views of Lookout Mountain and Downtown Chattanooga from one of the 260 luxuriously appointed guest rooms. With 15,000 square feet of versatile indoor event space to choose from, the Westin provides many options for hosting your next meeting or special event.
The Westin has 13 rooms to choose from as well as large banquet, reception, and theater capacities that have the ability to hold almost 900 guests.
Holiday Inn Hotel & Suites Downtown
434 Chestnut St. Chattanooga, TN 37402
(423) 777-5858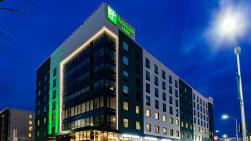 The brand new Holiday Inn & Suites is a stunning, modern hotel located in the heart of downtown Chattanooga. The Holiday Inn & Suites boasts high-end guest rooms, seasonal outdoor rooftop pool, and ample meeting space just steps away from Chattanooga's downtown attractions.
When booking your event you have two rooms to choose from with a total of 1,500 square feet. You're promised new amenities and high-end service.
The Read House
107 W. M.L King Blvd. Chattanooga, TN 37402
(423) 266-4121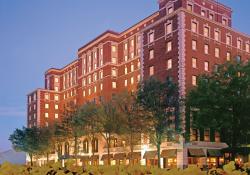 This Gatsby themed hotel is conveniently located in the heart of downtown and provides a way for you to discover a unique historic getaway where modern-day comfort meets timeless Chattanooga charm.
There are 15 rooms to choose from when booking your event with The Read House ranging from 300 to 1,200 sq. ft. and a holding capacity of 24 to 80 guests.
SpringHill Suites Downtown at Cameron Harbor
495 Riverfront Parkway Chattanooga, TN 37402
(423) 834-9300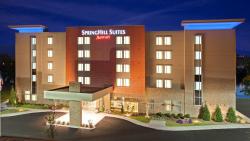 This riverfront Chattanooga hotel offers first-class customer service and unforgettable balcony views overlooking the picturesque Tennessee River. SpringHill Suites also features approximately 2,550 sq. ft. of meeting space for corporate and social functions.
SpringHill features four large rooms and a board room, all of them alluding to the beauties of the Tennessee River with a riverfront view.
DoubleTree Hotel
407 Chestnut St. Chattanooga, TN 37402
(423) 756-5150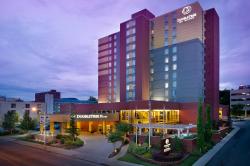 As always, a warm DoubleTree cookie awaits you when you arrive and is only the beginning of the special treatment you will receive at the full-service hotel. Friendly valet will gladly assist with parking and luggage as well as offer recommendations. There is always a friendly face waiting to assist you.
With two board rooms to choose from for those business meetings and eight larger scale rooms, the DoubleTree can fit almost any need.
Embassy Suites at Hamilton Place
2321 Lifestyle Way Chattanooga, TN 37421
(423) 605-5100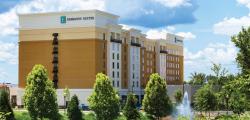 Enjoy a unique blend of luxury accommodation and southern hospitality at the all-suite, full service Embassy Suites Chattanooga/Hamilton Place hotel. Set in the Waterside Lifestyle Center, directly across from Hamilton Place Mall, the hotel is only four miles from Chattanooga Metropolitan Airport.
There are 19 meeting rooms to choose from, including hospitality rooms on each floor to accommodate smaller meetings of up to 15 people. In addition to smaller event spaces, there are 13 other rooms to help assist the bigger events with the largest room holding up to almost 800 guests.
Hilton Garden Inn Downtown
311 Chestnut St. Chattanooga, TN 37402
(423) 308-9000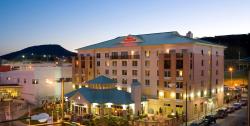 Enjoy a warm welcome at the Hilton Garden Inn Chattanooga Downtown with easy access by foot to the free electric shuttle, Bike Chattanooga's rentals, High Point Climbing Gym, and many other main attractions.
Hilton Garden Inn houses three meetings spaces to choose from with the largest being roughly 1,200 sq. ft. with a holding capacity of up to 95 guests.
Hilton Garden Inn Hamilton Place
3243 Shallowford Village Drive Chattanooga, TN 37421
(423) 308-4400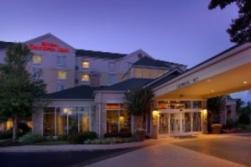 Enjoy your stay at the conveniently located Hilton Garden Inn Chattanooga/Hamilton Place. Situated at Exit 5 off I-75, this hotel is close to downtown attractions and Chattanooga Metropolitan Airport. 
Host your next meeting in 1,950 sq. ft. of flexible meeting and banquet facilities with the convenience of a 24-hour business center and secure remote printing. Choose one (or more) of the four rooms available and host your event at Hilton Garden Inn.
Hampton Inn Hamilton Place
2014 Hamilton Place Blvd. Chattanooga, TN 37421
(423) 602-7840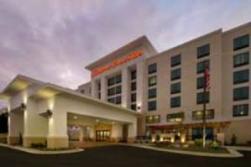 Friendly service, clean room, comfortable surroundings, every time.  The Hampton inn at Hamilton Place offers everything you need for your next event. Located near I-75 and only six miles from the Chattanooga airport.
A 1,300 sq. ft. meeting space and board room capabilities make the convenience of the Hampton Inn that much more appealing!
Fairfield Inn Hamilton Place
2345 Shallowford Village Drive Chattanooga, TN 37421
(423) 499-3800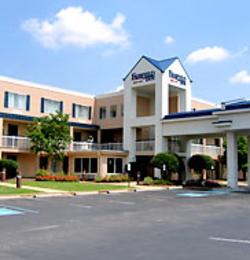 Discover the beautiful and vibrant Fairfield Inn & Suites Chattanooga East. The hotel's location boasts convenience and close proximity to Chattanooga's many business parks and shopping.
The Central Station meeting room is 650 sq. ft. and has the ability to hold a theater capacity of 40 guests.