Whether you're planning a corporate meeting, convention, or a family reunion, getting a big group together can be a challenge. Finding a facility that fits your needs is a top priority, especially if you're looking for something that's out of the box. From the top of Lookout Mountain to underground caverns and everything in between, here are 13 unique meeting facilities for your next event in Chattanooga.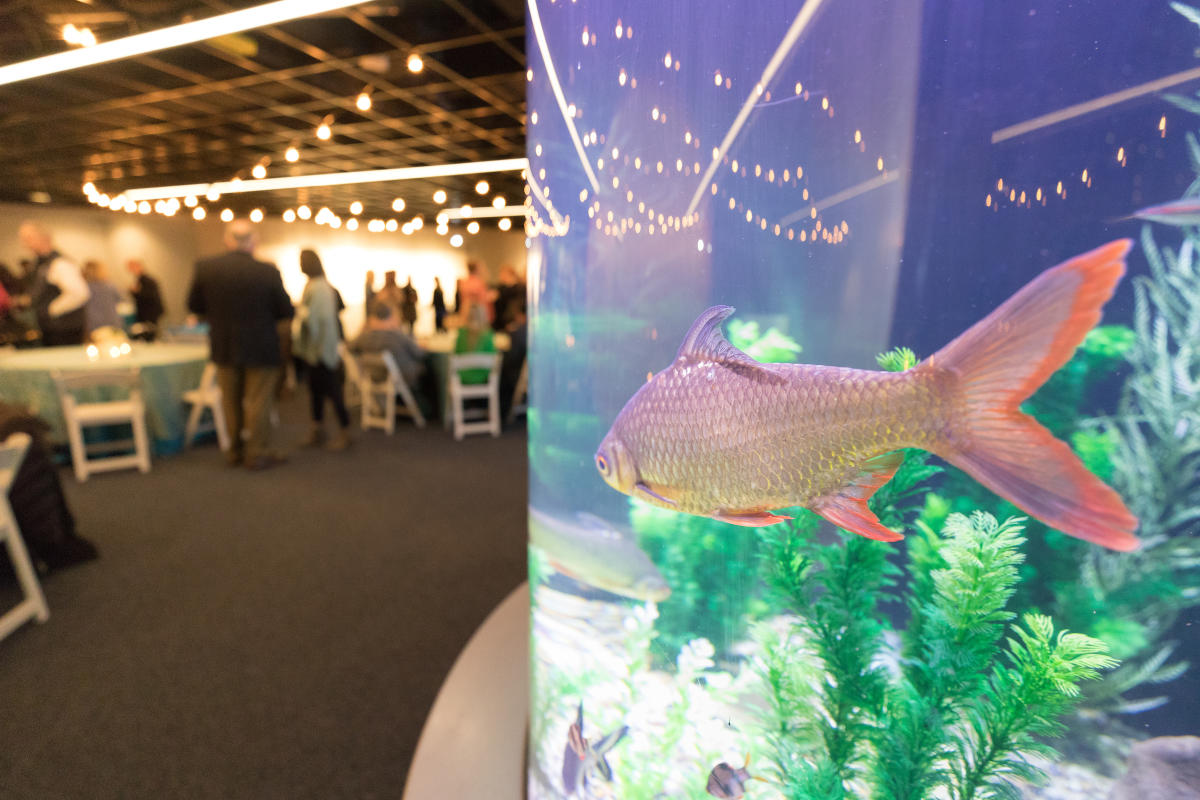 If you're looking to plan a one-of-a-kind event in an unforgettable setting, check out one of the unique spaces at the Tennessee Aquarium. With three different buildings to choose from, the Tennessee Aquarium can host up to 3,000 guests. The River Journey building features the recently renovated Lupton Room, where you'll find moon jellies and colorful freshwater fish in the 3,000+ sq. ft. space. Throughout the River Journey building are several reception spaces to choose from where guests can get a close up of the alligators, turtles, otters and thousands of freshwater fish.
Next door, the Ocean Journey building features unparalleled views of the Tennessee River and a chance to see penguins, sharks, jellyfish, stingrays, and stroll through the Butterfly Garden. The Tennessee Aquarium's IMAX 3D Theater offers the perfect setting for an elegant reception or corporate dinner. Plus, you'll have access to the IMAX garden and enjoy a private screening of an IMAX film.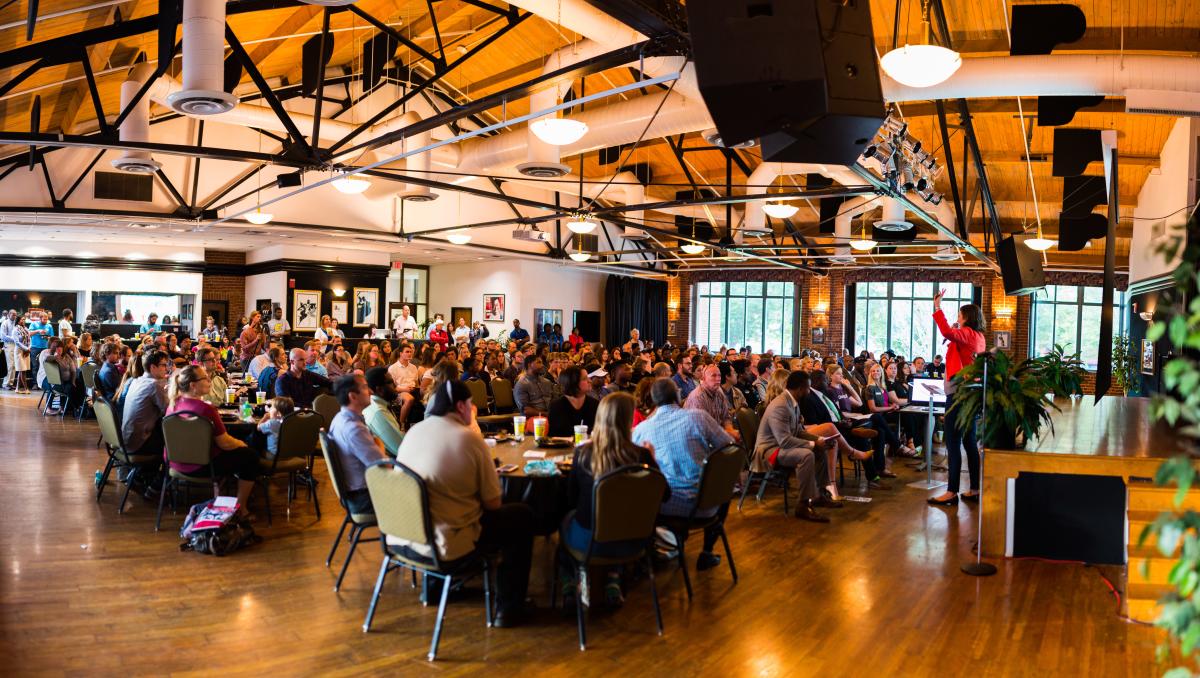 Indoor and outdoor space can be tough to find, but the Bessie Smith Cultural Center has you covered. Located on Chattanooga's revitalized MLK Boulevard, The Bessie pays tribute to Chattanooga's African American culture with an emphasis on Bessie Smith, "The Empress of the Blues." The facility features the Vilma Fields Atrium and Bessie Smith Performance Hall that are perfect for indoor occasions as well as the outdoor terrace and lawns, which host events like the Levitt AMP Music Series.
Creative Discovery Museum
Who says you can't be a kid for the day? Embrace the nostalgia at the Creative Discovery Museum and splash around in the RiverPlay, dig for dinosaur bones, or get creative in Arts Alley. The museum features an auditorium that seats up to 100 guests and the opportunity to host private parties for up to 350 people. Guests can enjoy the views from the three-story Lookout Tower or head outside to the Rooftop Fun Factory for more fun at this unique event space.

If you haven't "seen Rock City," now is your chance to cross it off the bucket list. Located at the top of Lookout Mountain, Rock City is home to the famous Seven States view, Lover's Leap, ancient rock formations, and peaceful gardens with over 400 native plants and species throughout. The historic attraction also features a 3,200 sq. ft. Group Pavilion that's the perfect spot to meet after a day on the trail. With room for up to 150 guests, the pavilion is an ideal space for family reunions, corporate outings, and tour and travel clubs.
Ever wondered what it's like to host an event 1,120 feet underground? Travel 26-stories down into Lookout Mountain to see stalactites, stalagmites, and a roaring waterfall at Ruby Falls. Whether you're planning a wedding, corporate event, private party, or just looking for a unique place to watch a movie, the cavern can accommodate your needs.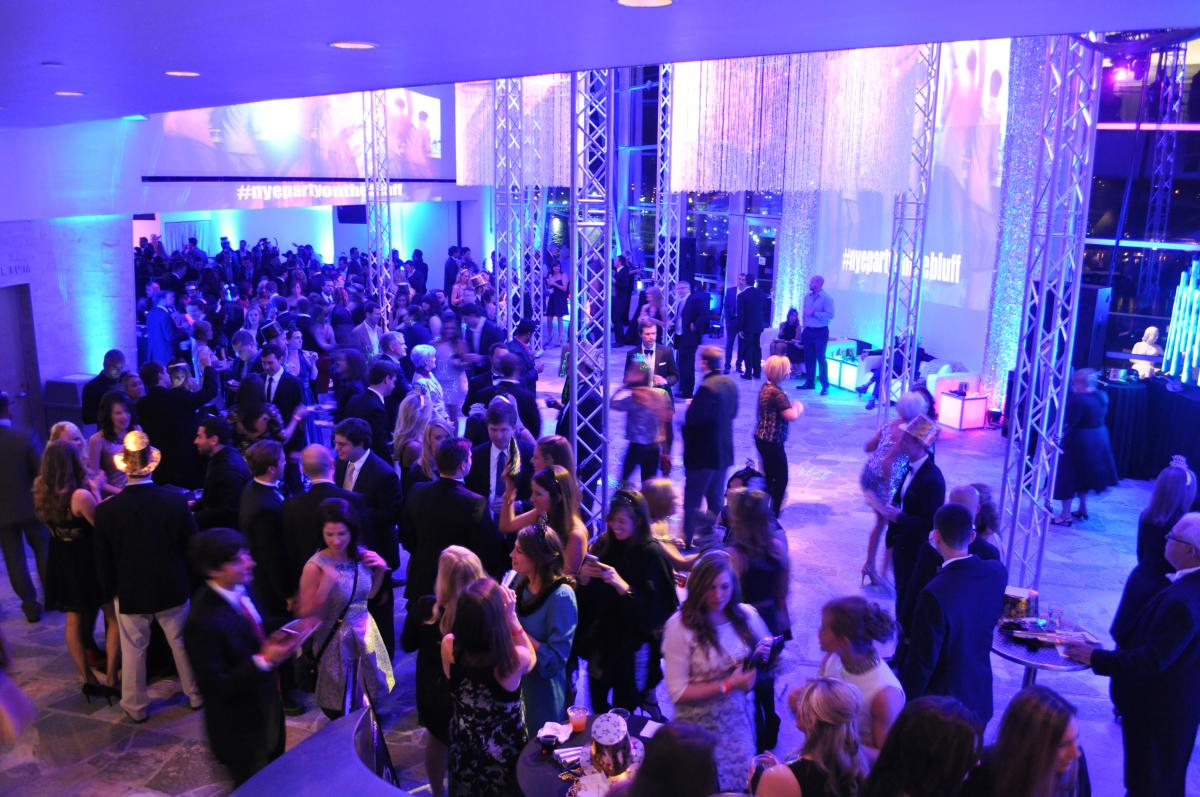 Located on the bluff of Chattanooga's bustling art district, the Hunter Museum of American Art is a dream venue for the creative. With panoramic views of the Tennessee River, the Walnut Street Bridge, and the Northshore district, your event is sure to be a scenic masterpiece. The museum, which is home to one of the largest collections of American art, offers a variety of venues in the historic mansion and the contemporary building, as well as two outdoor terraces to enjoy the views.
Travel back in time and enjoy the charm of a 1930s English-style Tudor home at Grandview. This quaint space is located next door to Rock City, so guests can enjoy the sweeping views of the valley below from high atop Lookout Mountain. While weddings are the specialty at Grandview, the home's various rooms, patio, and courtyard are great spots for corporate meetings and events.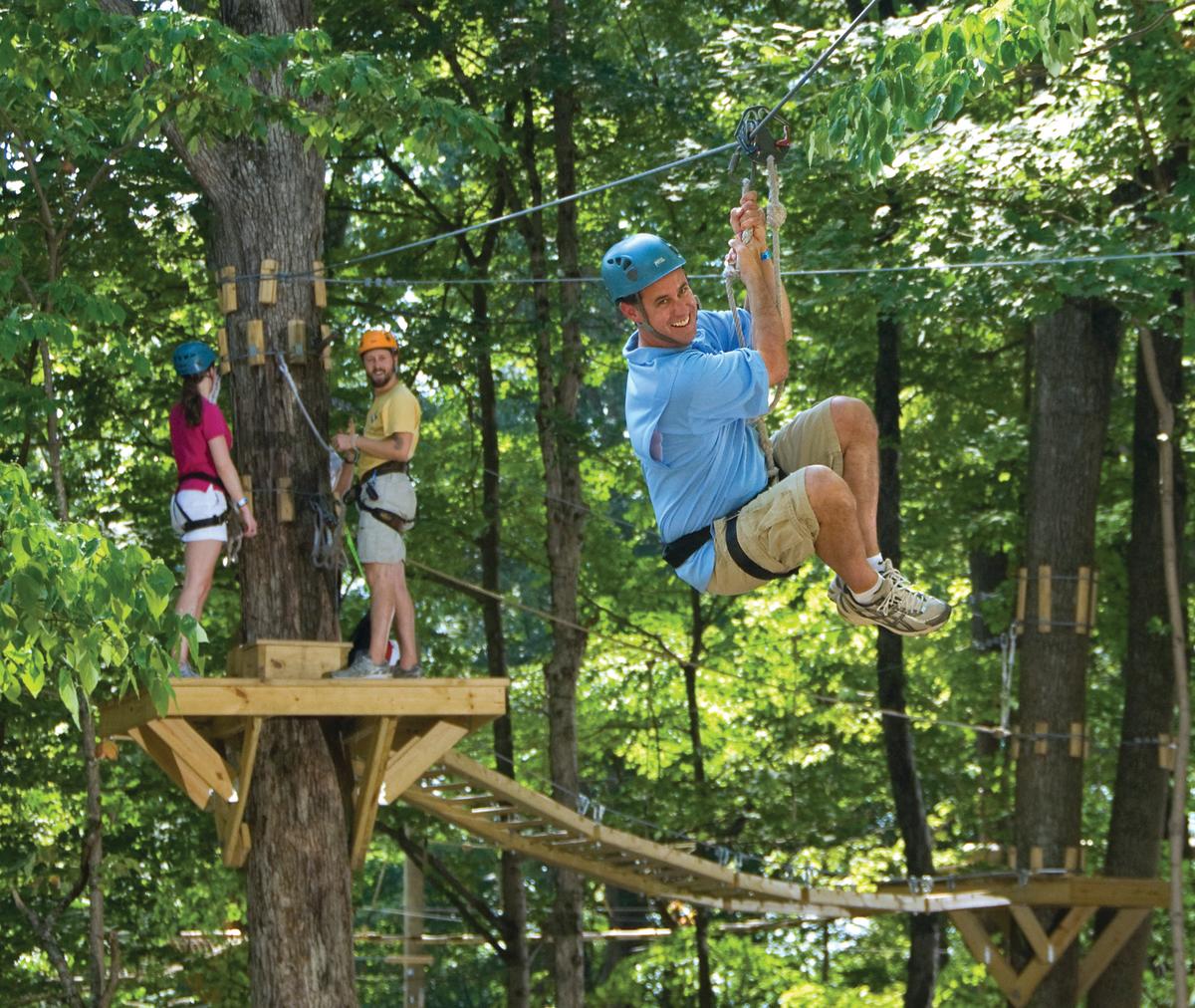 If you're looking to get out the conference room and stretch your legs, head to Ruby Falls for a day exploring the High Point Zip Adventure. This unique experience is a great outdoor adventure for corporate team building as well as school groups, scouts, and youth camps. Soar through the treetops on 700 feet of zip lines, climb the 40-foot tower, and test your skills on multiple routes with multiple levels of difficulty.
Do your meetings and events ever get derailed? Keep them on track with help from the Tennessee Valley Railroad Museum! Climb aboard a vintage train and travel through Chattanooga in style. The moving museum offers an interactive and historical experience that attendees won't soon forget.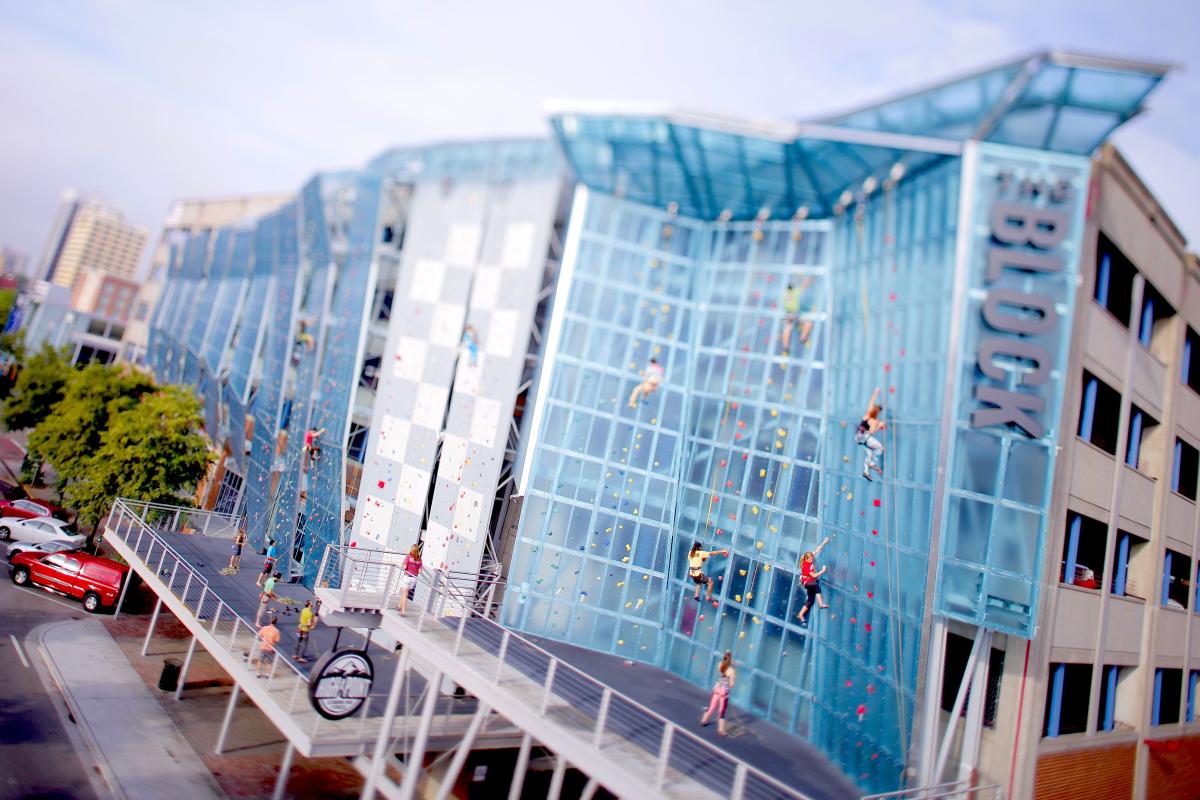 Take team building to new heights at High Point Climbing and Fitness! Working together is the foundation of any business, group, or team. High Point's team building program focuses on teamwork, problem solving, experiencing challenges outside of one's comfort zone, and a variety of fun yet challenging exercises. Perfect for groups ranging from 6 to 16, participants can use the 2 or 4 hour unique experience to better understand and tackle daily challenges.
Located just 30 minutes south of downtown Chattanooga, the city of Chickamauga is bursting with small-town charm. Home to the Chickamauga Battlefield, Lee & Gordon's Mills, and the Gordon-Lee Mansion, history buffs will find no shortage of significant sites. The Gordon-Lee Mansion, which is listed on the National Register of Historic Places, offers indoor and outdoor event space complete with period antiques that create an atmosphere of Southern aristocracy.
Although an electric shuttle isn't quite a unique meeting space, it can play a big role in how you explore the Scenic City during your event. If you're looking for the best way to get around town, hop on CARTA's free electric shuttle. With stops from the Southside to the Northshore, it's the easiest way to get to your meeting. The shuttle runs daily about every 5 minutes with stops at every block in between.