For the past few years, the Scenic City has been making a big name for itself within the cycling community. USA Cycling recognized Chattanooga as the cycling-friendly destination that it is by holding two professional road championships in the city. The IRONMAN Triathlon series brings athletes from all over the world to ride (and swim and run) around Chattanooga, and the annual 3 State 3 Mountain Challenge has been the Southeast's premier century ride for more than 25 years.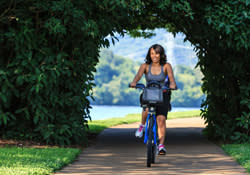 But you don't need to be participating in a major event to bring your bike to Chattanooga. In fact, you don't even need your bike to enjoy cycling in the area. Bike Chattanooga is a bicycle transit system that features hundreds of bikes at 33 stations across the city, available 24 hours a day, 365 days a year. Each station has a touch-screen kiosk, a neighborhood and system map, and a docking system to release the bikes when you rent one. There's no better way to get around Chattanooga quickly on two wheels. You can purchase 24-hour and three-day passes, which each offer unlimited 60-minute rides during that period. You can even download an app that features system information and the ability to pay for the bike right from your phone.
If riding bikes is what you like to do, you'll find lots of options around Chattanooga—from urban exploration to rugged mountain biking. Here are five of our favorites: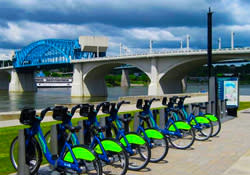 1. Chattanooga Riverwalk
The Tennessee Riverpark is one of the oldest and most well-known recreational areas in Hamilton County. The Riverwalk itself is a wide concrete path that spans 13 miles from the Chickamauga Dam to Ross's Landing in downtown Chattanooga. With several entry points and parking lots, you can choose your preferred distance. If you're feeling ambitious, a 26-mile out and back is at your disposal. Bonuses include frequent rest areas with water fountains, distance markers every half mile (and prominent artwork every mile), and unbeatable views of the Tennessee River. There's not much elevation change, but it's ever-so-slightly uphill as you go away from town—which is why finishing downtown is even more appealing.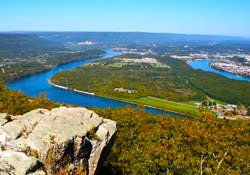 2. Moccasin Bend Loop
The two-lane road down the iconic Chattanooga peninsula known as Moccasin Bend is a drag strip for road bikes: a straight, almost flat, and usually smooth ribbon of asphalt where your wheels seem to want to roll a little faster than usual. Within easy range of downtown, Red Bank, and the trendy North Shore, the Moccasin Bend Loop is popular among jersey-wearing cyclists riding fast and free.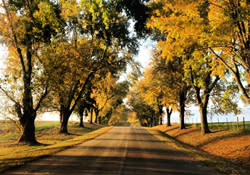 3. Mountain Cove Loop
A long and fantastic 80-mile ride that takes you on a very scenic loop up Lookout Mountain and back down the other side—perfect for an epic weekend ride with lots of beautiful rolling country and lightly trafficked roads. This road bike loop starts downtown, following the valley south along Lookout Mountain, then through Mountain Cove Farms. After climbing Lookout, you'll roll across, drop back into the valley, climb again, then descend triumphantly into Chattanooga.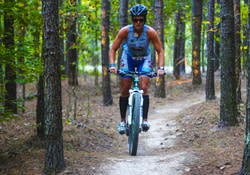 4. Enterprise South Nature Park
For mountain bikers, this nature park is great for riders of all skill and is only 20 minutes from downtown Chattanooga. Offering three trails for mountain biking, totaling about 10 miles, Enterprise South Nature Park is especially friendly for kids and beginners. The Black Forest Trail is a great beginner loop that is fast and flowy with little elevation change and no technical obstacles. For more advanced riders, the TNT Trail offers more elevation changes and plenty of roots and rocks to overcome.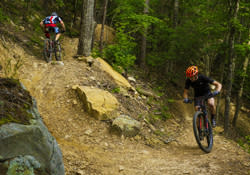 5. Raccoon Mountain
For more advanced riders, Raccoon Mountain features nearly 30 miles of intermediate to advanced singletrack, a mere 15 minutes from downtown. The TVA Raccoon Mountain trails are the result of a groundbreaking partnership between Chattanooga's IMBA-SORBA chapter and the Tennessee Valley Authority. This well-planned, sustainable trail system is built around the reservoir for TVA's pumped-storage plant, turning previously underused mountain terrain into a popular recreation area and a mountain biking mecca. Be sure to check out the view of Chattanooga from the East Overlook parking area, as well as a couple of beautiful glimpses into the Tennessee River Gorge along the perimeter of the trail system.
Photo Credit (top to bottom): Jeff Bartlett, Robyn Carlton, Rodger Ling x2, Elizabeth Glas, Jeff Bartlett