Annual Events
2022 in the Best Town Ever
Chattanooga features hundreds of events including music & food festivals, concerts, outdoor adventures, sports, and more. There's always something fun going on in the Best Town Ever.
Winter: January - February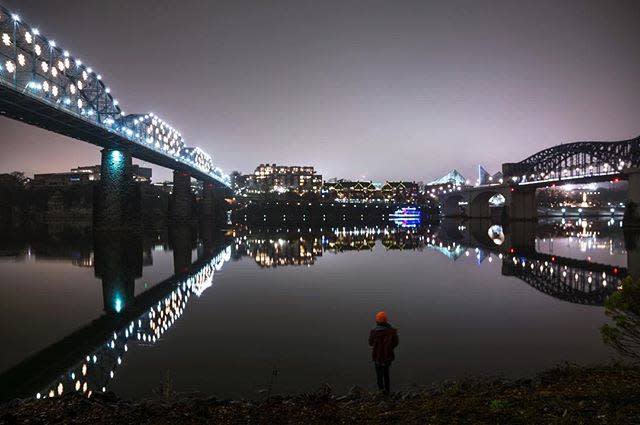 $ | Jan.-Dec. / Dates vary
The 90-minute train trip begins at Grand Junction Station and takes you through the Tennessee Valley, over 4 bridges, through a pre-Civil War tunnel, to East Junction where the locomotive rotating turn station is, and back. 
$ | Feb. 4-5,11-14 / 5:30 pm & 6:30 pm
The evening includes a train ride through the Tennessee Valley aboard a vintage rail car and a 4-course dinner. Reservations recommended.
$ | Feb. 25-27 / 10 am-4 pm
Features more than 30 exhibitors offering a wide variety of antique items for sale, an appraisal fair, and much more. Preview Party option at an additional cost. The event is held at Stratton Hall and benefits the Houston Museum. 
FREE/$ | Jan. 30 – March 20
Experience Tennessee Songwriters Week by celebrating the craft of songwriting at live performances across the state, while supporting local music venues and helping pave the way for future artists to come.
---
Spring: March - May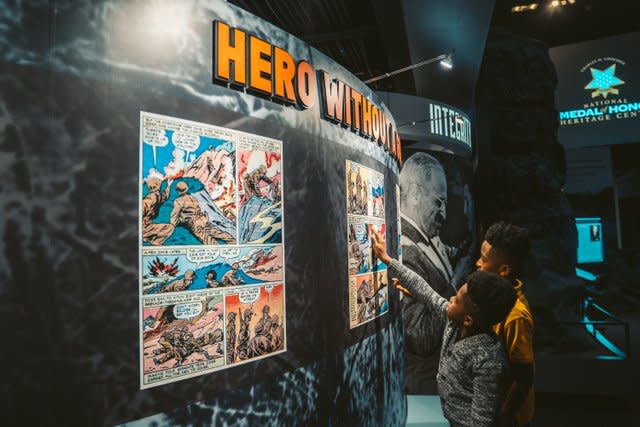 FREE/$ | March 4-6
Now in its 6th year, the popular race weekend features a marathon, half marathon, team relay, 5K, kid's fun run, live music, and more. 
FREE/$ | mid-March-mid-April
During SBS, the city is transformed into a place where kids rule! Hands-on adventures include a 14-site Scavenger Hunt (both outside/inside the attractions & districts) and experiences that turn kids into Musicians, Cave Explorers, RockQuest Adventurers, Zookeepers, Conductors, Rock Climbers, and more.
$ | March 12/10 am-6 pm
The best value in Chattanooga's beer festival scene, Brew Skies is back in a new location-The Chattanooga Lookouts' AT&T field, with over 70 beers on tap, live music, and more!
$ | April 9-10 / 10 am-6 pm
This 2-day, nationally-ranked arts festival draws more than 12,000 people annually and features exceptional visual & fine art from local and regional artists, creative kids area, live music, and great local food. 
FREE | April-Nov. / Sundays, 10 am-2 pm
The weekly open-air producer-only market features local food artisans and farms, fresh produce/meat/cheese, live plants, local arts & crafts and much more.
FREE | April-Nov. / Fridays & Saturdays, 10 am-5 pm
Chattanooga River Market features handmade items from local and regional artists including jewelry, woodwork, and more. Free yoga class at 10 am (bring your own mat). 
$ | May 7 / 4-10pm
Rail & Hops Brewers Festival is back at a new location featuring local and regional handcrafted beers, food trucks, music, and more. 
$ | May 13-15 / 5-11pm
WanderlingerFest is back with 3 days of local love, art, music, and beer! 
$ | May 21 / 11 am-10:30 pm
Jfest is a day full of worship, great food, family activities, and great music from artists such as Colton Dixon, Caitie Hurst, and The Union Chattanooga. 
FREE/$ | May 22
The IRONMAN 70.3 Chattanooga triathlon leads nearly 3,000 athletes on a 1.2-mile swim in the Tennessee River, 56-mile bike ride, and 13.1-mile run. Transitions and finishes are at Ross's Landing on the downtown riverfront.
---
Summer: June - August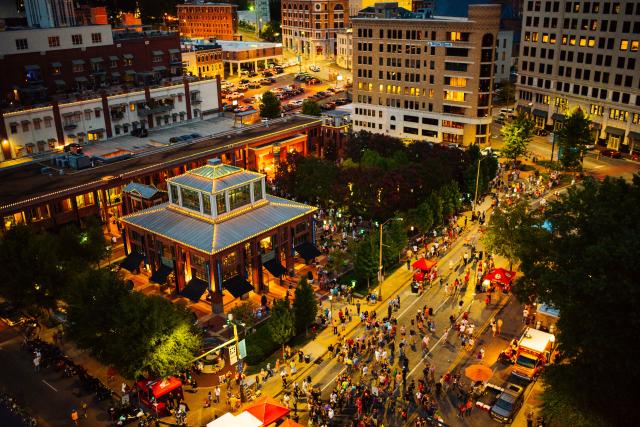 FREE | June – Sept. / Fridays, 5 – 10 pm
Chattanooga's Nightfall Concert Series is held each Friday night through the summer in Miller Park showcasing local musicians, artisans, food, and free entertainment for the whole family.
$ | June 3-5
Chattanooga's original music festival and is back and ready for you for its 39th year! Festival-goers will enjoy the new Riverbend experience that will bring performers closer to audiences and rock our city. 
$ | June 18 / 4-7 pm
The Zoo's annual Ice Cream Safari offers unlimited free samples from Chattanooga's best ice cream parlors as well as many other sweet treats from around town. Enjoy a summer night at the Zoo with animal friends, face painting, bounce houses, and more!
FREE/$ | June 21 / 9 am-8 pm
Started in France in 1982, MMD has grown to 700 cities in 120 countries and celebrates music by showcasing a city's local talent on June 21, the longest day of the year. Performances happen on streets, sidewalks, rooftops, and more.
$ | July 23/TIME TBD
Join the Chattanooga Zoo for their annual barbecue and beer tasting event featuring handcrafted beers, the best barbecue in town, music, animal encounters, and more.
---
Fall: September - October
FREE | Sept. 16-17 / 9 am-6 pm
More than 120 teams of the most talented canine athletes take to the skies to compete in the World Championship. This is the premier event in canine sports and features top teams from around the world competing in a menu of disciplines designed to showcase the talents of these amazing canine athletes. 
FREE TO WATCH/$ | Sept. 25 / Times vary
The Little Debbie IRONMAN Chattanooga is one of 11 full races in the IRONMAN® U.S. Series. IRONMAN Chattanooga leads athletes through a 2.4-mile swim in the Tennessee River, 112-mile bike through the valley and 26.2-mile run on a course that utilizes a variety of Chattanooga's scenic areas. There will be a USD professional prize purse.
$ | Oct. / 8 am-10 pm
When Chattanooga transforms itself to ChattaBOOga! in October, it's not the typical haunted city. Only for the bravest of souls, there's an intense haunted cavern crawling with terrifying creatures; menacing woods and a dark swamp teeming with monsters; and chilling ghost hunts in search of the city's restless dead. For more mild experiences, families can enjoy 10-acre enchanted MAiZE; superhero divers carving pumpkins underwater; spooky rides aboard a haunted vintage train; trick-or-treating around zoo animals; and frightening fun on haunted amusement park rides. 
$ | Oct. Weekends / 8:30 am-5 pm
Get in touch with Rock City's German heritage during the 16th annual Rocktoberfest. Rock City Square will be transformed for a celebration of harvests and fall foliage. This premiere autumn festival includes live German music, polka lessons, German food, the Fall Fairy, Ik the Troll King and fun for the whole family. Also see the Birds of Prey in action! Join the fun at Rock City as we celebrate and honor our founder Frieda Utermoehlen Carter. This event was selected as a Top 20 Event for 2018 by Southeast Tourism Society!
FREE/$ | Oct. 14-16
Whether you are attending because of your love of cars or because your loved one loves cars, the festival has something for everyone from shopping to great restaurants to an antique boat show from The Antique and Classic Boat Society on the Tennessee River. The epicenter of the festival is the West Village, a dining and entertainment district anchored by the Westin Chattanooga.
$ | Oct. 14-15, 21-22 / 5:30-8:30 pm
Join us for the annual family-oriented Halloween celebration with some of the Zoo's most lovable animals. Children get to hang out with roaming cartoon characters, stop by trick-or-treat stations, enter costume contests, get crazy in bounce houses, take a pony ride, play games, get their face painted, go on a hayride, and much more.
---
Winter/Holidays: November - December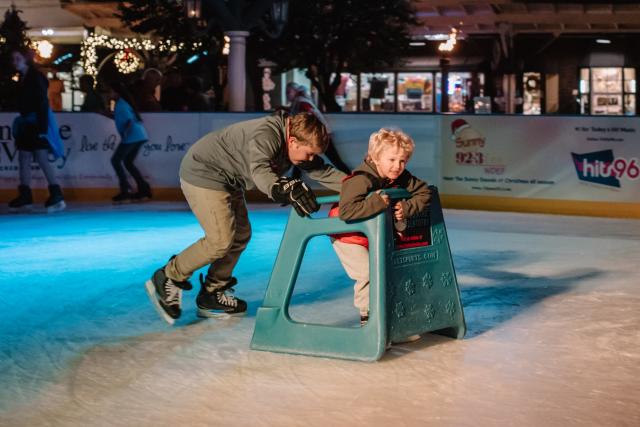 FREE | Nov. 5-6 / Times vary
Watch the Hooch from Chattanooga's riverfront as nearly 10,000 rowers compete on the challenging course in the second largest rowing regatta in America, after Head of the Charles. The Hooch celebrated 10 years in Chattanooga in 2014.
$ | Nov. 2022-Jan. 2023 / Dates & times vary
The Holiday Trail of Lights features eight major points of interest which include millions of twinkling lights at Chattanooga's top holiday attractions. Enjoy a varied array of festivals, holiday events, delicious holiday meals, Santa sightings, shopping, and live music and entertainment scattered throughout the city.
$ | Nov.-Dec. / Nightly 6-9 pm (closed Christmas Eve night)
For the holiday season, Rock City's Enchanted Garden of Lights is a family tradition and features more than a million LED lights that transform the gardens' natural daytime splendor into a fantasyland of wonder. Enjoy gingerbread cookie decorating, hot cocoa, and nightly entertainment. Group rates are available. 
$ | Dec. 8-9 & 16-17 / 5:30-8 pm
The Chattanooga Zoo is transformed into a magical wonderland where you can view hundreds of lights that weave through the habitats, visit the animals, and watch them open their Christmas presents, decorate cookies, get your picture taken with Santa, enjoy delicious treats, and enjoy fun holiday games & crafts.
FREE | Nov.-Jan
EPB's Holiday Windows celebration continues a tradition that dates back to the World War II era. View the displays in the windows on the Broad and Market Street sides of EPB's downtown headquarters building at 10 W. M.L. King Blvd. 
$ | Nov. 2022-Jan. 2023 / Daily, times vary
The much-anticipated temporary outdoor ice rink has moved to the Chattanooga Choo Choo Gardens. Schedule includes general skating time, special themes, appearances by Santa, and a rotating schedule to benefit local not-for-profits. Food vendors available.
FREE | Nov.-Jan.
View the thousands of twinkling lights in snowflake form along the Walnut Street Bridge, one of the longest pedestrian-only bridges in the world at 2,370 feet. 
FREE | Nov. 25 / 4:30-8 pm
Holiday joy will fill downtown with live reindeer, Santa Claus, fire pits, face painting, holiday tunes, and more, all while enjoying the Lighted Boat Parade and fireworks. 
FREE | Dec. 3 / 9 am-9 am
Celebrate Main Street & the Southside District for a 24-hour long festival held the first weekend each December. The packed schedule of entertainment includes fashion shows, parades, parties, live music, Big Wheel contest, chili cook off, an ice-skating rink, and so much more. Some special events require a charge. 
$ | Dec. 31 / 4-6pm
Celebrate the new year a little early with great food, music, Pilot House tours, and more. 
$ | Dec. 31 / 9 pm-12 am
Ring in the New Year with great food, live entertainment, DJ, dancing, toasts, Pilot House tours, and more. Must be 21 or older and have valid ID. Reservations can be booked online or by phone. chattanoogariverboat.com