Annual Events
2023 in the Best Town Ever
Chattanooga features hundreds of events, including music and food festivals, concerts, outdoor adventures, sports, and more. There's always something fun going on in the Best Town Ever. Please check the event websites for current information before planning your trip.
Winter: January - February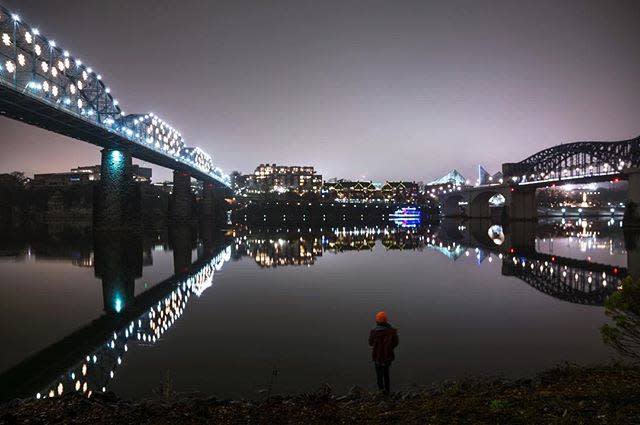 Missionary Ridge Local Train Trips/Tennessee Valley Railroad Museum 
$ | Jan.-Dec. / Times Vary  
The 90-minute train trip begins at Grand Junction Station and takes you through the Tennessee Valley, over four bridges, through a pre-Civil War tunnel, to East Junction where the locomotive rotating turn station is, and back. tvrail.com 
The Lookout Wild Film Festival/The Walker Theatre 
$ | Jan. 12-15 / Times Vary  
The Lookout Wild Film Festival brings the best outdoor adventure and conservation films from around the world for you to enjoy during one awesome weekend. Experience compelling on-screen stories that celebrate wild places and the people they inspire alongside hundreds of other adventure enthusiasts from around the Southeast. ookoutfilmfestival.org 
FREE/$ | Jan. 29-Feb. 11, Feb. 19-25 / Times Vary 
Experience Tennessee Songwriters Week by celebrating the craft of songwriting at live performances across the state while supporting local music venues and helping pave the way for future artists to come.  
tnvacation.com/songwriters-week 
Valentine's Dinner Train/Tennessee Valley Railroad Museum  
$ | Feb. 10-14 / Times Vary  
The evening includes a train ride through the Tennessee Valley aboard a vintage rail car and a 4-course dinner. Reservations recommended. tvrail.com  
Romance at Ruby/Ruby Falls  
$ | Feb. 10-12 & 14 / Times Vary  
Learn more about the love story of Leo Lambert, who discovered the waterfall and then named it after his wife, Ruby. The adventure includes a cave and waterfall tour, a souvenir photo, gift, and stories of legendary love matches. rubyfalls.com 
Valentine's Dinner Cruise/Chattanooga Riverboat Co.'s Southern Belle  
$ | Feb. 11-12 & 14 / Times Vary   Celebrate Valentine's Day on a Chattanooga Cruise! This 2-hour cruise includes a buffet-style meal, and full bar, DJ, pilothouse tour, a toast of champagne, and 2 keepsake glasses. chattanoogariverboat.com  
Valentine's at Lover's Leap/Rock City Gardens
$ | Feb. 12-14 / 8:30 am-5 pm   
Share your heart this Valentine's Day and enjoy spectacular views with that special someone from Lover's Leap. Guests will receive a souvenir photo, specialty fudge, and sparkling wine or cider. seerockcity.com   
Antiques Show & Sale/Read House Hotel 
$ | Feb. 17-19 / 10 am-4 pm   
The Antique Show & Sale features more than 30 exhibitors offering a wide variety of antique items for sale, an appraisal fair, and much more. Preview Party option at an additional cost. The event is held at Stratton Hall and benefits the Houston Museum. thehoustonmuseum.org 
Spring: March - May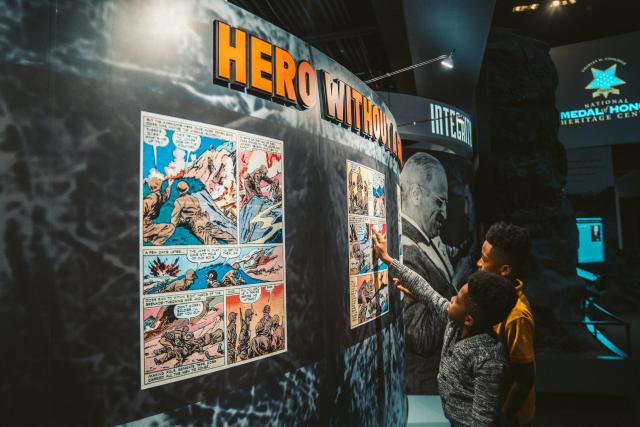 Million Steps in March/Ruby Falls 
$ | March 1-31 / 8 am-8 pm  
Get active walking the cavern trail to the thundering underground waterfall and help support the mission of the American Heart Association Go Red for Women in a big way! Participants can stop by our healthy selfie station and take home a complimentary heart-healthy recipe card. rubyfalls.com 
Erlanger Chattanooga Marathon Race Weekend /Downtown Chattanooga ​ 
FREE/$ | March 3-5 / Times Vary  
In its 7th year, the Erlanger Chattanooga Marathon weekend will feature a marathon, half marathon, team relay, 5K, and a kid's fun run, along with daily events to maximize a weekend full of energy and excitement while supporting the Erlanger Health System! chattanoogamarathon.com 
AmuseUm/Creative Discovery Museum   
$ | March 4 / 7-10 pm   
Join us for AmuseUm 2023: Full STEAM Ahead! Take a trip on the rails through time and experience Science, Technology, Engineering, Arts, and Math in the 19th Century. A variety of entertainment, activities, and raffle opportunities, along with decadent food and drinks, set the tone for this one-of-a-kind evening. Gear up in your best black, silver, and gold attire and enjoy the swanky vibe of the Gilded Age. cdmfun.org/amuseum  
Chattanooga Football Club/Finley Stadium   
$ | March 4-Oct. 14 / Times Vary  
The Chattanooga Football Clubs, playing in the National Independent Soccer Association, season is back along with the return of the CFC Women's team. Join the local CFC fans, better knowns as the Chattahooligans, and cheer on the CFC Men's and Women's teams! chattanoogafc.com  
FREE/$ | March 10-April 9 / Times Vary  
During Spring Break Safari, the city transforms into a place where kids rule, and adventure is everywhere! Participating attractions offer kids hands-on activities, including scavenger hunts and unique experiences that turn kids into Cave Explorers, RockQuest Adventurers, Zookeepers, Conductors, and more. VisitChattanooga.com/spring  
Shamrock City/Rock City Gardens  
$ | March 11-12 & 18-19 / 8:30 am-6 pm   
Find the luck of the Irish at Rock City's 15th annual Irish Celebration! Come see the High Falls flow green – just steps away from where you can see 7 states from atop Lookout Mountain at Rock City! Shamrock City features Irish food, live Irish bands, beer, bagpipers, Suffolk sheep – and more! Guests can be Irish for a day – or at least be immersed in all things Irish! Chattanooga Pipe Band members play bagpipes and drums in traditional kilts, and there is something green around every turn! Leashed pets welcome. This event has been selected as a recent Top 20 Event by Southeast Tourism Society. seerockcity.com/shamrock     
Rock the Riverfront Featuring Los Trompos/Chattanooga Green (NEW IN 2023!)  
FREE/$ | March 17-April 16 / Times Vary    
Los Trompos, is a large-scale, interactive artistic installation inspired from a toy that has been popular with Children around the world since the dawn of time. This artistic installation features eight larger-than-life, three-dimensional spinning tops in a variety of colors and shapes, with fabric woven in traditional Mexican style stretched of the modules to seat several guests at once. Los Trompos will bring the Chattanooga Green to life with a new meaning to the art of play! rivercitycompany.com/trompos  
Rock/Creek River Gorge 2023 10.2 & 6.5 Milers/Prentice-Cooper Wildlife Management Area 
$ | March 17 / 9 am    
Runners will loop around a highly technical single-track along one of the most beautiful trails in Chattanooga. This bucket list race offers two lengths of runs and ends with a celebratory awards ceremony. badbeardevents.com 
Crawfish Boil/Wanderlinger Brewing Company  
FREE/$ | March 18 / 11 am 
Wanderlinger's Crawfish Boil features live music, over 500 pounds of fresh Louisiana Crawfish, andouille sausage, corn, and potatoes, Wanderlinger beer options, wine, non-alcoholic beverages, and more. wanderlinger.com 
Battleground Explosion Volleyball Tournament/Chattanooga Convention Center  
$ | March 18-19 / Times Vary   
With room for 200 teams, this explosive tournament will bring athletes ages 12-18 to the ultimate volleyball battleground. Cheer on your favorite teams as they compete in the best out of three matches over two days in the scenic city. greatsmokyvolleyballseries.com/battleground-explosion  
Chattanooga Red Wolves/CHI Memorial Stadium   
$ | March 25-Oct. 14 / Times Vary  
Cheer on Chattanooga's newest professional sports team, the Chattanooga Red Wolves Soccer Club, a founding member of USL League One, compete at their brand-new stadium. chattanoogaredwolves-sc.com  
Hunter Underground/Hunter Museum of American Art  
$ | March 25 / 8-11 pm   
The museum is converted into a nightclub for a one-of-a-kind cocktail party. The annual fundraiser offers an exciting evening of art-focused fun, music and dancing, an open bar, great food, a silent auction, and the famous Smash & Grab gallery. Must be 21 or up. huntermuseum.org  
Chattanooga River Market/Tennessee Aquarium Plaza  
FREE | Saturdays, April 1-Oct. 7 / 10 am-5 pm  
Chattanooga River Market features handmade items from local and regional artists and showcases their jewelry, woodwork, and more. chattanoogamarket.com  
SIPTN Wine Festival/First Tennessee Pavilion  
$ | April 1 / 12-4 pm  
Taste through over 200 wines produced right here in Tennessee, utilizing some of the freshest fruit in the South. Sip TN is made up entirely of Tennessee Wineries, come sip, savor, and purchase bottles of your favorite wines. Stroll and shop with Chattanooga Market artisans and vendors, enjoy some of the hottest local food trucks and sip wine and hard cider all from local sources. Live music adds to the festivities! chattanoogamarket.com/events/siptn-wine-festival  
Chattanooga Lookouts/AT&T Field 
$ | April 6-Sept. 17 / Times Vary  
The Chattanooga Lookouts, a Minor League Baseball team of the Double-A South and the Double-A affiliate of the Cincinnati Reds, welcomes you to AT&T Field for their 2022 season. Join in as we cheer on our team with Looie the Lookout and all of Chattanooga! lookouts.com 
Hug-a-Bunny Days/Chattanooga Zoo  
$ | April 7-8 / 9 am-5 pm 
Hug-a-Bunny Days guests will have the chance to get their photo made with the Easter Bunny, enjoy springtime games and crafts, gather Easter eggs, watch as our Zoo animals enjoy their egg hunt enrichment, encounter the Zoo's real bunnies, and more! chattzoo.org 
$ | April 10-16 / Times & Locations Vary  
In this city-wide event, burger lovers will have the opportunity to eat their way through the Scenic City with $7 burger deals at participating restaurants, challenge their taste buds, and connect and share their experiences on social, all while being entered to win prizes. chattanoogaburgerweek.com 
$ | April 15-16 & 22-23 / 8:30 am-6 pm   
Join us at Rock City Gardens during this naturally fun outdoor Earth Day celebration! Guests will be mesmerized when Vines and Trees come to life with methodical movement, learn how to use recycled materials for an innovative and fun make-and-take project, watch an animal show, and go on a virtual scavenger hunt all while enjoying the great outdoors with their family during Earthdayz! seerockcity.com  
Lagerfest/Wanderlinger Brewing Company  
FREE/$ | April 15 / 2-8 pm  
If you think Oktoberfest is just too far away, join us for our spring Lagerfest, featuring exclusive small batch releases, collabs and guest beers. From pilsners to schwarzbiers, each of our taps will be pouring smooth, crispy and crushable lagers all day long, alongside specialty snacks by our executive chef. wanderlinger.com 
Bessie Smith's Big 9 Music Fest/Bessie Smith Cultural Center  
FREE | April 15-16 / Times Vary    
The Bessie Smith Cultural Center highlights Chattanooga's rich African American History during this two-day event. The festival will feature merchandise vendors, food and drink vendors, all merchants along what was known as the "Big 9," an art gallery, and musical artists performing all weekend long. bessiesmithcc.org  
$ | April 15-16 / 8 am  
Since 1999, Bug-a-Palüza has grown from a handful of enthusiasts spending a Sunday afternoon in the dealership parking lot to one of the largest annual VW events in the region. Spectators enjoy a judged car show with 39 show classes, swap meet, one of the largest VW campouts, games, prizes, and more! bugapaluza.com  
4 Bridges Arts Festival/First Tennessee Pavilion 
$ | April 22-23 / 10 am-5 pm   
This two-day, nationally-ranked arts festival draws more than 12,000 people annually. It features exceptional visual and fine art from local and regional artists, a creative kids area, live music, and great local food.  4BridgesArtsFestival.org 
Battle Below the Clouds/Ruby Falls  
$ | April 22 / 6 am  
Amateur grillers and smokers compete for bragging rights as Chattanooga's best backyard cooks at the 7th annual Ruby Falls Battle Below the Clouds BBQ cook-off. Independent judges select the Best Pulled Pork, Best Ribs, and Grand Champion. Enjoy live bluegrass music, kid activities, BBQ, and door prize drawings. rubyfalls.com  
Chattanooga Market/First Tennessee Pavilion 
FREE | Sundays, April 30-Nov. 19 / 10 am-5 pm  
The weekly open-air producer-only market features local food artisans and farms, fresh produce, meat, and cheese, live plants, local arts and crafts, food trucks, and much more. chattanoogamarket.com 
$ | April 29-30 / Times Vary   
Presented by Scenic City LOC, the Scenic City Cup offers soccer clubs from all over a competitive tournament for boys and girls in U9-U19 divisions. soccer.sincsports.com 
Gran Fondo Hincapie Chattanooga/Bessie Smith Cultural Center 
$ | May 6 / 8 am 
Gran Fondo Hincapie-Chattanooga welcomes cyclists of all skill levels for a weekend of riding and celebrating all things cycling. This race weekend includes a family festival, an expo, an after-party, and more. hincapie.com/granfondo/chattanooga 
Southern Blooms Festival/Rock City Gardens  
$ | May 6-7 & 13-14 / 8:30 am-6 pm   
Celebrate spring with us as the Rock City Gardens burst into bloom. Discover mischievous fairies in Gnome Valley, visit with a living fountain character, purchase plants from Frieda's Flower Sale and enjoy the soothing sounds of harp music as we celebrate the arrival of spring! seerockcity.com  
$ | May 20 / 11 am 
The Tennessee Valley's largest Christian music fest is a full day of worship, wholesome family entertainment, delicious food from local eateries, and great music from artists such as Colton Dixon, Caitie Hurst, and The Union Chattanooga. jfest.com 
Spirits in the Wild/Chattanooga Zoo   
$ | May 20 / 6-10 pm   
Enjoy an evening of taking a variety of spirits while sampling great food from some of Chattanooga's best local restaurants, live entertainment, and support the Chattanooga Zoo. chattzoo.org  
Sunbelt Bakery IRONMAN 70.3 Chattanooga Triathlon/Downtown Riverfront 
FREE/$ | May 21 / 6:30 am 
The IRONMAN 70.3 Chattanooga triathlon leads nearly 3,000 athletes on a 1.2-mile swim in the Tennessee River, 56-mile bike ride, and 13.1-mile run. Transitions and finishes are at Ross's Landing on the downtown riverfront. ironman.com/chattanooga70.3 
Summer Music Weekends/Rock City Gardens  
$ | Friday-Sunday, May 26-Sept 4; May 26-29, July 2-8; Sept. 1-4 / 8:30 am-7 pm  
Spend a summer day at Rock City Gardens and enjoy live music from several local artists, a Birds of Prey raptor show, a beautiful view of seven states, fresh-squeezed lemonade, a delicious meal at Café 7, and more. seerockcity.com  
---
Summer: June - August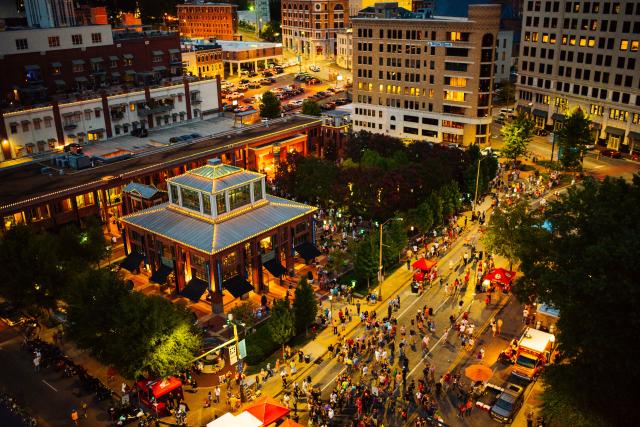 Hiwassee Loop Train Trips-3.5 Hours/Tennessee Valley Railroad Museum  
$ | May-Sept. / Dates vary 
This 3.5-hour trip takes you to the top of the famous "Hiwassee Loop" where the tracks cross over themselves as they corkscrew up the mountain near Farner, TN and includes snacks/drinks available for purchase. tvrail.com 
Nightfall Concert Series/Miller Park   
FREE | Fridays, May 26-Sept. 1 / 7 pm  
Chattanooga's Nightfall Concert Series is held each Friday night through the summer in Miller Park, showcasing local musicians, artisans, food, and free entertainment for the whole family. nightfallchattanooga.com  
Music & Movies in Miller/Miller Park  
FREE | May 27, June 24, July 29 
Celebrate Summer in Downtown Chattanooga with the entire family! Each Music & Movies in Miller event features a non-profit partner along with musical entertainment, oversized games, artist vendors, food trucks and a big screen movie under the stars! rivercitycompany.com/music-movies-in-miller 
Riverbend Festival/Ross's Landing 
$ | June 2-4 / Times Vary  
Chattanooga's original music festival is back and ready for you for its 39th year! Music lovers will hear at least 24 acts on three different stage sets ups and will enjoy the new Riverbend experience that will bring performers closer to audiences and rock our city. riverbendfestival.com 
Ice Cream Safari/Chattanooga Zoo  
$ | June 17 / 4-7 pm  
The Zoo's annual Ice Cream Safari offers after hours family fun with animal encounters, kid's activities, and unlimited tastings of the best ice cream and sweet treats in Chattanooga. Come enjoy a summer night at the Zoo and all the sweets you can eat!  chattzoo.org  
FREE | June 21 / 9 am-8 pm 
Starting in France in 1982, MMD has grown to 700 cities in 120 countries and celebrates music by showcasing a city's local talent on June 21, the longest day of the year. Make Music Chattanooga is a city-wide celebration of music. Join us in creating and celebrating music freely. concerthopper.com/makemusiccha 
Chattanooga Waterfront Triathlon/Downtown Riverfront 
$ | June 25 / 6:45 am 
The now 40-year-old triathlon takes place in the heart of downtown Chattanooga and offers athletes a fast, down-river swim, a spectator-friendly, two-loop bike course, and a scenic run along the Tennessee Riverwalk. It is a summer race not to be missed! team-magic.com/events/250 
US Adult Soccer Fest/Camp Jordan 
$ | July 12-16 / Times Vary  
Adult Soccer Fest is celebrating its 24th of offering competitive opportunities for players of all ages and abilities to get back on the field. A week built around soccer, food, and beer; this is the largest sanctioned adult soccer event in the United States. adultsoccerfest.com 
Riverfront Nights/Ross's Landing   
FREE | July 22 & 29, Saturdays, Aug. 5-26 / 7-10 pm  
Join us for a live concert series all summer long! Riverfront Nights brings you live music under the stars from some of the area's most vibrant and talented artists, various food and beverage vendors, and more family fun. riverfrontnights.com  
Q n' Brew at the Zoo/Chattanooga Zoo  
$ | July 22 / 6-9 pm  
Join the Chattanooga Zoo for their annual barbecue and beer tasting event. This summertime barbecue offers fun for the whole family with live bluegrass music, animal encounters, tortoise races, kid's activities, and more.  chattzoo.org  
Alliance Fastpitch Open Nationals  
$ | July 26-30 / Times Vary   
The Alliance Fastpitch is bringing you a championship experience that is all about the players. Chattanooga has been hosting fastpitch National Championships for over 40 years and is ready to crown the 8U-18U champions. thealliancefastpitch.com  
Margarita Festival/First Horizon Pavilion 
$ | Aug. 5 / 6-9 pm 
The third annual Margarita Festival invites 20 local restaurants to whip up their best margarita recipe for you to try and help crown the best margarita in Chattanooga. Work your way through your sample passport that includes 12 mini margaritas, then vote for your favorite. Enjoy live entertainment by local DJs, a Margarita Fest photobooth and some of Chattanooga's tastiest food vendors. chattanoogafestivals.com/chattmarg
Rail & Hops Brewers Festival/First Horizon Pavillion
$ | Aug. 26 / 4-10 pm  
Rail & Hops Brewers Festival is back this spring and at a new location! This curated event focuses on the artistry of brewing handcrafted beers and features local and regional breweries, Chattanooga's favorite food trucks, live music, and more. railandhops.com  
Fall: September - October
FREE | Thursdays, Sept.-Oct. / 12 pm 
For eight weeks in the Fall, Noontines is a local concert series every Thursday at noon. Noontunes features local musicians and supports Chattanooga's local music economy.  
rivercitycompany.com/noontunes 
National Treasures: Party at Point Park/Point Park  
$ | Sept. 7 / 5:30-8:30 pm  
Guests will enjoy the beautiful scenic views from atop Lookout Mountain, perfect background music, dinner, kid friendly games, and more while supporting the National Park Partners. partyatpointpark.com 
Moon River Music Festival/Coolidge Park 
$ | Sept. 9-10 / 10 am-11 pm  
Moon River Music Festival is an exciting, family-friendly, two-day event highlighting the music and culture of Tennessee. Originally taking place in creator Drew Holcomb's hometown of Memphis, Moon River has grown into an important and beloved institution in the Tennessee community. moonriverfestival.com 
Little Debbie IRONMAN Chattanooga Triathlon/Downtown Riverfront 
FREE/$ | Sept. 24 / Times Vary 
The Little Debbie IRONMAN Chattanooga is one of 11 total races in the IRONMAN® U.S. Series. IRONMAN Chattanooga leads athletes through a 2.4-mile swim in the Tennessee River, a 112-mile bike through the valley, and 26.2-mile run on a course that utilizes a variety of Chattanooga's scenic areas. There will be a USD professional prize purse. ironman.com/im-chattanooga 
Tennessee Whiskey Festival/First Horizon Pavilion 
$ | Sept. 30 / 6-9 pm 
Showcasing our state's craft spirits and the people who produce them, this is the perfect opportunity to sample the best whiskey offered in Tennessee, enjoy live music and mingle with fellow whiskey enthusiasts. tnwhiskeyfestival.com 
$ | October / Times Vary  
When Chattanooga transforms itself to ChattaBOOga! in October, it's not the typical haunted city. Only for the bravest of souls, there's an intense haunted cavern crawling with terrifying creatures; menacing woods and a dark swamp teeming with monsters; and chilling ghost hunts in search of the city's restless dead. For more mild experiences, families can enjoy 10-acre enchanted MAiZE; superhero divers carving pumpkins underwater; spooky rides aboard a haunted vintage train; trick-or-treating around zoo animals; and frightening fun on haunted amusement park rides. VisitChattanooga.com/fall 
Rocktoberfest/Rock City Gardens
$ | October Weekends / 8:30 am-6 pm  
Let's Oompah! Rock City Square will be transformed for a celebration of harvests and fall foliage. This premiere autumn festival includes live German music, polka lessons, German food, the Fall Fairy, Ik the Troll King, and a family fun celebrating our founder Frieda Utermoehlen Carter. seerockcity.com  
Fall Foliage Sightseeing Cruises/Chattanooga Riverboat Co.'s Southern Belle 
$ | Oct.-Nov. / Times Vary  
Cruise the Grand Canyon of the Tennessee River and see one of nature's most brilliant displays of color. This three-hour cruise includes live entertainment, live narration of the historical sites along the river, Pilot House tours, buffet lunch, and free bingo with prizes. chattanoogariverboat.com 
3 Sisters Bluegrass Festival/Downtown Riverfront  
FREE | Oct. 6-7 / 6-10 pm   
Combining both traditional and contemporary bluegrass, this annual festival appeals to a wide age range and has featured some of the biggest names in bluegrass. 3sistersbluegrass.com  
Cycle Sequatchie Century & 3 Mtn Challenge/Sequatchie Valley 
$ | Oct. 7 / 7:30 am 
With over 100 miles of scenic rolling farm road explorations, this challenge is a cyclist's dream.  Participants can choose their own adventure with 19 different route combinations and enjoy a finishing celebration with a farm-to-table lunch, local craft beer, an outdoor expo, and more. cyclesequatchie.com 
Swim the Suck 10 Mile Open Swim/Tennessee River Gorge  
$ | Oct. 7 / Times Vary   
Swim the Suck is a 10-mile downstream open water swimming race starting at the Suck Creek Boat Launch and finishing at the Tennessee River Gardens with a post-swim awards party.  swimthesuck.org 
Wine Over Water/Walnut Street Bridge 
$ | Oct. 7 / 5-8 pm 
Wine Over Water is back and celebrating its 27th Anniversary! This much-loved annual event showcases 200 wine varieties, delicious local food, and three stages of music – all taking place on the beautiful Walnut Street Bridge. preservechattanooga.com/wineoverwater 
Hyperflite Skyhoundz World Canine Disc Championship/Coolidge Park 
FREE | Oct. 7-8 / 9 am-6 pm 
More than 120 teams of the most talented canine athletes take to the skies to compete in the World Championship. This is the premier event in canine sports featuring top teams from around the world competing in a menu of disciplines designed to showcase the talents of these amazing canine athletes. skyhoundz.com 
7 Bridges Marathon/Coolidge Park 
$ | Oct. 15 / Times Vary 
Enjoy Chattanooga's largest and most loved marathon with five different races to choose from, a live DJ, event shirts, medals, food, and so much more! sevenbridgesmarathon.com 
ChattaJack31 Paddleboard/Kayak Race/Tennessee River Gorge 
$ | Oct. 28 / 8:30 am 
This paddleboard/kayak race is like no other! The ChattaJack31 takes athletes 31 miles through the scenic Tennessee River Gorge and celebrates the effort in the pursuit of distance endurance. chattajack.com 
Winter/Holidays: November - December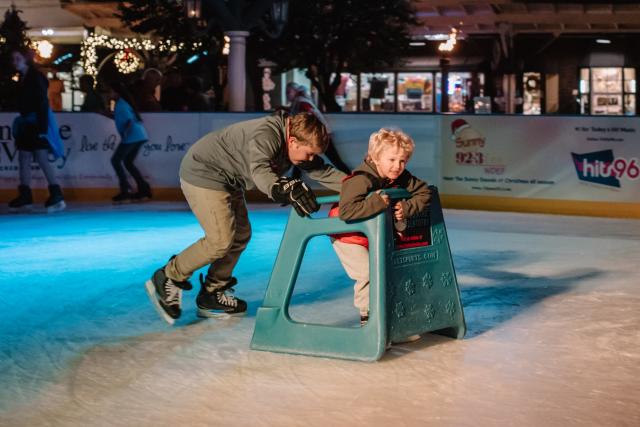 $ | Nov.-Jan. / Times Vary  
The Holiday Trail of Lights features eight major points of interest which include millions of twinkling lights at Chattanooga's top holiday attractions. Enjoy a varied array of festivals, holiday events, delicious holiday meals, Santa sightings, shopping, and live music and entertainment scattered throughout the city. VisitChattanooga.com/winter 
FREE | Nov.-Jan. / Open 24/7 
EPB's Holiday Windows celebration continues a tradition that dates back to the World War II era. View the displays in the windows on the Broad and Market Street sides of EPB's downtown headquarters building at 10 W. M.L. King Blvd. epb.com 
Twinkling Snowflakes Along the Scenic Walnut Street Bridge/Downtown Chattanooga 
FREE | Nov.-Jan. / Open 24/7 
View the thousands of twinkling lights in snowflake form along the Walnut Street Bridge, one of the longest pedestrian-only bridges in the world at 2,370 feet. chattanooga.gov/parks/downtown-river-parks 
Winter Wonderland/Chattanooga Choo Choo  
FREE/$ | Nov.-Jan.  
Enter the Chattanooga Choo Choo's festive lobby to see one of the city's tallest Christmas trees at 28 feet and enjoy the lights and cheer throughout the property create a magical wonderland complete with ice skating at Ice on the Landing, holiday music, Station Street activities, special holiday treats at restaurants, photos with Santa, and more. choochoo.com/holidays 
Head of the Hooch Rowing Regatta/Downtown Riverfront 
FREE | Nov. 3-4 / Times Vary 
Watch one of the largest regattas in the U.S., hosting more than 5,100 competitors ages 14-89 representing 29 states and countries from Chattanooga's riverfront. The Head of the Hooch regatta is a 3.1-mile course down the Tennessee River, passing by Chattanooga's Riverfront and Bluff View Districts. headofthehooch.org 
Enchanted Garden of Lights/Rock City Gardens  
$ | Nov. 17-Dec. 31 / 4:30-9pm (10 pm Fri.-Sun.) Closed Christmas Eve night.  
For the holiday season, Rock City's Enchanted Garden of Lights is a family tradition featuring more than a million LED lights that transform the gardens' natural daytime splendor into a fantasyland of wonder. Enjoy gingerbread cookie decorating, hot cocoa, and nightly entertainment. seerockcity.com  
Reindeer on the Riverfront & Lighted Boat Parade/Chattanooga Green  
FREE | Nov. 24 / 4-8 pm   
Holiday joy will fill downtown with live reindeer, Santa Claus, fire pits, face painting, holiday tunes, and more, all while enjoying the Lighted Boat Parade and fireworks. rivercitycompany.com  
Christmas Carol Dinner Cruises/Chattanooga Riverboat Co.'s Southern Belle 
$ | Dec. / Times vary per date 
Enjoy lunch while on a relaxing cruise down the Tennessee River. Cruise includes live entertainment, dancing, a dinner of prime rib, shrimp creole, savory cornbread dressing, desserts, and more. Reservations can be booked online or by phone. chattanoogariverboat.com 
'Tis the Season Lunch Cruises/Chattanooga Riverboat Co.'s Southern Belle 
$   |   Dec./Date and times vary 
Enjoy lunch while cruising down the Tennessee River. Cruise includes live entertainment, Pilot House tours, and a lunch of prime rib, lemon basil chicken, desserts, and more. Reservations can be booked online or by phone. chattanoogariverboat.com 
MainX24 24-Hour Festival/Southside District 
FREE/$ | Dec. 2 / 12 am-12 pm 
Celebrate Main Street and the Southside District for a 24-hour long festival held the first Saturday each December. The packed entertainment schedule includes fashion shows, parades, parties, live music, Big Wheel contest, chili cook-off, an ice-skating rink, and so much more. mainx24.com 
$ | Dec. 30 / Times Vary 
Celebrate the 94th anniversary of the discovery at Ruby Falls! The first 94 guests to arrive at Ruby Falls will receive the original $2 admission rate, a keepsake postcard and discover some lesser-known facts and legends about the cavern as we commemorate the incredible journey of Leo Lambert. rubyfalls.com