Free Things To Do In Chattanooga
Money is no object. Isn't that what "they" say? Whoever "they" are. Well, news flash – it is an object and free things are nice. Lucky for you there are tons of free things to do in Chattanooga. You can start by exploring the many parks located within 6 miles of each other. Coolidge Park is one of the biggest and most popular parks downtown. Sitting right on the Tennessee River, you catch every beautiful sunset from your hammock or play a game of ultimate frisbee in the middle of the huge outdoor space.
Take a walk across the Walnut Street Bridge to the Bluff View Art District serving up old-time European vibes mixed with a modern feel of American art. Just a little further towards City Center is Miller Plaza where every Friday night during the Summer you can jam at Nightfall, a free music series. There's also a large outdoor space where you can throw out that quilt that's been hiding in your trunk for 10 years and watch the stars in the middle of Downtown Chattanooga while enjoying free live music. Did we mention it's free? 
Chattanooga is a city with tons of options for those who wish to have a great time without breaking the bank. Our unique location provides a variety of fun and free things to do for everyone. Check out all the free fun to have in Chattanooga!
Explore Downtown Chattanooga and Beyond
Coolidge Park 
This popular park on the North Shore is a great place to throw frisbee, enjoy a picnic, or let the kids run around in the interactive water fountains. The park is also a great place to sit and relax as you enjoy the sights and sounds of the Tennessee River on one of the many benches throughout the park. For those who enjoy kayaking or canoeing, the park also includes multiple launch spots to take your adventure out on the water.
Renaissance Park
Located adjacent to Coolidge Park, Renaissance Park is a unique place to bring the dogs, have a picnic, and enjoy scenic views of Chattanooga's downtown. Renaissance Park also includes what is known to locals as "cardboard hill," where people are encouraged to bring their own piece of cardboard to ride and slide all the way down.
Walnut Street Bridge
The Walnut Street Bridge was built in 1891 where it once served as a bridge for automobiles. It has since been transformed into one of the longest pedestrian bridges in the world! The bridge connects Chattanooga's eclectic North Shore to the Downtown area and is a great place to enjoy views of Lookout Mountain and the Tennessee River after hanging out in Coolidge or Renaissance Park.
The Passage at Ross's Landing
The Passage at Ross's Landing marks the spot where the Trail of Tears originally began. Today, the area serves as a place to honor and remember those of the Cherokee Nation with beautiful Native American Art alongside stairs which lead out to the Tennessee River. 
Free Electric Shuttle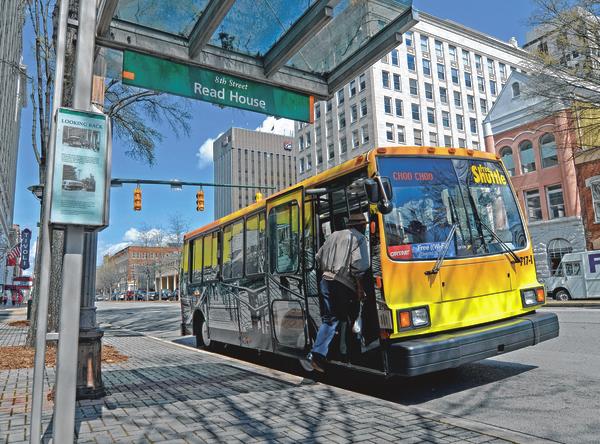 Chattanooga has an incredibly walkable downtown, but if you need to rest your feet or plan on trekking all the way across town, hop on the free electric shuttle! Find maps and more here.
Experience Chattanooga Art
Throwback Thursdays at The Hunter Museum of American Art
The Hunter Museum offers free admission to their permanent collection and $5 general admission to special exhibitions on Throwback Thursdays, the first Thursday of each month from 4 – 8 PM.
Ed Johnson Memorial and First Street Sculpture Gardens
After you cross the Walnut Street Bridge from the North Shore, take a right and step into a spot of reflection at the Ed Johnson Memorial. Johnson was murdered by a lynch-mob while awaiting trial during an unprecedented hearing. Both he, his lawyers, and the court case that changed American History and the Civil Rights movement are memorialized at the south entrance of the bridge.
Continue down 1st Street to find sculpture displays and a rain garden. Don't forget to stop by the Ice Cream Show for a sweet treat to enjoy as you check out the art. 
Bluff View Art District 
This popular destination has an old-time European vibe blended with the modern feel of American art right on the bluffs overlooking the Tennessee River. From here, you can take in the sights and sounds of downtown Chattanooga while enjoying the peaceful feeling of being transported to another time. If you get the chance, stop by Rembrandt's Coffee Shop or one of the restaurants on the bluff to enjoy a variety of foods made in the district.
River Gallery Sculpture Garden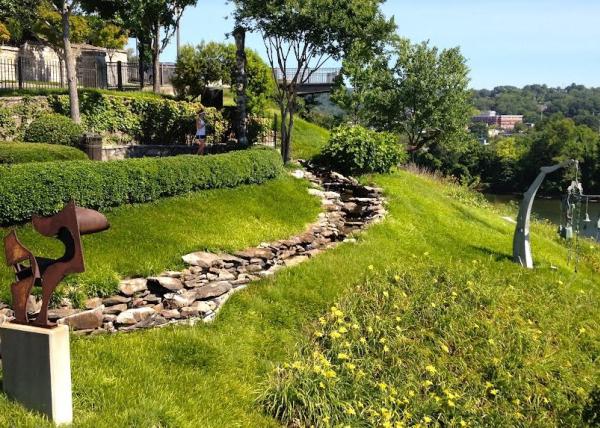 Located within the Bluff View Art District, the River Gallery Sculpture Garden is a 2-acre outdoor art exhibit featuring one of the Southeast's most impressive collections of temporary American sculptures.
Sculpture Fields at Montague Park
Chattanooga's newest cultural tourist attraction is a 33-acre sculpture park. The park features 27 world-renowned large-scale sculptures and has plenty of green space, making it perfect for a family picnic or playing fetch with Fido.
Main Terrain Art Park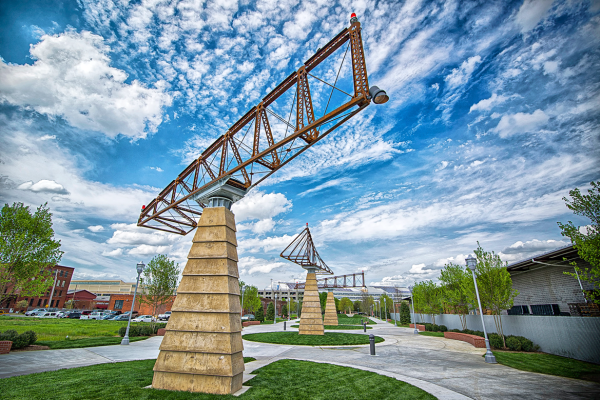 The Main Terrain Art Park is located on Chattanooga's bustling Southside. The park provides a unique green space where visitors can enjoy art pieces, which also double as fitness alternatives.
Alley Hopping + DIY Your Own Public Art Tour
With over 105 permanent outdoor artworks, Chattanooga has the most public art in the Southeast that you will love to explore. Kat Wright, City of Chattanooga's Public Art Director invites you to take in 5 notable downtown public art projects. Be on the lookout for more downtown Public Art Chattanooga projects in the works.  Read more and find our Experience Art Map here. 
Outdoors
Sunset Rock
Situated atop Lookout Mountain, this trail starts off on a bluff looking out over the Tennessee River Valley. You can follow the trail down the mountain or even rock climb on the mountainside bluffs.
Signal Point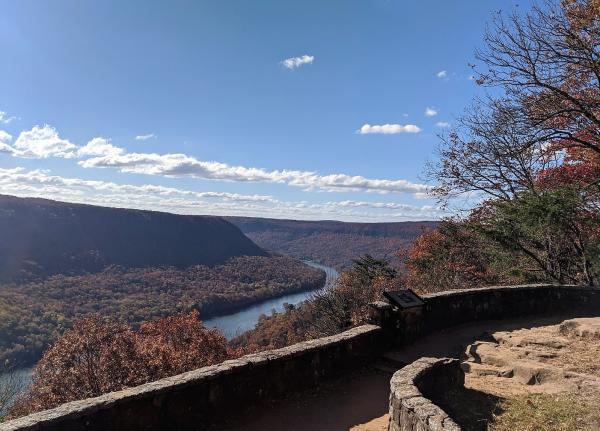 This historic location atop Signal Mountain was important during the Civil War. Due to the high visibility, it was used to send and receive messages from one troop battalion to another. This 13-mile trail features cascading waterfalls and is pet-friendly.
North Chick Blue Hole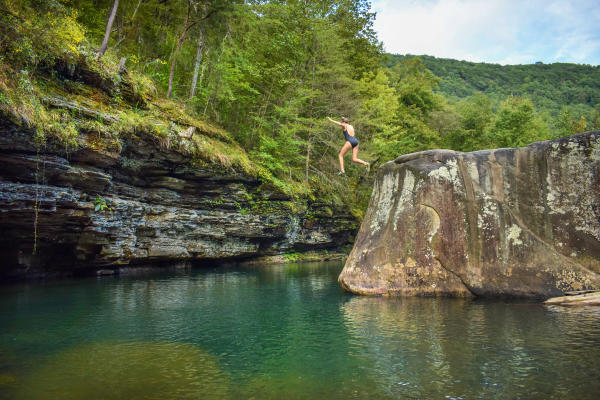 This trail runs alongside the North Chickamauga Creek which carves out a steep gorge between Signal and Mowbray mountains. You'll find a series of deep, welcoming pools to cool off in along the way. 
Chase Waterfalls Around Chattanooga
It's easy to be a lover of waterfalls in Chattanooga. Whether you're seeking big, tall, powerful waterfalls in the area or four of our favorites, you will find the waterfall(s) that meet all your heart's desires. 
Visit an Area State Park
Booker T. Washington and Harrison Bay State Parks are a short drive away from downtown and park admission is free. Have a little more time? Venture out to South Cumberland, Rock Island, or Fall Creek Falls State Parks for even more trail options that are 45 minutes to a 1.5-hour drive away. 
Riverwalk
With over 16 miles hugging the Tennessee river and even more additions putting this trail just under 30 miles, the Riverwalk is an awesome option for a casual walk, run, or bike through Chattanooga's urban and natural landscapes. Plenty of access points, picnic tables, art, and more make this a place you'll want to keep coming back to.
Chickamauga and Chattanooga National Military Park
Explore nature and history with an indoor exhibit, self-led or ranger-led tour at this 10,000-acre park. Hiking, biking, horseback riding, and paddling are all popular outdoor activities here. 
Raccoon Mountain
It is absolutely worth the short drive up Raccoon Mountain for the unique experience and views alone. But, stay for the popular hiking and mountain biking trails and you will not regret it. Raccoon Mountain is the Tennessee Valley Authority's largest hydroelectric facility. Water is pumped to a large reservoir lake at the top of the mountain and then released via a tunnel drilled through the center of the mountain to generate electricity. An awe-inspiring process to see in action. 
Entertainment
Nightfall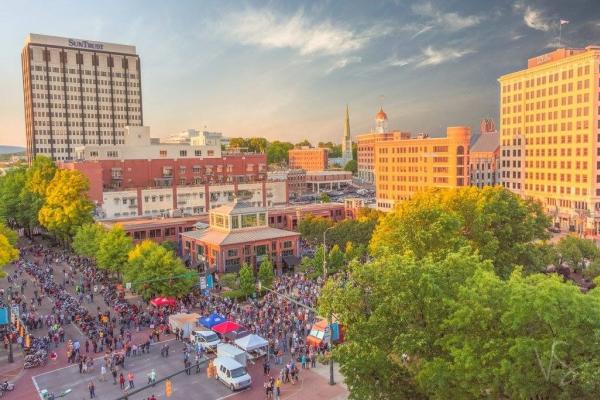 Nightfall Free Music Series has been around for over 30 years. This Chattanooga summer staple is held every Friday night from early May through late August at Miller Plaza. Bring your kids, lawn chairs, pets, and friends to enjoy great live music, food, and an ice-cold beverage in the heart of downtown Chattanooga.
Riverfront Nights
This free music series is held on Chattanooga's riverfront every Saturday from July to September. Riverfront Nights is a  great way to unwind with local food, drinks, and great music after spending a day on the town. Free and fee-based boat parking is available.
Music and Movies at Miller
Celebrate summer in downtown Chattanooga and bring the entire family to Music and Movies at Miller. This event is free and open for all to enjoy. During the summer months, this Saturday night event features local nonprofits, music, games, food trucks, and a big screen movie under the stars in Miller Park.
Chattanooga Market
Strolling the Sunday Market is a beloved Chattanooga pastime. Celebrate community and support local by purchasing locally grown and crafted goods with a frozen lemonade, craft beer, or wine in hand and the smell of kettle corn filling the air. Can't make it on Sunday? No problem! The Saturday River market is a great option too! 
Chattanooga Choo Choo
This iconic Chattanooga spot is an absolute must, and it's totally free to visit. Walk through the historical terminal that welcomed passengers to Chattanooga for decades. Wander the Glen Miller Gardens to see train cars now turned into bars, hotel rooms, and an escape experience. Stay for a drink, a meal, or a night at the historical hotel and adjoining bars and restaurants, but those will cost you a little extra.