Lookout Mountain
Lookout Mountain rises 2,000 feet above sea level and overlooks Chattanooga. The views are as amazing as the attractions that call Lookout Mountain home: Rock City, Ruby Falls, the Incline Railway and Chickamauga & Chattanooga National Military Park.
Ruby Falls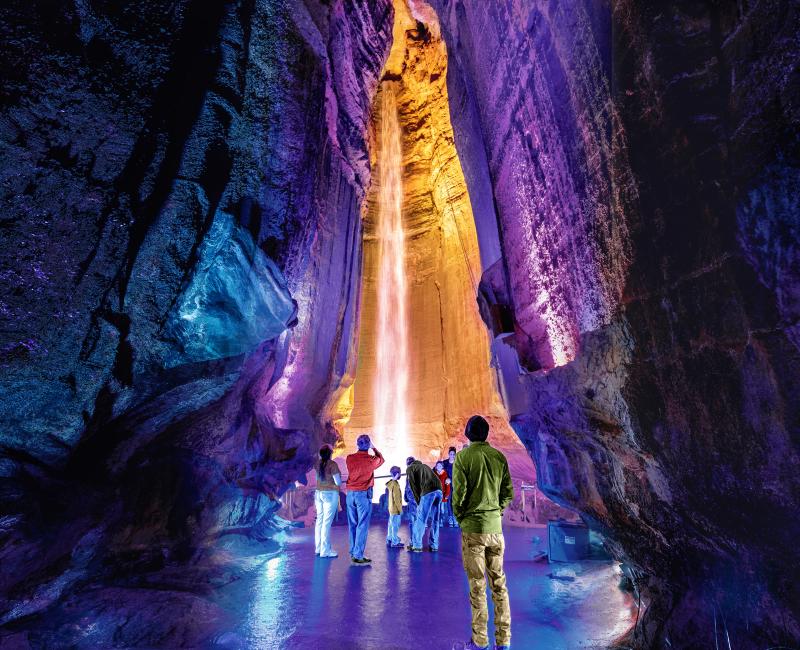 Ruby Falls is home to the tallest and deepest underground waterfall open to the public in the United States. Journey 1,120 feet underground and discover incredible beauty and wonder. Since the first guided tour in 1930, Ruby Falls has long been a favorite, must-see destination.
Ruby falls also serves up unique views high atop Lookout Mountain. Get your adrenaline pumping at High Point Zip Adventure with 700 feet of rushing ziplines and conquer the 40-foot climbing tower with multiple routes of varying difficulty. The color blind viewfinder at Ruby Falls provides guests the opportunity to see the true colors from their scenic overlook.
Rock City
The infamous red and black barns are right, you must see Rock City! This unique attraction sits atop Lookout Mountain with panoramic views of seven states. There's almost always a festival at Rock City to enjoy, so come any time of year.
Incline Railway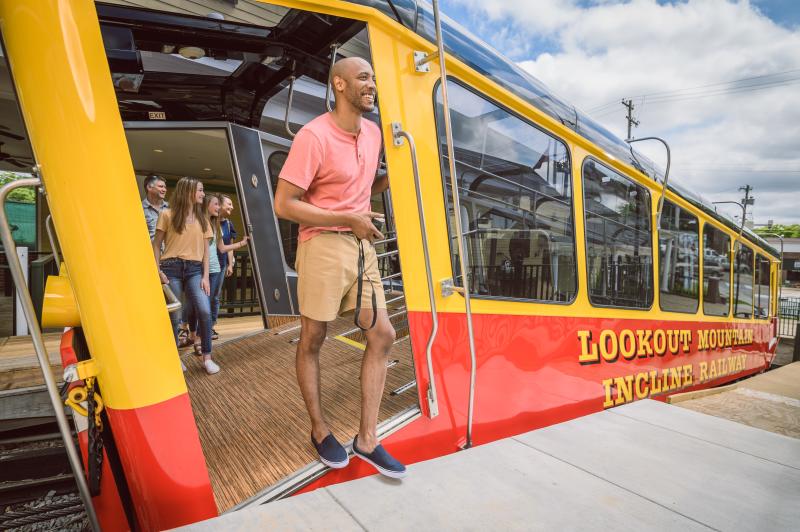 Why travel up Lookout Mountain by car when you could take the world's steepest Incline Railway instead? The 1-mile, 125+-year-old climb connects the St. Elmo neighborhood with Lookout Mountain above. 
Historic Point Park Battlefield and Cravens House
Point Park
Perched on the point of Lookout Mountain is the site of the Civil War battle commonly referred to as "The Battle Above the Clouds." The Point Park visitor center just outside the park entrance houses a 33' by 13' mural painted by James Walker, an eyewitness to the battle, and several short audio-visual presentations about the painting and battles for Chattanooga.
Cravens House
The fiercest fighting during the battle of Lookout Mountain took place in the vicinity of Cravens House. Although the original home was destroyed after the battle, Robert Cravens rebuilt the home in 1866, which still stands today. The hiking trail from Cravens House to Sunset Rock is a must for the more adventurous spirits!
Chattanooga Hiking and Overlooks Map
Looking for popular trails and breathtaking views convenient to downtown? We've got you covered.
Lookout Mountain is full of bragging rights experiences. People may not believe you when you tell them you took an elevator 26 stories below ground then walked deep into a cave past stalagmites, stalactites, and drapery formations to see the largest and deepest underground commercial waterfall...
Explore More