Chattanooga has always been a music city. From the jazz and blues of "The Big 9" era to bluegrass and fiddle music, the city's location has made it easy for generations of music fans to gather in a centralized location.
Nobody embodies the rich history of Chattanooga's past while having a foot planted firmly in the present like Lon Eldridge. His focus on traditional music — ragtime, blues and jazz — permeates nearly fiber of his personality. His band, 9th Street Stompers, performs regularly around the city and beyond. And in 2020, Eldridge released a new album — "The Island" — featuring a host of prominent Chattanooga musicians.
We asked Eldridge about Chattanooga's music scene post-pandemic, what makes Chattanooga special and some of his favorite venues to play in the city.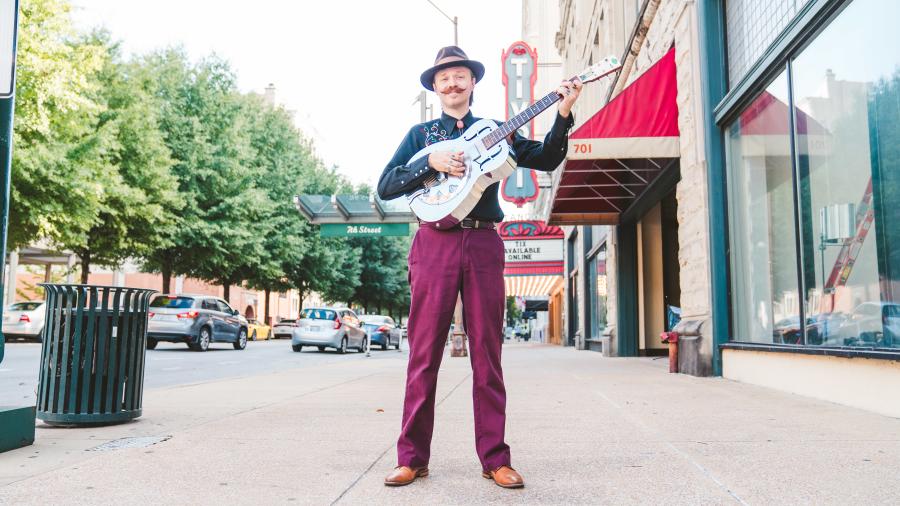 What will Chattanooga's music scene look like post-pandemic? Better? More connected? Worse?
I like to remain hopeful for Chattanooga's musicians and music venues after this is all past us, but I think it's also important to acknowledge the strain and stress the pandemic has put on the shoulders of both. It's a harder time than ever to be a full-time musician or a venue owner, both monetarily and emotionally. However, I've been playing music in this city a long time and I can tell you that Chattanooga's musicians are a resilient lot, and I for one look forward to the renaissance that awaits us on the other side. Great art is born out of great turmoil, and I cannot wait to see the beautiful things we can create together.
What makes Chattanooga a great place to be a working musician?
For me it's the connectedness I feel with other musicians in this town, especially ones I've known a long while who are still at it. Everybody's got gig stories, both great and horrific, and I love to hear and share those. I also love our scene's inclusive nature. I'm grateful for the more experienced musicians that showed me the way when I was first starting out, and now I try to be that helpful person and give advice to folks who are trying to break into the scene. Big city music scenes can get pretty pretentious at times, but Chattanooga's small city feel circumvents a lot of that.
You collect vintage 78RPM records. What have you discovered about Chattanooga's place in musical history through your collecting?
Wow, that's a tough question to answer in just a few lines! I could go on ad nauseam about this kind of stuff, but I'll spare you and just cite one specific record I found. It's a record by singer Roland Hayes pressed on his own personal record label, Angel Mo Records. There were probably only a few dozen copies made, and even fewer survive now. Hayes grew up in Chattanooga from a young age, eventually going on to study at the prestigious Fisk University and tour the world singing with the leading orchestras of the day. As a Black man, he overcame many racial hurdles and was one of the highest-paid singers of his day, reportedly making $100,000 a year at one point. The concert hall on UTC campus bears his namesake. This is just one of the numerous things I've learned about Chattanooga music history by collecting 78rpm records.
LON'S FAVORITE VENUES
The Tivoli and The Signal are both 1,000+ capacity venues that draw a lot of touring acts. Barking Legs Theater is a mainstay of our music scene and has been booking top-shelf talent (both local and touring) in an intimate listening room setting for three decades now. The Honest Pint is a larger space, but still feels homey with its lush comfortable interior and crystal chandeliers. At JJ's, every kind of music imaginable (and unimaginable) comes through—I've discovered so much cool music there, along with acts that have challenged how I think about music.