It's time for some Saint Patrick's Day shenanigans! The fun doesn't stop with parades, parties, cocktail classes, and more. Chattanooga has a variety of offerings for both family and friends, day and night. Channel your inner Irish spirit, get outside, and you may just find a pot of gold!  
St. Patrick's Day Cocktails 
Are you wanting to impress your friends and family with your newfound bartending skills this St. Patty's Day? Kaleena Goldsworthy of Goldcraft Co. and Bitter Bottle will be teaching you how to make three themed cocktails at The Chattery! This will be an in-person class from 6 to 7:30 pm on March 9th. Tickets are $35 and include the class as well as copies of the recipes and instructions.  
Come see the High Falls flow green! This event will give you a taste of Irish culture through food, live music, and drinks. You can even visit some Irish furry friends like Suffolk Sheep and a Highland cow! With so much music and many Irish dishes to try, you can't pass up on this event that is fun for the whole family. Check out Shamrock City at Rock City Gardens on March 11, 12, 18, or 19 from 9:00 AM to 5:00 PM! 
The Chattanooga Shamrock Run is a 4-mile course filled with fun, luck, and laughter along the Riverfront...everyone receives a green tutu, t-shirt, and finisher's medal! Packet pick-up on Friday, March 10th, is at Fleet Feet Chattanooga from 11am to 4pm. The run begins at 8:00 AM at Ross's landing and is $35 to participate. There will also be kid's Little Lucky Leprechaun Dash at 8:30 AM which will be $15 to participate. 
Tina Corea and Karla Hodges of Knoxville's Party with Pizazz are going to teach you the basics of cookie decorating at The Chattery. You'll create a leprechaun, a shamrock, and a green beer mug with all of the provided supplies. No prior cookie decorating skills are required! This will be an in-person class from 2:30 to 4:30 pm on March 11. Tickets will be $45.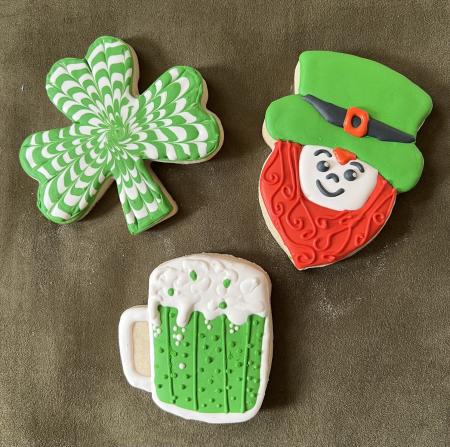 Photo Credit: The Chattery
Fountainhead Tap Room will be having St. Patrick's day specials on food and drinks on March 17th as well as local vendors from 5:00pm to 9:00pm with live music starting at 7:00. This will be a free-to-enter 21 and up event. 
The Tap House will be hosting a St. Patrick's Day-themed St. Elmo Maker's Market on Saturday, March 18th with 25+ local vendors, plenty of drinks, and music! 
St. Patty Day Bash with Jason Lyles
From 9:00 PM to 2:00 AM Wanderlinger Brewing Company will be hosting a 21+ event with lots of booze, music, and food! Wanderlinger will have a $15 cover to come and party the Irish way.
Chattanooga's official St. Patrick's Day block party will be returning for the 9th year in a row! This Parkway festival will be held in Patton Square on Saturday, March 18th from 6:00 PM to 12:00 AM. There will be live performances, food & drink vendors, games, bellydancers, and so much more! Tickets are $15 if bought prior to the event, and $25 at the gate.