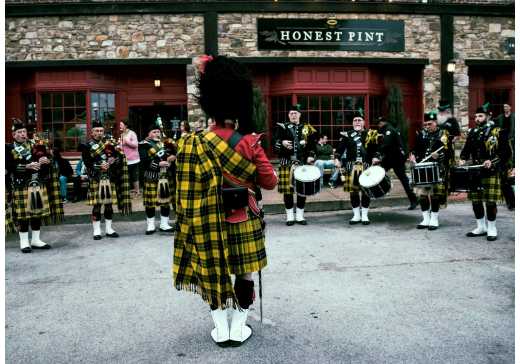 It's time for some Saint Patrick's Day fun! Parades, live music, food trucks, parties, and more. Chattanooga has a variety of offerings for both family and friends, day and night. Channel your inner Irish spirit, get outside, and you may just find a pot of gold!
7th Annual St. Paddy's on the Parkway
March 14, 6pm-12am, The Honest Pint
Chattanooga's official St Patrick's Day block party returns. The 7th annual Party on the Parkway festival uses Patten Parkway to celebrate with an outdoor stage, food and beer vendors, and a kid zone with interactive games and crafts.
2020 Lineup includes:
Luke Simmons & the Lovestruck |  Lennox Hills | The Communicators | Behold the Brave | Stringers Ridge | WalkOrRow | The Molly Maguires | Slim Pickins | The 9th Street Stompers 
Shamrock City

March 14, 15, 21 & 22, 8:30 a.m.-5 p.m., Rock City Gardens
Get your green on for Rock City's 13th Irish celebration and festival featuring music, food and other fun entertainment! See the waterfall turned green! Enjoy listening to several bands scheduled to perform in the Pot of Gold Pavilion. Taste some Irish food, specialty beer, Rock City's famous fudge with a "green" twist, and a variety of St. Patrick's Day scoops from Clumpies Ice Cream Co. including Lucky Charm, Pretzel Stout, and Irish Coffee. And bring your friends and family for many more fun activities. 
West Village Saint Patrick's Day
March 17, 4-11pm, Chestnut Street at 8th Street​
Chattanooga's West Village district is the perfect place to spend St. Patrick's Day. This special St. Patty's Day event has something for both children and adults. Entertainment will include live music, green beer gardens, food trucks, and a laser light show that is sure to impress. 
Clyde's 5th Annual St. Paddy's Day Ragar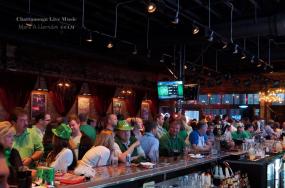 March 14, times vary
Hi-Fi Clyde's is having its annual St. Paddy's Party! There will be live music and drink specials all day on Saturday. The parking lot will be shut down so you can take the party outside! 
St. Patrick's Day Dinner Train 
This trip includes a three-course dining experience with your choice of two craft beers on board our restored dining car. Trains depart from Grand Junction Station, traveling at a leisurely pace through portions of urban East Chattanooga before reversing direction and returning to Grand Junction.
Chattanooga's live music scene never stops. For a full list of events happening this St. Patrick's Day weekend, check out our music blog.