While all of Chattanooga's B&Bs offer a bed and complimentary breakfast, that's about where the similarities end. From a mountain escape to an urban oasis, each inn has its own distinct personality and charm. Whether you're looking for a mountain-top cottage tucked in the woods or a room in a historic downtown mansion, Chattanooga has all the bed and breakfast bases covered. Here are some of the top spots in town.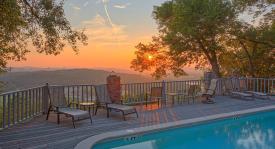 Lookout Mountain RiverView Inn
Built in 1935, Sky Harbor Court played a part of America's enduring legacy of roadside attractions and motor courts for more than 80 years. In 2017, the charm and history of Sky Harbor was preserved with renovations that included refreshing guest spaces with new bathrooms, updated furnishings, and luxurious amenities. The property was transformed, and with that transformation came a new name-the RiverView Inn. Today, guests can take a dip in the pool, unwind by the fire pit, and take in the spectacular views of the Tennessee River from the Skybox.
LOCATION: Nestled on the side of Lookout Mountain, the RiverView Inn is conveniently located minutes from downtown Chattanooga, world-famous Lookout Mountain Attractions. You can also find plenty of hiking trails and outdoor recreation close by, as well as a variety of local restaurants and shopping in nearby St. Elmo.
Mayor's Mansion Inn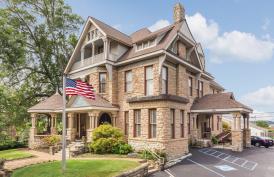 If you're a history buff, a stay in the elegant Mayor's Mansion Inn is just what you need. The three-story, 18-room inn was originally built in 1889 by Chattanooga Mayor Edmond Watkins, using stone from an old Union Army redoubt. From the hand-laid parquet wooden floor featuring five types of wood to the wrap-around porches and 14 gables, Watkins spared no expense when building his dream home. Today, the innkeepers reflect that ethos, offering beautifully appointed rooms with private baths, spa robes for use "en suite," a three-course gourmet breakfast, complimentary concierge service and more.

LOCATION: Mayor's Mansion is tucked into the historic Fort Wood District, less than two miles from downtown attractions. But the neighborhood is certainly worth exploring by foot, featuring beautiful homes from the late 1800's – including a remarkable 120 buildings listed on the National Register of Historic Places. While most sightseeing requires a car, the inn offers complimentary parking right at the front door.
St Francis Cottage Bed & Breakfast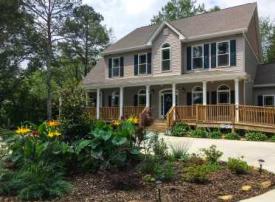 Located near Hamilton Place Mall, this 2.3 acre bed & breakfast offers privacy, convenience, and comfort in every facet. Explore the gardens with a cup of organic coffee or tea and enjoy some Southern-comfort food. Whether you're looking to relax or socialize, St Francis Cottage has it all. With a social hour featuring complimentary beer and wine, you'll meet new friends before returning back to your private and relaxing room. With free parking, complimentary breakfast, and pet friendly rooms, you're sure to enjoy your visit. The St Francis Cottage is also a great place to have a small wedding, family, or business event!
LOCATION: St Francis Cottage is located at the intersection of I-24 and I-75 falling adjacent to Hamilton Place Mall Shopping Complex. This bed and breakfast is located near many hot spot restaurants in Chattanooga including Abuelo's, Ruth's Chris Steak House, and Mellow Mushroom Pizza.
Bluff View Inn

Dr. Charles and Mary Portera opened their romantic B&B in 1993. Although it originally offered just three rooms in the former Martin mansion (circa 1927), it garnered the attention of Southern Living and set a precedent for an award-winning guest experience. Today, it's expanded to 16 rooms, including a honeymoon suite, by adding two other turn-of-the-century homes, the Maclellan and Thompson Houses. The three properties offer relaxing front porches with rockers as well as access to the Bocce Court Terrace overlooking the river. Another plus: Bluff View's restaurants and coffee shops are literally at your doorstep.

LOCATION: The Bluff View Art District puts you close to the downtown area attractions. It's walking distance to the Tennessee Aquarium and virtually next door to the Hunter Art Museum of American Art and the Walnut Street Bridge. Situated on the highest point of downtown, it also offers beautiful sunrise and sunset views over the Tennessee River.

Chanticleer Inn Bed & Breakfast

If a luxurious mountain getaway is on your list, a stay at the Chanticleer Inn is a must. Celebrated by Southern Living and Trip Advisor (voted 24th B&B in the country), it's one of only two inns in Chattanooga endorsed by Distinguished Inns of North America. Expect 17 beautifully appointed rooms decorated with French Country Motifs – many offering fireplaces or whirlpool tubs. Other amenities include a swimming pool and sun deck, bocce court, outdoor seating/dining on their stone patio, and, of course, unbeatable Southern hospitality. Enjoy a complimentary breakfast spread including house-made breads and sweets as well as cookies in the afternoon.

LOCATION: If you're looking for a B&B above the clouds, the Chanticleer is it. Catch the first rays of morning light on its front patio and get ready for a full day of activities on Lookout Mountain. Located directly across the street from Rock City, the Chanticleer is a short drive to other Lookout Mountain attractions such as Point Park, the Incline Railway, Ruby Falls and a maze of hiking and biking trails. When you're ready to head downtown, it's a convenient 10-minute drive.

Garden Walk Inn Bed & Breakfast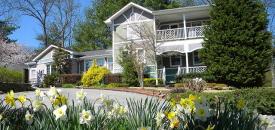 Originally built in the '40s as a motor court, each room at the Garden Walk is actually its own separate cottage with distinct theme, such as Robins Nest or Summer's Dream. Native Californians Erma and Ed Caballero bought the property in 2001 after moving to the area for their daughter to attend nearby Covenant College. The inn's 18 rooms range in size from a one-bedroom apartment with full kitchen to intimate queen bed and bath. Many offer jacuzzi tubs or fireplaces, and most have access to a small refrigerator and coffee pot. Guests enjoy the community outdoor fire pit, pool, and outdoor jacuzzi, as well as walking the wooded trails with a nearby waterfall. Breakfast is a family affair, cooked personally by the innkeepers.

LOCATION: Garden Walk is nestled among 100-year-old pines and surrounding gardens, offering a tucked away escape on top of Lookout Mountain. The Lookout Mountain attractions are just five minutes away. If you're looking for adventure, head to the top of the mountain to Lookout Mountain Hang Gliding or visit High Point ZIP Adventure at Ruby Falls. If you want to explore downtown Chattanooga, it's a short 15 minute drive away.