Chattanooga is a city that prides itself on its river. Only a short trip from downtown, the Tennessee River Gorge is one of the most biologically diverse areas of the country. Over 200 bird species call the gorge home, nesting in the 27,000 acres of virtually undisturbed forest. And one of the best ways to see this wonder of nature is by riverboat. Conveniently, there's plenty of options for rolling on the river.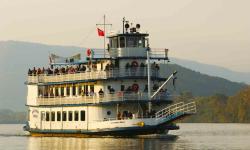 The Southern Belle is designed to mimic the luxury riverboats that cruised Chattanooga's waterways in the 1800s. This triple decker riverboat holds up to 500 passengers, and cruising options abound. Short 1.5-hour sightseeing excursions are perfect for a downtown river view while longer journeys venture up the Tennessee River Gorge. The most popular options are the dinner cruises, which include live music, bingo, pilot house tours, and prizes.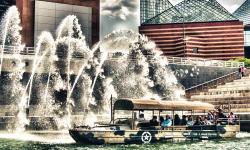 Take a ride aboard the Chattanooga Ducks, authentic WWII amphibious landing crafts built specifically for the D-Day invasion. This historic 1-hour tour takes you through the heart of downtown Chattanooga. Just when you think you've seen it all, the vehicle splashes into the Tennessee River for a historical and ecological tour of the river and the Chattanooga Riverfront.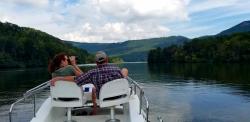 Why rent a boat when you can charter a beautiful cabin yacht for less.  Eat, swim, fish, tube, relax and explore with Blue Heaven River Tours Chattanooga!
For an educational adventure on the Tennessee River, check out Southeastern Adventure Tours. Explore the Tennessee River gorge on an inflatable rafts that are propelled by outboard motors. Take a four hour tour through Tennessee's Grand Canyon, or extend your adventure with camping, guided nature walks, and mineral hunts.
No matter how you choose to navigate a Chattanooga riverboat vacation, chances are you'll be singing its praises for years to come.