We hand-craft everything in Chattanooga from pour-over coffee to signature dishes to delightful cocktails. We're always brewing up something good, and as the temperature drops, we bet you'll be looking to indulge too. Come along as we show you the locals who are making the most creative fireside beers or roasting beans to make your favorite cup of coffee. Ya, even if it's a Pumpkin Spice Latte. But we're a little more complex than that. We'll also show you foods from around the world from our very own Chattanoogans. Places where you can bring your four-legged family members. And places where you can toast to new memories and the new year ahead. 
Chilly frosty days in Chattanooga call for coffee, and there's a style for every mood in the Scenic City. Roasting coffee is a real science, and Chattanooga's coffee houses take it seriously. These coffee roasters provide distinctive tastes that signal fall and piping hot servings that warm your winter adventuring. 
Goodman Coffee Shop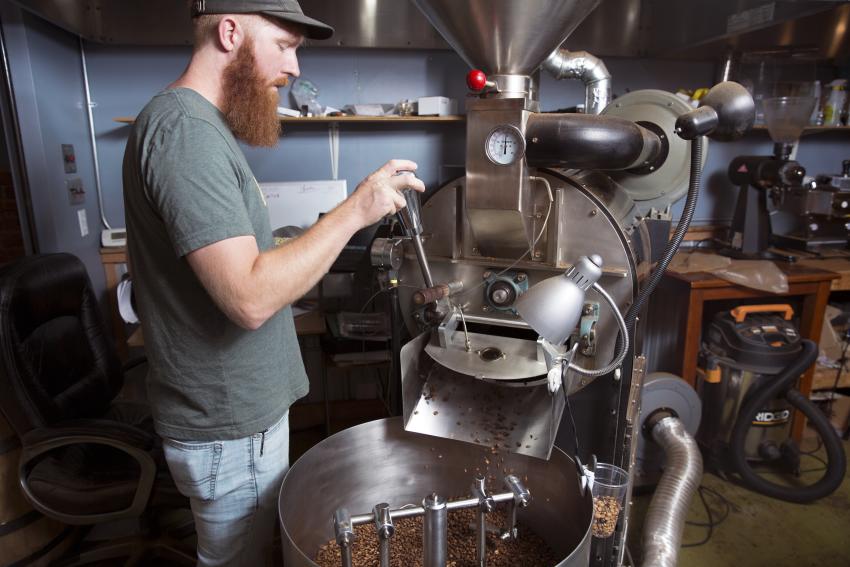 Nestled inside downtown's Warehouse Row, Goodman Coffee Shop was one of the city's first specialty coffee spots and its first storefront. At its newer St. Elmo location, massive burlap sacks of fresh beans are stacked high, awaiting a roasting that will ready the product for customers. Production Roaster Tyler Sowrey intently monitors the roasting process at the St. Elmo shop, making sure everything is calibrated just perfectly. As the roasting steps are underway, Sowrey is watching for a specific color and a heavenly scent."The smell and color change throughout the process," he said. "Green. Then, yellow-brown, which is like a sweet bread." For guests of the St. Elmo location, the fragrance floats out into the rest of the shop, greeting everyone who enters like a warm blanket."Toward the end, the coffee characteristics are like fruits," said Sowrey."There's a super sweetness. That smell and color are how you know what you're aiming for." 
At Goodman, the final product is a partnership between the coffee producers and the local shop's efforts to protect the origins of coffee creation. "There's a difference between your daily drinker and something special," said co-owner Ian Goodman. Goodman, who is looking to capture that specialty in an expertly crafted cup, is a coffee veteran who ran Greyfriar's Coffee & Tea Co.in Chattanooga for a decade before taking a break to focus on his health. He returned to the coffee business in 2016, beginning with the Warehouse Row shop. Recently, Goodman visited Columbia to learn more about helping farmers there create a sustainable living and business through coffee. That intention is poured into every batch they roast at Goodman Coffee.
Rembrandt's Coffee House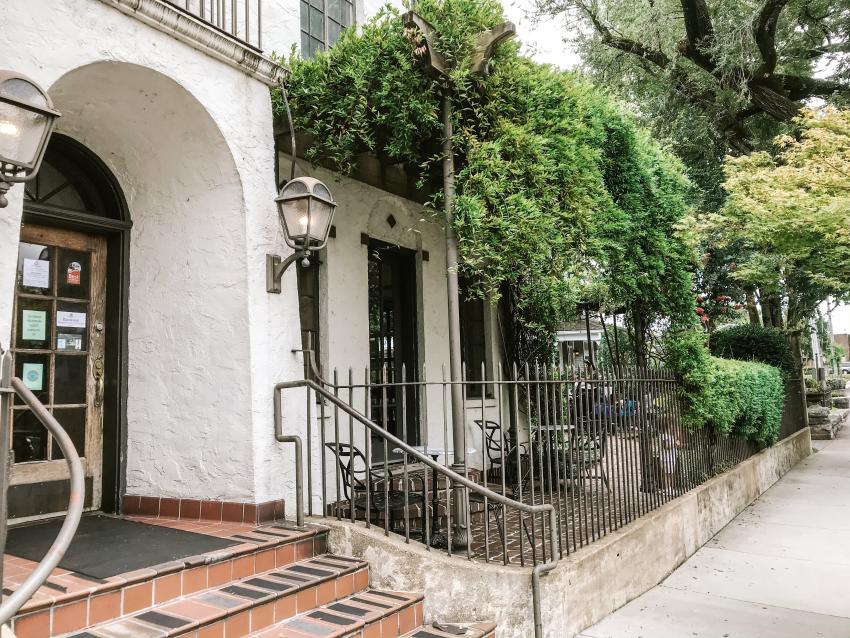 bluffviewartdistrictchattanooga.com/rembrandtscoffeehouse 
Located in the middle of the Bluff View Art District, Rembrandt's Roasting Co. offers small-batch selections and light meals. On roasting days, the strong earthy fragrance swirls around the bluffs overlooking the Tennessee River. It's a delight as you wander the trails and art of the River Gallery Sculpture Garden. Rembrandt's serves its house-roasted coffee that's made daily by one of Chattanooga's pioneers in the coffee roasting business. After grabbing a cup of joe, you can cozy up in the European-style coffee house that also offers artisan breads from Bluff View Bakery, hand-dipped chocolates, pastries, and sandwiches. Guests of the art district's Bluff View Inn receive a complimentary breakfast and a freshly roasted cup of coffee with their stay. Rembrandt's carefully roasts small batches for customers to enjoy but also has a limited supply of coffee available for shipping.
Velo
This uniquely Chattanooga spot takes coffee through its entire production cycle within its building on the Southside. Founder Andrew Gage — who has been known to deliver 5-pound bags of coffee on his bike throughout the city in an effort to support sustainability — and team have grown the business since 2010. (Fittingly, velo is French for "bicycle.") Velo uses progressive techniques at its production bar daily to showcase current-crop coffees, and roasts beans about three days per week. The business buys coffee beans as fresh as it can get, then roasts, packages, brews and bottles at its Southside shop. The beans are sourced from importers with a good reputation for paying producers well and for having transparency. Picking up a freshly roasted bag, you'll see the shop's new packaging from Chattanooga artist J.W. Butts. The design reflects items Velouses in its process. The company's thoughtfulness about its coffee sourcing extends to other products in the shop. Velo offers whole milk from Sunrise Dairy in Crossville, TN, and fresh-baked goods from Chattanooga's own Bread & Butter.