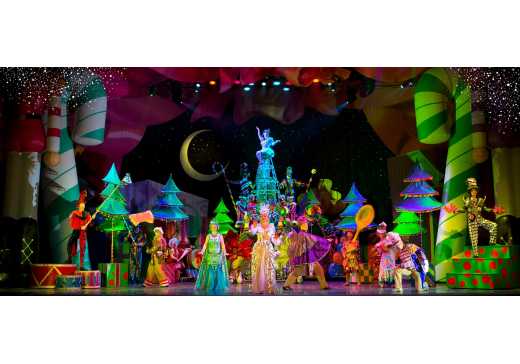 November and December mean twinkling lights, smoke-filled chimneys, and a feeling of magic in the air. The holidays bring a sense of joy and wonder to people of all ages. Celebrate the season in Chattanooga with a variety of live Christmas music that is sure to put you and your family in the holiday spirit.
2019 Holiday Music Schedule
Rock City's Enchanted Garden of Lights
Nov. 22, 2019-Jan. 4, 2020, nightly
Head high atop Lookout Mountain to the award-winning, 25th annual holiday light extravaganza! Discover the four uniquely themed realms of wonder (Enchanted Realms map available online). Be sure to visit the Magic Forest which includes one of the world's largest, walk-through electronic Christmas trees. You'll find gifts and treats in Downtown Yule Town and magic all around. To celebrate the Silver Anniversary for Rock City's 25th Anniversary of the Enchanted Garden of Lights, Inara the Ice Queen and Jack Frost are bringing the Aurora Lights to the Arctic Kingdom. Decked out in their new garments, Inara and Jack have prepared a journey for guests through a stunning display of ice crystals with a new color design reminiscent of the aurora borealis lights. New in this realm is the Glacier Grotto featuring a unique firepit to get warm! An evening at Rock City's Enchanted Garden of Lights entails more than a million LED lights that transform the gardens' natural daytime splendor into a glittering fantasyland complete with pictures with Santa, gingerbread cookie decorating with Mrs. Claus, hot cocoa, and live nightly entertainment by the fire. Upgrade to a VIP Annual Pass and come as often as you wish! Leashed pets welcome.
Cirque Dreams Holidaze at the Tivoli Theatre
Nov. 29, 7:30 p.m.
Cirque Dreams Holidaze brings its latest electrifying and reimagined live family holiday spectacular to Chattanooga's Tivoli Theatre with an unforgettable performance. This critically acclaimed extravaganza is both a Broadway musical and new Cirque adventure wrapped into the ultimate holiday gift for the entire family!
Chattanooga Riverboat's Southern Belle Christmas Carol Dinner Cruises
Nov. 29-30, Dec. 6-7, 14, 20-21, 7 p.m.
Come hungry and leave jolly at this wonderful Chattanooga tradition! This 2.5-hour cruise includes a delicious dinner menu, serving prime rib, shrimp creole, with baby red potatoes and other yummy vegetables. Top things off with a glass of wine or champagne over some live Christmas music, and you've got one unforgettable night. You will also get the chance to tour the historic boat and meet the man of the season himself Santa Claus.
Doyle Dykes Christmas at Songbirds North Stage
Dec. 17, 7 p.m.
Although influenced by a wide variety of musical styles and musicians from the country of Chet Atkins to the rock and roll of Duane Eddy and the Beatles, Doyle has developed a distinct, recognizable sound that amazes audiences with skill while capturing hearts with sincerity and soul.
80's Christmas Party at Songbirds
Dec. 20, 9 p.m.
The Breakfast Club® is the longest running, most recognized '80s tribute band in the United States. Formed in 1993, the group was the first of its kind. The mission was simple: create an entertainment group that embodied the enigmatic, creative and buoyant spirit of music and live performances of the original MTV generation of the 1980s. That mission remains today.
Chattanooga Riverboat's Southern Belle 'Tis the Season Lunch Cruise
Dec. 1, 6-8, 13-14, 20-22, 1 p.m.
This is the perfect opportunity to take a break and enjoy a special holiday 2-hour cruise and lunch on the Tennessee River! There will be live Christmas music accompanied by delicious food including flat iron steak and lemon basil chicken.
Chris Tomlin Christmas: Christmas Songs of Worship at the Tivoli Theatre
Dec. 3, 7:30 p.m.
Chris Tomlin is one of the most heralded singer-songwriters in the world. Selling more than a million of albums and streaming billions of tracks, TIME magazine claims he is likely "the most often sung artist anywhere." This holiday season, the Grammy winner will perform a variety of favorite Christmas carols, holiday tunes, and worship songs.
MAINx24 24-Hour Festival in the Southside District (FREE)
Dec. 7
Celebrate Main Street and the Southside District for a 24-hour long festival held the first weekend each December. The packed schedule of entertainment includes fashion shows, parades, parties, live music, Big Wheel contest, chili cook off, an ice-skating rink and so much more. MAINx24 includes free and paid activities.
Chattanooga Boys Choir's Singing Christmas Tree at the Tivoli Theatre
Dec. 7, 12 & 5:30 p.m.
The program will include more than 100 members of the Chattanooga Boys Choir's five component choirs, as well as guest artists from the Chattanooga Symphony & Opera Youth Orchestra, Ballet Tennessee (Anna van Cura, director), and the Metropolitan Bells handbell ensemble (Gary Bynum, director). The choir's special guest performer will be Scott Coulter, a Chattanooga Boys Choir alum who has been honored as one of Broadway's top performers in both theater and cabaret productions. In all, the stage will be graced with over 200 performers providing a splendid display of holiday music and dance for all ages to enjoy.
Chattanooga Holiday Market at the Chattanooga Convention Center
Dec. 7-8, 14-15, 21-22
Holiday Market features 200+ local food vendors, artists and crafters offering unique gifts and festive preparations – everything you'll need for the holiday season!  The market offers festive daily entertainment for the whole family: student musician performances, Sweet Georgia Sound and several other acoustical performers capture the holiday spirit. 
Chattanooga Ballet Presents The Nutcracker at the Tivoli Theatre
Dec. 13, 7:30 p.m., Dec. 14, 2 & 7:30 p.m., Dec. 15, 2 p.m.
The Chattanooga Ballet presents Chattanooga's own production of The Nutcracker, featuring the return of the Chattanooga Symphony Orchestra and exciting new choreography by Chattanooga Ballet's new Artistic Director Brian McSween. Come experience the magic of the season and let your holiday spirit soar in this family-friendly ballet. Join Clara and her Nutcracker Prince as they battle the Mouse King and embark on a journey through the Land of Sweets with the Sugar Plum Fairy.
TubaChristmas at the Chattanooga Zoo
Dec. 14, 5-8 p.m.
Join in TubaChristmas 2019 at the Chattanooga Zoo, featuring guest conductor, Michael Griffith, a Visiting Professor of Music at the University of Tennessee at Chattanooga. Tuba players will perform Carols for a Merry TubaChristmas, Vol. II.
Robert Earl Keen: Countdown to Christmas at the Walker Theatre
Dec. 15, 8 p.m.
Robert Earl Keen announces the launch of his eighth annual Christmas show with his most extensive tour yet! In honor of the 50th anniversary of the Apollo 11 moon landing, Keen's theme for this year's tour is Countdown to Christmas: Lunar Tunes & Looney Times. He and his band will pay homage to the space race and all things celestial in an out-of-this-world evening of family holiday fun.
Chattanooga Riverboat's Southern Belle Holiday Dinner Cruise
Dec. 15, 4 p.m.
This is the perfect opportunity to take a break and enjoy a special holiday 2-hour cruise and dinner on the Tennessee River! There will be live Christmas music accompanied by delicious food including flat iron steak and lemon basil chicken.
Nooga Nutcracker at the Walker Theatre
Dec. 21, 2:30 & 7:30 p.m.
Chattanooga Dance Theatre's Sixth Annual Nutcracker at the Walker Theatre will take you on a magical adventure set in your very own Scenic City.
Home for the Holidays at the Tivoli Theatre
Dec. 21, 7:30 p.m., Dec. 22, 3 p.m.
The tradition continues as the Chattanooga Symphony & Opera presents Home for the Holidays, the annual holiday music experience that's perfect for the whole family! This year's performances will feature Signal Mountain native and internationally acclaimed vocalist Seth Carico, conductor David Torns, the CSO Chorus directed by Darrin Hassevoort and the Metropolitan Bells directed by Gary Bynum.
Jim Brickman: A Christmas Celebration at the Walker Theatre
Dec. 23, 8 p.m.
Jim Brickman returns to Chattanooga this Christmas to wow the crowd with his uplifting, family-friendly, holiday concert tradition. The best-selling piano artist of our time, Jim Brickman and his special guests, will dazzle audiences with holiday favorites, #1 hits, vibrant vocals, laughter & joy, in this bright, festive winter's night celebration.
Moscow Ballet's Great Russian Nutcracker at the Tivoli Theatre
Dec. 24, 12 & 4 p.m.
Step into a simpler time filled with sweet dreams and Christmas magic with the Moscow Ballet's Great Russian Nutcracker. With world-class artists, over 200 dazzling costumes, stunning sets, towering puppets and soaring birds, don't miss your chance to ring in the holidays with this acclaimed Christmas extravaganza. Celebrate this cherished holiday tradition and relive the dream with Tchaikovsky's timeless score.