Whether you buy into astrology signs or not, I bet you know your zodiac sign pretty well. For all of my astrology lovers (and skeptics) out there, why not find a local coffee shop that pairs well with your sign? We've done all the work for you and put together a list of the perfect coffee shop for EVERY zodiac sign. Now, before you write off zodiac signs having anything to do with coffee, let us know how spot-on we are with our choices. 
Aries
Starting off strong, Aries are trailblazers kicking off the year. Passionate and independent, this fire sign is sure to obsess over Milk and Honey. With mouthwatering breakfast sandwiches, delicious coffee, and even gelato, this locally owned gem is sure to catch any Aries' attention.
Taurus
Are you a Taurus who LOVES some good food? For all of my Taurus' who have good taste and love to indulge, Mean Mug is right up your alley. Their extensive breakfast and lunch menu is perfect for any foodie looking for unique and delicious food to pair with their coffee (fresh cinnamon rolls as big as your head! Not kidding.)
Gemini
Geminis may not get the best rep, but they sure do know their coffee. For all of my creative and curious Geminis out there, try Sleepyhead Coffee, where the succulents and giant potted plants are as plentiful as the coffee beans. A crowd favorite, this coffee shop is a great spot to start your day or get inspired by the aesthetic atmosphere. 
Cancer
It's only fitting for Together Cafe to be our pick for this sympathetic water sign. Together Cafe's mission is to raise awareness for survivors of human trafficking by donating a portion of each sale to organizations and non-profits that are working to help restore survivors and victims of human and sex trafficking. 
Leo
To channel your inner imaginative Leo, head on over to Velo. With their imaginative seasonal menu, experience a one-of-a-kind drink that radiates Leo energy. Be sure to pair it with one of their baked goods all sourced from the ovens of locally owned Bread and Butter.
Virgo
For all of my organized and driven Virgos out there, Stone Cup Cafe is the perfect place to get some work done. Go upstairs to the quiet study area for incredible views of the Walnut Street Bridge. Want to enjoy the sunshine? Sit outside on their patio!
Libra
Known for having an eye for aesthetics and great personal style, every Libra is sure to love Rembrandt's Coffee House. This European style café is located in the Bluff View Art District and offers a wide assortment of house-roasted coffees from Rembrandt's Roasting Company, artisan breads from Bluff View Bakery, delicious cakes, and hand-made pastries.
Scorpio
For are all my Scorpios that claim to be "different," this one's for you. Both intuitive and mysterious, Scorpios are best described as passionate. Breaking the mold from traditional coffee shops, check out Wildflower Tea Shop and Apothecary to drink in the healing benefits of Nature and offer up a little gratitude.
Sagittarius
Perfect for any Sagittarius who is sick of the bland, corporate, heretical coffee experience, Mad Priest Coffee Roasters is the unconventional, creative, sacred coffee choice. Focused on its mission of societal inequality and bad coffee, Mad Priest Coffee Roasters is the most unapologetically honest brand you'll find. 
Capricorn
For all of my ambitious and hardworking Capricorns out there, stop by Sunnyside Cup or Be Caffeinated for a quick to-go option on your way to your next endeavor. With multiple locations around Chattanooga, both of these coffee shops are perfect for grabbing a quick cup of coffee to fuel you on your busy day. 
Aquarius
Known for being humanitarian-focused and having an interest in making the world a better place, it's only fitting that Cadence Coffee Company is the pick for this air sign. This coffee company seeks to do its part to help end homelessness, poverty, human trafficking, and joblessness by partnering with local non-profits.
Pisces
Representing the end of the zodiacal journey, the imaginative Pisces likes to dream big. This visionary sign is sure to make Goodman Coffee Roasters their new favorite spot. Focused on celebrating the history of land and farmer relationships, Goodman Coffee Roasters strives to protect those origins by roasting, brewing and serving their coffee with integrity and intention. 
---
Chattanooga Travel Inspiration Magazine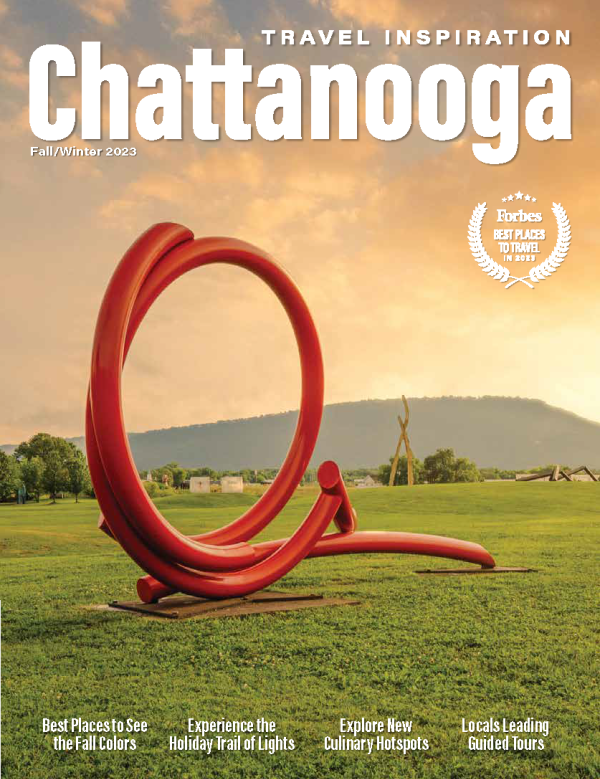 A version of this story was previously published in the 2023 Fall & Winter edition of our Travel Inspiration Magazine.