Chattanooga is a funny name for a city. Go ahead, say it slowly … "Chat-A-NOOGA." So, it's no surprise that this city is home to a rich stand-up comedy scene. Or maybe that does come as a surprise. 
On any given night throughout the week, local bars, hotels and restaurants host open-mics and curated shows for locals and visiting comics to show off their talents. 
Donnie Marsh is a local comic and promoter. He hosts an open mic at Pax Breu Ruim on Main Street the first and third Tuesdays of the month, among other shows in town.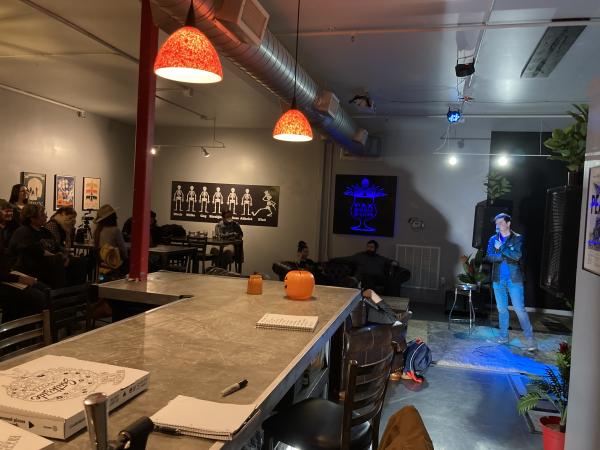 "For most of my life I thought that to start doing stand-up comedy you had to either move to New York or LA, and then resign yourself to poverty until you became a star and could stop being funny," Marsh said. 
But he quickly found his footing at local open mics in 2015. And he learned that many of the local comics were serious about their passion for performance. 
"I could tell they were putting real effort into their writing instead of just rambling or trying to get a rise out of the audience," he said. "The first time I went onstage my jokes weren't great, but my stage presence was decent and the feedback I got from the audience and established regulars helped me to gradually improve." 
Flash forward a few years later and a prospective comic has opportunities to get on stage almost every night of the week to hone their craft. Thanks, mainly, to local comics who have built relationships with local venues like JJ's Bohemia, Barley's Taproom, Exile on Main Street and Bode. 
"There's definitely a healthy culture of DIY initiative in Chattanooga," he said. "All of us who took the initiative to start our own shows did so in order to produce them our way and get more stage time, which has created a wonderful little comedy ecosystem that no one person or institution controls." 
Chattanooga even boasts a musical comedy showcase these days. Ryan Darling and Dave Hannah (known as Good Cop/Rad Cop) host the Rad Ole Opry every three months. The show features local musicians and bands coming together to perform.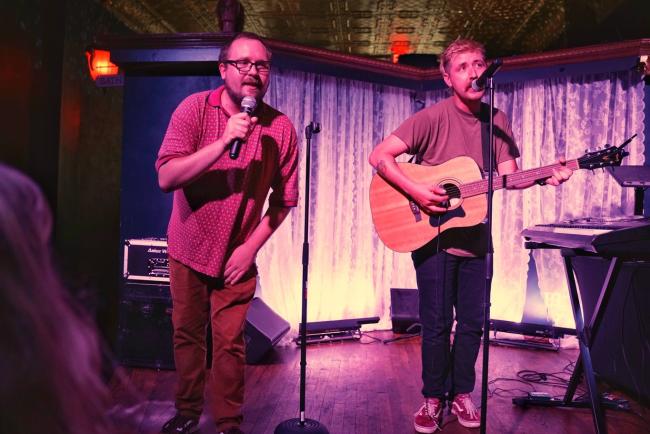 "A lot of standup comedy frowns at musical acts and there's not a lot of places for these people to do their songs, so we made a space for them," Darling said. "We also add a band to the bill to help bridge the gap from comedy music to 'real music' but it's just an excuse for our band to play with real musicians." 
Other cities are starting to take note of Chattanooga's success. 
The city is getting a bit of a reputation as a "hot" comedy scene, according to local comic/promoter Jeff Greenspan. His show Carpetbagger's Comedy Night at Bode Hotel is every first and third Friday. Although it's not an "open-mic," it features a mix of visiting talent from New York and Atlanta along with local comics. 
"This show has developed a good reputation," Greenspan said. "I can tell by messages we get that people are talking about Chattanooga. The food is good, the people are nice, and the room is hip. I've been really glad that in a small way it's brought the north and south together." 
Brooklyn native Greenspan moved to Chattanooga following some freelance work. Now, he's a local and has fully immersed himself in the comedy scene. 
His visiting guests often do what has become known as "The Chattanooga Run." Comics will spend the entire week here performing at a Comedy Catch open-mic, at Barley Taproom, and then Thursday night at JJ's Bohemia before Friday's Bode showcase.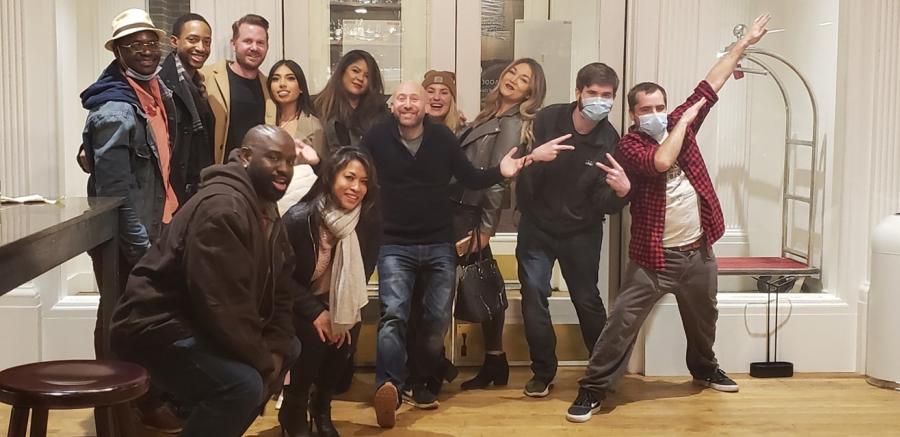 "There's a line of community that I've never experienced here," he said. "Chattanooga is just an interesting place because it's somewhat purple. A good literal mix of viewpoints. You can move here and be an artist. You can live and not live terribly. And you can commute to get exposure. It's a gem for artists." 
Marsh agrees. 
"I think boundaries force creativity," he said. "They can be really good for comedy because you have to get your point across in a way that won't lose the audience, either by walking that edge carefully, or deliberately crossing it. Either way, that boundary is a great tool of comedy, and most of us grew up using a firm one." 
At the center of Chattanooga's scene is The Comedy Catch at the Choo-Choo complex. For nearly 40 years, "The Catch" (as locals call it) has earned a reputation as the city's premier comedy venue. And that hasn't changed. Even with a host of other venues, the "rising tide" of quality comedy helps the overall scene thrive. 
"The Comedy Catch has so much history and I love the staff there," Marsh said. "I've met tremendous comedians with bright presence and futures just by emceeing some weekends there: Fortune Feimster, Dusty Slay, Chris Redd, Dale Jones …" 
And Greenspan says Chattanooga is nowhere near its comedy capacity. "We go to other communities, and we know people are talking about Chattanooga," he said. "We're going to see a lot more people moving here to do comedy."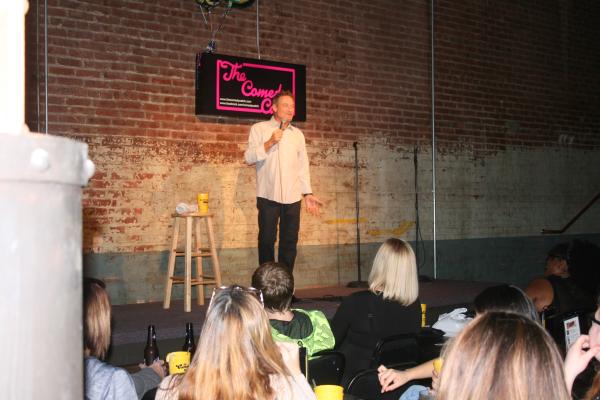 Open Mic Nights
Mondays / 8 p.m. 
EXILE OFF MAIN, 1634 Rossville Ave. 
1st & 3rd Tuesdays / 8 p.m. 
Pax Breu Ruim, 516 E. Main St. 
Wednesdays / 8:30 p.m.
Barley, 235 E. M.L. King Blvd. 
1st & 3rd Wednesdays / 7:30 p.m.
The Comedy Catch, 29 Station St. 
Thursdays / 8:30 p.m.
JJ's Bohemia, 231 E. M.L. King Blvd