Through September 6th, the Hunter presents the stunning exhibition Power, Passion & Pose: Photographs by Ken Browar and Deborah Ory, featuring nearly fifty photographs capturing the exquisite athleticism of ballet and modern dancers posed in mid-air wearing couture fashion. The exhibit is a joint collaboration among the photographers, dancers, and choreographers, who all came together to showcase the blending of fashion and dance. In the interview below, Browar and Ory offer an exclusive behind-the-scenes glimpse into their work.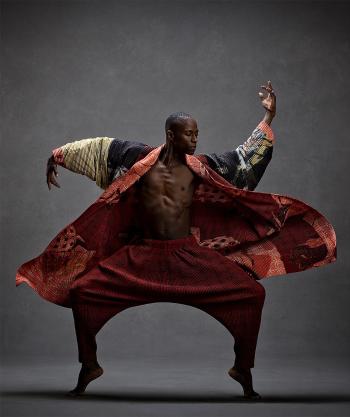 Did you have a vision for the project when it started, or did it just evolve naturally, after a single session with a dancer -or some other serendipitous incident?
Growing up, dance was a big part of my life and in college, I (Deborah) even majored in dance. While I did not pursue it as my career, dance was always a passion of mine. Both of my daughters starting dancing as children. When my older daughter Sarah had her12th birthday, we decorated her room with a ballet theme. She was then studying ballet at the American Ballet Theatre school and wanted photos of the dancers who were currently stars at the company. To our surprise, there were not many photos of these dancers.
We reached out to one of her favorite dancers on Facebook -Daniil Simkin, a Principal dancer with American Ballet Theatre. Daniil responded after seeing some of our fashion photographs. After the first photo session with Daniilwe decided to begin the project. Daniil introduced us to many dancers and helped us with social media. The work quickly developed and after a few months, we decided to make it a book.
These photographs are choreographed much like other dance performances. Could you describe your process?
Our process usually begins with meeting the dancers informally and spending some time getting to know them. It's important for us to find out a bit more of who they are and what they individually would like to achieve with the photographs. We've also always done our homework before the photo session; whether by having seen the dancer perform live or having watched videos of him/her dancing.
During the photography session, we spend a lot of time experimenting with what type of imagery we feel is working best. In this initial session, we aren't worried about achieving a perfect image. After the first photography session, we review the images with the dancer. We focus on choosing just a few positions that are working -or maybe elements of them. Then we will spend time refining the image. For example, we might adjust the lighting, or change things within the pose -perhaps a different arm position, angle, or other changes -that will help us achieve the best possible image. It's important for us to leave the photo session with just a few images we all love, rather than have many that are perhaps just average. We are looking for those really special moments and when they happen, everyone on the set knows right away.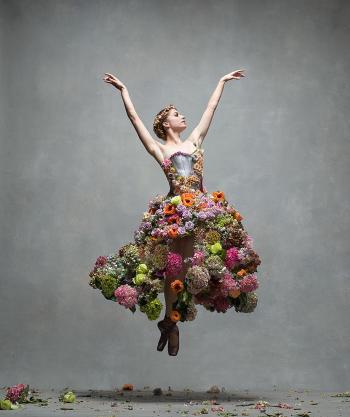 How do you pair the dancers and the poses? Do you match the dress or clothing to the dancer and then choose the pose? How does that part work?
Every piece of clothing we work with has its own character, mood, and way of moving, independent of the dancer. While it is often easier for us to work with basic dance clothing, we love the element fashion brings to the photographs. We wanted to be sure the dancer and the clothing were well matched and that the clothing would compliment and work well with the way the dancer looked and moved. It was often hard to control the way the clothes moved, so it could take some time to learn to manipulate the fabric and find the right positions that allowed the clothing to move and would also best express its style. It was like adding a partner for the dancer, and with any partner, you have to practice working together.
How much input do the dancers give to the process? Does their style of dancing inform the style of the shoot?
The dancers absolutely have a lot of input into the process: it is a collaboration between us and the dancer. We always chose dancers that we felt would be creative and would enjoy the collaboration process. Their style of dancing, as well as the unique way each dancer moves, informs every photograph we make. We also wanted to capture their personality; one that comes through when they perform.
Are some of these gowns difficult to dance and jump in –were there any workarounds to accommodate the dance positions and jumps?
We tried to find clothes that moved well, and the majority of the pieces we used actually allowed for quite a full range of movement. However, this was not always the case. For example, there is a stunning dress that will be at the museum by Marchesa, worn by Gillian Murphy. We could not resist using this amazing dress, but it is tight around the legs, so Gillian focused on upper body movements. Occasionally we encountered these challenges, but mostly we chose clothing that would allow for movement.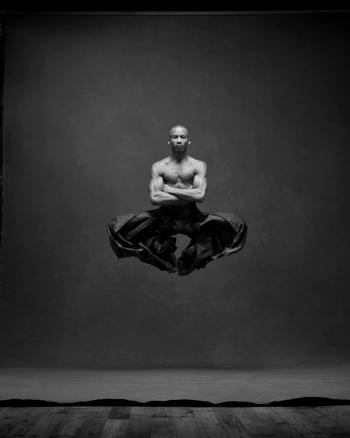 What kind of camera or special equipment do you have to use to capture such visual detail in such quick bursts?
We use a Hasselblad, which is a medium format camera. It does not have autofocus or a motor drive and it's a very basic camera -one that has beautiful lenses. We work very slowly and just work on capturing the moment. For example, when a dancer does a jump, we try to just capture it with one frame at exactly the right time. Working slowly and methodically works best for us, especially as it is a collaboration between several artists.
What's been the most exciting/unique/challenging shoot you've worked on thus far? Or, is there a behind-the-scenes detail that we haven't thought to ask about?
There have been many unique and challenging shoots we've worked on. The Degas series with Misty Copeland was quite a challenge—we had to recreate famous paintings. It was complicated in both creating the sets for these images, as well as making the images that would have the feeling of a painting. Another photo that was challenging for us was the one of Meaghan Grace Hinkis wearing a dress made of flowers. Meaghan's mother is a costume designer and we have a friend who is a Creative Director with a flower company. Together we all made the dress on Meaghan, which took several hours. The flowers were dying as we were making the dress on her! We really were not certain if the dress would come together until the moment we finally took the photo. The dress was so heavy that once it was finished on her, Meaghan had a difficult time dancing, and with the flowers dying on us, we only had a few seconds to actually capture the image.
Visit the Hunter to see the amazing photographs discussed above as well as many more in Power, Passion & Pose: Photographs by Ken Browar and Deborah Ory, on view through September 6, 2021, at the Hunter Museum of American Art.