The MLK community reflects over 100 years of Chattanooga and African American history and commerce in the city. Martin Luther King Boulevard is full of public art. Many of its murals in particular reference icons and history from the area. Here's a guide to a few of them that shed light on the history of the neighborhood, and we spoke with a few Chattanooga residents to hear what they wish visitors knew about the neighborhood and how to best enjoy it.
The People
CLEON COLEMAN II
Cleon Coleman is featured on the "We Will Not Be Satisfied Until" mural as the businessman looking to the future.
"I wish that visitors knew about the rich history of "9th Street." It's important to remember that there was a vibrant collection of businesses that served Chattanooga's Black American community in the early to late 20th century."
"My favorite part about MLK these days is the huge mural on the AT&T building. It's definitely a highlight for me."
EDNA VARNER
Edna Varner is an educator who grew up in the heart of the MLK neighborhood.
"When I was growing up in Chattanooga in the '50's my neighborhood was a thriving, vibrant MLK with our doctors, lawyers, teachers, barbers, and other business owners all concentrated within the few blocks where black people lived and worked and looked out for each other. As a kid, my neighborhood was magical with industry, talent, history, hope, and laughter along 9th street, so much so that I wondered how other people could be satisfied simply driving through it instead of driving to it."
"What I love about the MLK neighborhood today is that after years of being boarded up, it is coming alive again. A diverse Chattanooga (and especially its newcomers) is hungry to experience the neighborhood through the stories of those who can still tell them. What we see happening is a movement not to replace the neighborhood and its history, but to embrace it."
ELIZABETH WILLIAMS 
Elizabeth Williams made Chattanooga her home in 2013, works as Director of Development at Chattanooga Preparatory School, and serves on the Chattanooga Tourism Co. board of directors.
"I wish our visitors knew the special connection Chattanooga has with the person for whom the neighborhood is named, the Reverend Dr. Martin Luther King, Jr. As a very young minister, Dr. King was an inspiration to many including people living in Chattanooga, and he was seriously considered for the pastorate at Chattanooga's historic First Baptist Church on East Eighth Street."
"What I love about 9th Street, now known as MLK Boulevard, is its legacy and rich history. The Bessie Smith Cultural Center is very special to me, and I love that The Bessie is nestled in the historic MLK neighborhood. It is a national treasure and a wonderful repository for Chattanooga's African American history and culture. Whenever I have family and friends visiting, we take in The Bessie and tour the neighborhood. I especially enjoy the breathtaking art installations at The Bessie and Urban League and the iconic murals that line MLK Boulevard."
The Murals
1. A DREAM BUILT ON FAITH
756 E MLK BLVD

Mark Making, with 21 students from Urban League of Greater Chattanooga and UTC Brock Scholars Program with lead artists Mark Bradley-Shoup, Chad Burnette, Frances McDonald, and Jennifer Rubin
A Dream Built On Faith celebrates and depicts the life and legacy of Dr. William H. Whiteside (1909-2002), founder of Good Neighbors, Inc. Dr. Whiteside dedicated his life to serving others with love, respect and compassion and founded Good Neighbors, Inc. in 1952 to help feed, clothe, house, and minister to Chattanooga's less fortunate. He built Whiteside's Faith Manor, Chattanooga's first residential facility for low-income elderly and handicapped African-Americans.
2. WE WILL NOT BE SATISFIED UNTIL | Meg Saligman
300 E MLK BLVD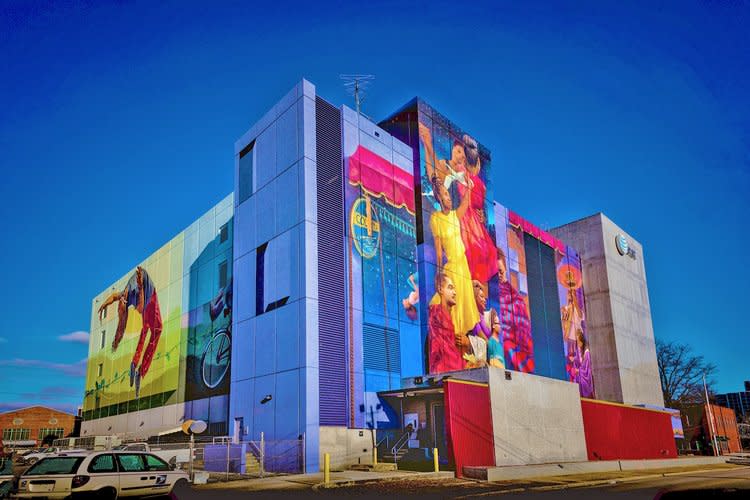 Public Art Chattanooga, a division of the City of Chattanooga, commissioned world-renowned artist Meg Saligman to create a monumental mural on all four sides of the AT&T building. It's the artist's largest work as well as one of the largest murals in the country. The images and people in the mural are inspired by real stories, individuals, and the history of the neighborhood. The mural took six months to design and another six to complete; Saligman led a team of local artists to paint the 42,179 square foot mural.
3. BIG NINE LEGENDS
763 E MLK BLVD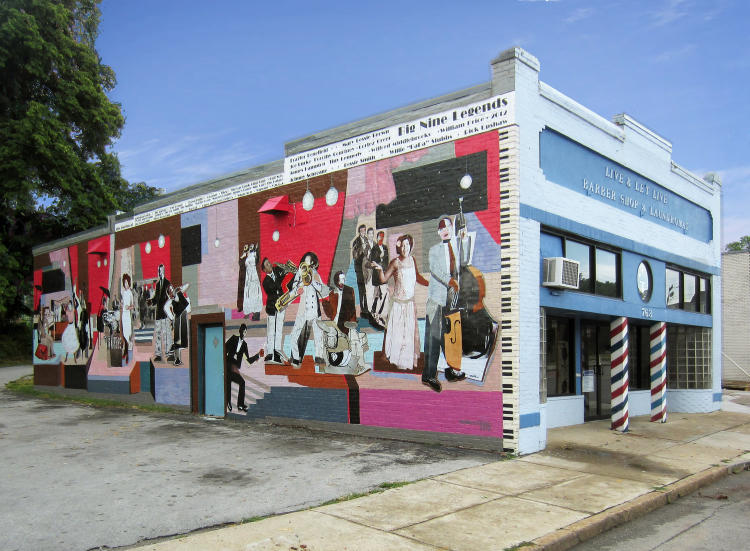 Mark Making, with teens in foster care and MLK residents
This mural, completed in 2012, depicts influential Chattanooga-based musicians, selected by neighborhood residents. Music has always played a strong role in the MLK area and Big Nine Legends illustrates the thriving music scene that shaped the neighborhood.
4. BESSIE SMITH | Kevin Bate
500 E MLK BLVD.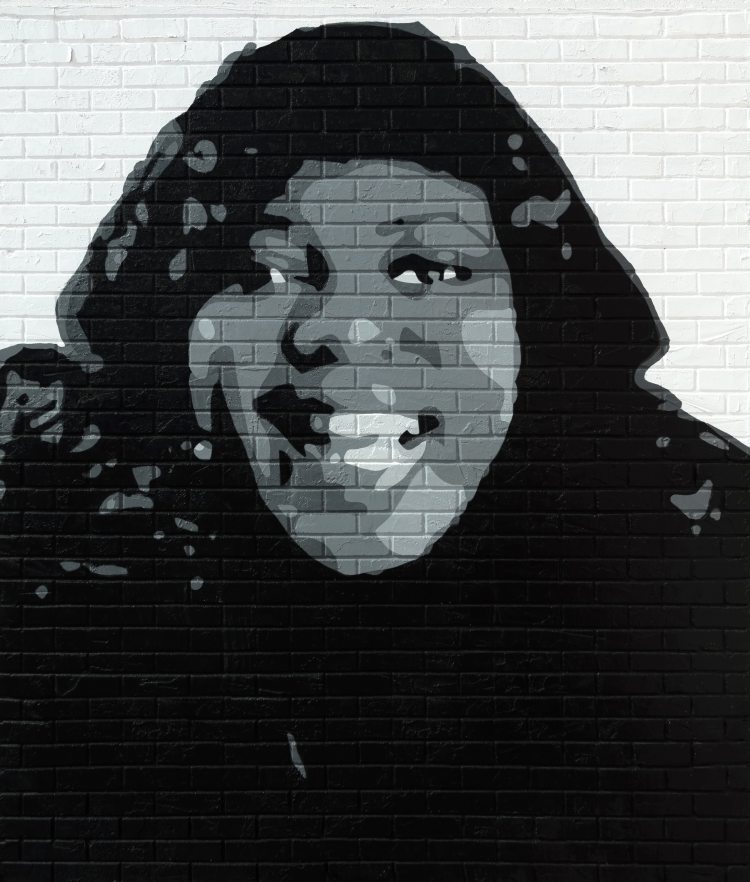 Among the most famous residents of the neighborhood was Bessie Smith, "Empress of the Blues," and so naturally, she's recognized on the boulevard! Learn more about Bessie, and African American history and culture at the Bessie Smith Cultural Center (200 E MLK Blvd).
5. WE SHALL NOT BE MOVED
526 E MLK BLVD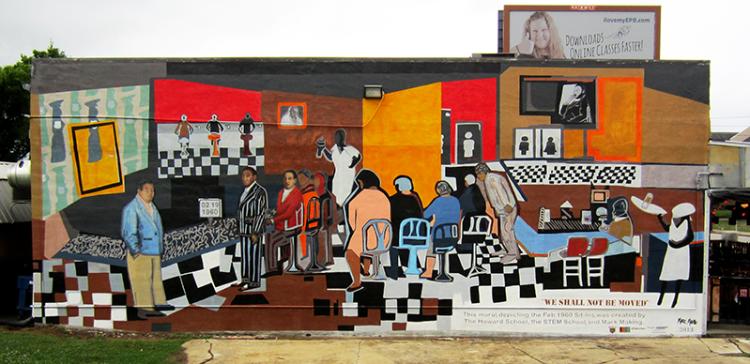 Mark Making, with 85 students from The Howard School and STEM School with lead artists Amanda Brazier, Rondell Crier and Judy Mogul
This mural, organized by non-profit, Mark Making was completed in 2013 and commemorates the historical civil rights sit-ins in Chattanooga. Chattanooga's sit-ins began on February 19, 1960, and notably, were organized by Howard High School students. Students from Howard High School designed and created this mural after studying the sit-ins and speaking with locals who participated in them. Harlem Renaissance artist Jacob Lawrence served as stylistic inspiration.
6. MLK MURAL | Kevin Bate
734 E MLK BLVD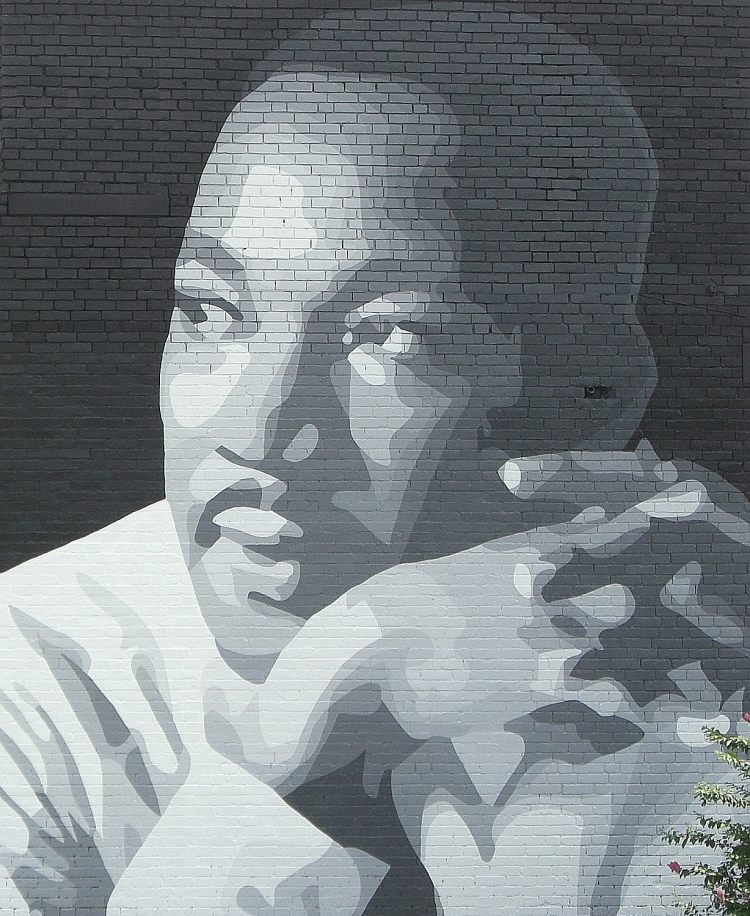 It wouldn't be a mural tour of MLK without a mural honoring the road's namesake. This mural was painted from a photograph of Dr. King taken by close friend, Flip Schulke. MLK was photographed by Kevin Bate, original photo Flip Schulke.
GETTING HUNGRY?
All of this exploring will work out an appetite. Check out these MLK options for a bite to eat in the neighborhood.
Memo's has been on the boulevard since 1967. Try the famous chopped wiener plate.
Uncle Larry's is known for "fish so good it will smack you" and has now expanded to three locations throughout the city, the original on MLK.
Chatt Smoke House is where to go for classic smoked meats and sides.
Opened in 2020, Proof is a food and beverage incubator that operates a restaurant/bar highlighting rotating local chefs. While there, don't miss Neutral Ground, which offers modern New Orleans style po-boys and yakamein, a noodle soup native to New Orleans.
Can't decide on just one? Chatt Taste Food Tours offer an MLK Boulevard food tour where they introduce you to staples that exemplify the culture and tenacity of establishments generations strong. This history-oriented walking tour mixes new and timeless eateries.
Come back and visit! EPB, the city's municipal power board, is working on a brand-new mural project. Nine panels along the substation's fence at 10th and Foster streets will soon be transformed by nine local artists in an effort to highlight the history, heritage and significance of the MLK area. Discover even more about the MLK Neighborhood.