I don't do horror movies or haunted houses. The last scary movie I watched was Children of the Corn in middle school. So, when I got the assignment to visit Dread Hollow with only hours to mentally prepare, I was more than a little nervous because Dread Hollow is ranked one of the best haunted houses in the nation.  That's in the country, not just Chattanooga.
Oh, boy.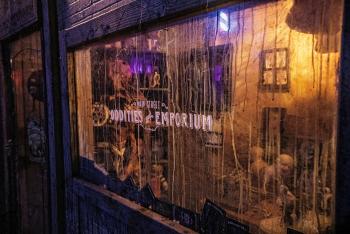 People come from all over to experience Dread Hollow's extreme haunt and escape rooms. This is NOT advertised as a family attraction. Due to the intensity of the haunt, Dread Hollow's creators warn it is not recommended for anyone under the age of 12.  
It also didn't help my nerves when haunt-loving friends told me Dread Hollow is legendary for switching things up. Each haunt season brings new storylines, professional sets, unnerving illusions, interactive actors, and even an unprecedented location change a few years back.
This year due to COVID-19 precautions, admission is by timed-entry tickets that are available only online at dreadhollow.com. To support plenty of social distancing in the haunt and escape rooms, the number of tickets available in each timeslot are limited. Tickets are expected to sell out quickly, especially on weekends.  Get yours soon if you want to be scared out of your skin instead of disappointed because you waited too long to get tickets.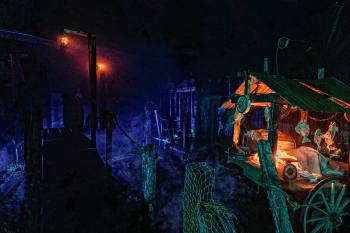 Guests will not be combined with others outside of their social bubble group in the haunted houses or the escape rooms. And actors are trained to engage with guests while still following physical distance guidelines. Actors' face coverings are incorporated into their costumes or worn under their theatrical masks.  (Which makes things even creepier, if you ask me!)
At our entry time, we put on our face masks (face coverings worn over the nose and mouth are required during your visit) and began the night in the Main Street queue area, catching up with haunt's creative masterminds, Tim Green and Todd Patton. The duo has been in the scare business virtually all their lives. They crafted this year's sinister storylines almost a year ago and then spent the last 6 months constructing the elaborate sets and escape rooms in the 20,000+ square foot complex. Learning all of this does not calm my fight or flight reflex.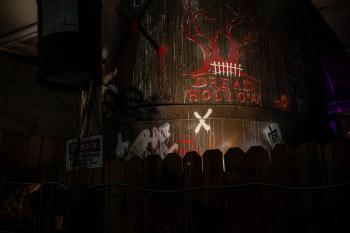 Our group, which included my hubby and best friend, stayed together through each of the three haunted houses. I learned later they always intentionally keep the groups small to intensify the experience (as if I needed even MORE intensity!). I'm extremely glad I made my husband go first. I clutched his arm and didn't let go until we were back in the car. If you come with a group of six or more, your group will be divided, so plan accordingly if you don't want to lead the way!
Dread Hollow goes beyond the typical "Boo!" tricks. It excels as a haunt that's equal parts creepy, gory and terrifying; achieved with professional makeup, sets and actors. It earns its spot as one of the best haunted houses in the country.
I can see why lots of people are drawn to something that can scare but never really hurt you and the exhilarating adrenaline rush from "surviving" the fear, especially THIS year with all of the crazy stuff coming at us.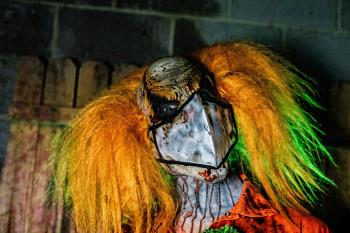 On the way out, I saw a man moving quickly from the exit of the final haunted house. His head was buried in the back of the jacket his friend was wearing.  Clearly, he shared the terror I felt, not even his face mask could hide it.  Walking out to the parking lot, I asked him if he was afraid, "No, not really," he replied, regaining his composure while his buddy doubled over laughing.
Yeah…me neither.
Dread Hollow Extreme Haunt and Escape Rooms are open Thursday – Sunday nights, October 1 – November 1.  Doors open at 7 PM. Timed-entry tickets are available only online at dreadhollow.com. Tickets are not sold at the door.  Face covering over nose and mouth required.
Written by Jennifer Montgomery