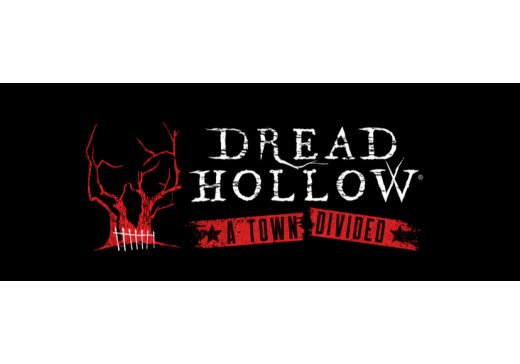 A legendary, fright-filled evening at Dread Hollow is a fall tradition in Chattanooga! This haunted attraction earned the #1 spot as the nation's top fan-favorite haunt on ScurryFace.com in 2018 and has once again been selected as a Top 20 Event by the Southeast Tourism Society. Want to see what all the hype is about? The nightmare returns with three all-new terrifying haunts and five mind-twisting escape rooms, open select nights, Sept. 27 – October 31.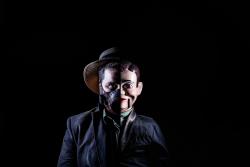 Dread Hollow earns its reputation as one of the most innovative haunts in the nation by completely transforming each season and delivering totally new, horrifying experiences to its fans. No spoiler alert here but know that this year's theme, A Town Divided, hints at the ominous atmosphere of the indoor, 20,000+ square foot, attraction featuring elaborately detailed sets, professional actors, chilling costuming and makeup, extensive special effects and escape rooms like you've never experienced before.
The Haunt
Take this hint from a veteran, nothing is as it appears within Dread Hollow and first-timers quickly realize once inside, the building's exterior doesn't give even in the tiniest clue of the absolute terror that is hidden inside. This haunt is not for the faint of heart or children for that matter, and is recommended for visitors ages 12 and older.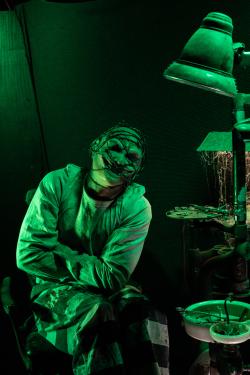 Evil forces vie for power, dividing the legendary town as the election for Dread Hollow's next mayor draws near. Explore Mercy Hospital, a long shuttered hot spot of paranormal activity, its grim secrets triggered madness within its walls, decades before. Follow the beckoning call beyond the city gates to the dark heart of disenchanted Bloodwood Forest, from which there is no escape.  Discover the unsettling secret to immortality in Contagion, the foreboding labyrinth of catacombs and storm drains far beneath the streets of Dread Hollow. And if you are brave enough, you'll have a hand in determining the fate of Dread Hollow by casting your vote for the next mayor of Dread Hollow. 
The ultimate blood-red carpet treatment comes with an R.I.P. Fast Pass, giving exclusive access to the R.I.P. Lounge and control of scare zones hidden in the general admission queue. R.I.P. pass holders also score 2019 Dread Hollow swag, access to the Fast Pass queue and discounts on merchandise and photography. General admission tickets are also available.
Escape Rooms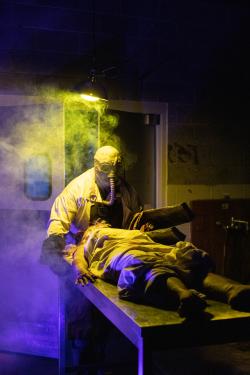 Beat the clock in the five separately ticketed, mind-bending Deliverance Escape Rooms, including three brand new rooms and completely redesigned challenges in two popular returning rooms. Escape Room admission can be combined with tickets to the haunt or purchased on their own. You'll have 5-30 minutes to escape, depending on the experience, which is perfect for trying more than one escape room!
Expect to encounter grime, slime, and even panic in the horror themed escape rooms: The Dark, Eugene Todd, Apocalypse and Paranormal, while The Box features masterful puzzle challenges that must be solved and is a fantastic option without a horror theme.
More Info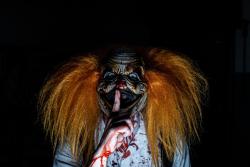 Get all of the bone-chilling details at dreadhollow.com. Tickets for the haunt are available online or at the door, however, R.I.P Fast Passes are available in limited quantities, and if you wait to get it at the door, you may be disappointed when they sell out.  Escape room tickets are available at Dread Hollow only. 
People travel from all over the region to experience the ultimate fear-fueled fun of Dread Hollow's scare-fest, just minutes from downtown at 321 Browns Ferry Road, Chattanooga.  Get ready for a night you won't soon forget!