Lake Winnepesaukah Amusement Park celebrates its 94th birthday this season. Since 1925, the family owned and operated park has offered fun for all ages with over 40 rides, food concessions, games, paddleboats, miniature golf, and shady picnic grove.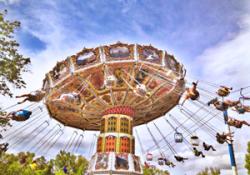 "We get letters and Facebook comments all the time from people telling us how they visited the park as a child, brought their kids to the park when they were parents, and now bring their grandchildren," stated Talley Green of Lake Winnepesaukah. "Family fun is always our #1 goal so it truly is an honor for us to be a part of family memories that last a lifetime."
Lake Winnie's guests can be whisked into the wicked whirls of the wild Twister! A thrilling attraction, Twister promises breathtaking action as guests are lifted into the air, flipped, turned and somersaulted into the Chattanooga sky! The thrills continue with rides such as the OH-Zone, a 14-story freefall guaranteed to take riders for an exciting descent in just seconds.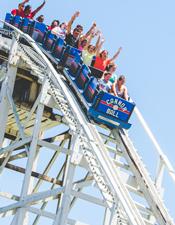 Lake Winnie also features classic attractions such as the antique wooden Carousel; the world-famous wooden Cannon Ball Roller Coaster; the Wild Lightnin' steel roller coaster; the Fire Ball and more. Younger riders delight with the beginner coaster fun of the Wacky Worm; the magical Bumble Bees; and the Parachutes. Guests can soar on the wind aboard the Wave Swinger or enjoy a leisurely countryside tour with the Antique Cars, and even splash down into the waters of Lake Winnie itself on the park's classic Boat Chute ride.

SoakYa water park continues to bring new waves of fun to park guests with the addition of the Winnie 500 racing slides with almost 300 feet of family excitement!  Guests can race family and friends from fifty feet in the air, to a triumphant splash for the checkered flag. SoakYa also features a large lazy river, wave lagoon, a toddler splash park and open and enclosed body slides and tube slides. Covered and uncovered lounge seating, retail shops, concessions and a changing facility with lockers allow families to enjoy a day-long stay at the park.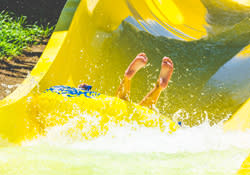 From Memorial Day weekend through Labor Day, guests will enjoy two parks, the amusement park and waterpark, for one low price of $34.95 + tax  ($24.95 + tax for children ages 1 & 2 and seniors 60 and older). Once SoakYa closes after Labor Day, an unlimited ride pass goes to $27 + tax. Parking is always free at Lake Winnie. Coolers and picnic basket are welcome, however, glass containers and alcohol are not allowed.

The park has group rates starting with 25 people and catered picnics starting with 50 people for company picnics, schools, organizations, churches and family reunions.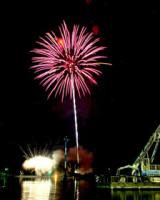 The park features many special savings throughout the summer with area McDonald's, Coca Cola and Dr. Pepper products, Military Appreciation Day Mondays, Funday Mondays and Food for Fun Thursdays benefitting the Chattanooga Area Food Bank. For Fourth of July weekend, watch as fireworks soar above the park on July 2nd and 4th. During weekends in October, Lake Winnepesaukah makes a ghostly transformation to Lake WinnepeSPOOKah, offering hair-raising fun for boys and ghouls of all ages with haunted rides, eerie edibles, screaming thrills, the Thriller Parade and more.
For more information and to purchase tickets, click here.