Juneteenth, observed annually on June 19, is the oldest nationally celebrated commemoration of the end of slavery in the United States. The holiday is also known as Jubilee Day or Freedom Day.
On June 19, 1865, the Emancipation Proclamation was read to enslaved people in Texas. Although the emancipation proclamation was issued two and a half years prior on January 1, 1863, it excluded those enslaved in several states where the proclamation had not been enforced, including Texas, the last Confederate state to have the Emancipation Proclamation announced.
On March 31, 2020, the Chattanooga City Council unanimously adopted a resolution designating June 19 of each year as Juneteenth Independence Day in Chattanooga, Tennessee. 
Juneteenth events in Chattanooga
On Friday, June 19, 2020 at 7:00 p.m., The Chattanooga Festival of Black Arts & Ideas will present its 3rd Annual Juneteenth Independence Day commemoration/demonstration, A Bridge Over Troubled Waters, on the Walnut Street Bridge. 
The event, organized by Ric Morris, the festival's founder, joins with the National Juneteenth Observance Foundation in its mission to bring all Americans together to celebrate our common bound of freedom through the recognition, observance, education and historic preservation of Juneteenth in America.
As part of the commemoration/demonstration, 155 Black volunteers will serve as red, black and green Pan-African flag bearers. Each flag represents one year of the 155 years since the emancipation from slavery. 
According to Morris, the goal "is to educate all that Juneteenth represents a historic triumph of the human spirit. And just as the spirit of Black people has not been defeated by centuries of slavery, oppression, and injustice it will not be defeated by this pandemic. As the Black community and our allies take to the streets in protest of decades of police brutality and demand immediate justice in the name of George Floyd, Juneteenth must serve as more than a holiday, but also as a symbol and a movement that helps unite the Black community and pushes us forward."
Morris has also produced a series of videos that seek to educate the community about Juneteenth.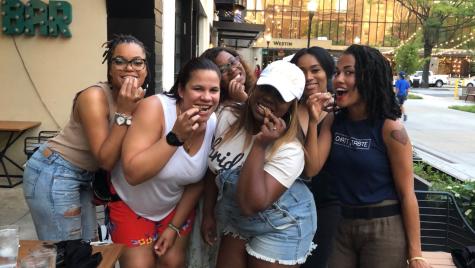 Other Juneteenth events
Chatt Taste Juneteenth tour on MLK 
Calling all foodies! Chatt Taste has partnered with other black-owned businesses on MLK Blvd to showcase the essence of Southern Cuisine. Visit 4+ locations in one evening via guided food tours. June 19th ONLY. Enjoy MLK staples like Memo's, Chatt Smoke House, and Uncle Larry's while being introduced to Neutral Ground - New Orleans style food curated by Chef Kenyatta Ashford via Proof Bar and Incubator.
Not only will guests get their fill of the finest food Chattanooga has to offer, but guests will also have the opportunity to learn about each establishment. The inspiration, the hardships, the meaning of "Community" for black-owned restaurants in Chattanooga.
Juke Joint Chattanooga #1 at Stone Cup
These events are a chance to experience good music and eat and shop from Black-owned vendors. The Juneteenth event will be hosted by C-Grimey with music from Juniverse Music.
Divine 9 Justice and Equality Prayer Walk
Observe and celebrate Juneteenth while standing in solidarity against racism, social injustice, and discrimination.
The Souls of Free Folk Juneteenth Virtual Reading (online)
Artist Josiah Golson will do a live reading and performance of his book, "The Souls of Free Folk," an ode to Black Joy.
In addition to these events, support Black-owned businesses in Chattanooga. This community-sourced list is continually updated.
Learn more
Be sure to check out the educational videos about Juneteenth produced by the Black Arts and Ideas Festival. The Bessie Smith Cultural Center is a great resource to learn about African American history and culture in Chattanooga. RISE Chattanooga plans to resume their historic MLK walking tours in July, in addition to a variety of other wonderful cultural programming.