Chattanooga's winter tradition, Ice on the Landing, is back until January 28th! The temporary outdoor ice skating rink is open most days from November 24th until the end of January at a brand new location: the First Horizon Pavilion.
Find the schedule and reserve your time on Ice on the Landing's website.
Nothing says it's the Holiday Season more than the image of people enjoying outdoor ice skating. Enjoy a night under the stars and maybe even learn some cool tricks on the ice while you're there.
Worried about your littles skating for the first time? Snag a plastic "skate buddy" for an additional rental fee. 
Think you might want to take full advantage of the temporary skating rink and visit often? Purchase a season ticket for yourself or the whole family!
From proposals and first dates, to birthday parties alike, Ice on the Landing is a favorite Holiday attraction each year.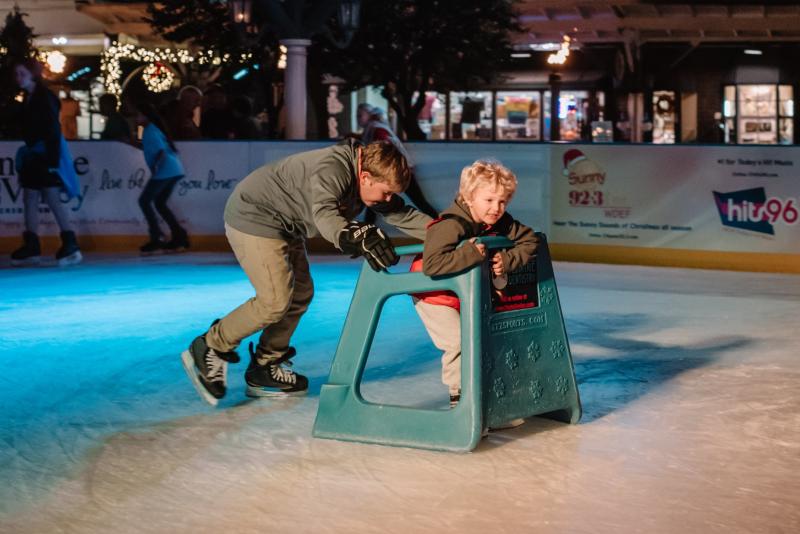 Check out these fun facts about the preparation that goes into building the rink as well as Chattanooga's history with hockey and ice skating.
DYK: Chattanooga History on the Ice
It could take up to 4 days working night and day for ice expert Bill Matthews to create the ice on the rink.
To keep the ice frozen, a 200-ton chiller is constantly running, especially on warm, sunny days.
There are over 250 tons of gravel underneath the ice rink.
Chattanooga was ranked #5 on a list of the best ice skating rinks in Tennessee by Step Outside. Ice on the Landing was the only outdoor and seasonal rink mentioned. 
Chattanooga had a permanent indoor rink that opened in 1978 called IceLand Rink. It was also located at the Chattanooga Choo Choo. 
Misconceptions About Ice Skating Rinks
The sheet of ice that we skate on is several feet thick, right? — Note true. The reality is it's only 3 inches deep.
When temperatures drop below freezing, the ice is at its best condition — Nope. A cloudy day with temperatures in the 50's is actually the prime condition for an outdoor rink.
Pouring cold water on the cracks in the ice fixes them — Wrong again. Hot water is the best solution for fixing cracks in the ice because it freezes quicker. Who knew? 
"People love ice skating and we don't have [a permanent rink] anymore… once the Choo Choo decorates everything and you get that little bit of chilly weather, it's the perfect date night."
— Barry Cole, rink manager
People from all over the South visit Ice on the Landing to experience the novelty of skating at the Choo Choo and just can't seem to get enough of it. Could there be a day when Chattanooga will have a permanent rink? I guess we'll just have to wait and see!
---
This is an updated version of a blog that appeared previously on our site.