Chattanooga is home to a wide array of live music venues, from intimate hole-in-the-wall's, to majestic seated theaters, to open dance floors, there is a unique experience offered for each artist and attendee.
But if you're someone who prefers to enjoy bands in a cozier setting over some food and beverage, here's a list of bars and restaurants with live entertainment.
1) Puckett's Grocery and Restaurant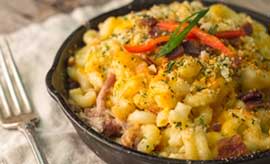 Click here for the menu.
Puckett's Grocery & Restaurant is a friendly community kitchen, with live pickin' performances just a few feet from your table.  At Puckett's, the main ingredients are real food, real people, and real atmosphere. Come on in y'all!
2) Hi-Fi Clyde's
Click here for the menu.
Located on Main Street, Clyde's offers ping pong, shuffle board, tasty food, great beer, and plenty of live entertainment. Open late.
4) The Flying Squirrel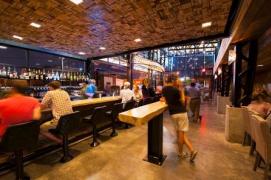 Click here for the menu.
The Flying Squirrel, which is known for its seasonal & local ingredients, offers a variety of innovative dishes in a casual, yet contemporary environment. Sunday brunches, held from 11am-4pm, feature live music every week, plus drink specials.
5) The FEED Co. Table and Tavern 
Click here for the menu.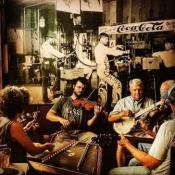 Located in Chattanooga's thriving Southside, The FEED Co. is an artful combination of tavern and family dining with a stunning destination, and an inviting farm fresh menu. Head to its front porch for live performances from some of the best local talent in town. 

6) The Meeting Place at St John's 
Click here for the menu.
Located next door to flagship sister St. John's Restaurant, Meeting Place offers the same quality cuisine, attention to detail, and hospitality in a more casual atmosphere. On Thursday evenings, sit back and enjoy stimulating flavors as you take in the sounds of a local jazz musicians from 6-9pm.
7) Firebirds Wood Fired Grill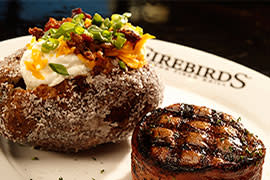 Click here for the menu.
Firebirds Wood Fired Grill is known for classic American, wood fired grilled entrees. This fall, enjoy the sounds of local Chattanooga artists outside on the patio as you enjoy some amazing food & drink.   
8) The Foundry 
Click here for the menu.
The Chattanoogan Hotel's upscale lounge, The Foundry, offers a delicious menu of appetizers, salads, sandwiches, and light entrees. It also features live music from a local artist every Friday and Saturday night from 8:30pm-12:30am. 

9) Brewhaus 
Click here for the menu. 
Located in Chattanooga's Northshore neighborhood, Brewhaus is a German-American gastro pub, emphasizing chef driven food, paired with good ale & wine, in a casual setting. Head there for good food & beer, a great view of the Walnut Street Bridge, and local live music! 
10) Chattanooga Riverboat Co. Southern Belle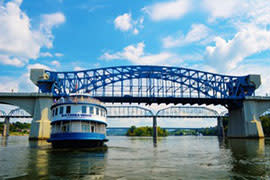 Click here for the menu.
Join the crew of the Chattanooga Riverboat Co. Southern Belle on its 450 passenger riverboat for sightseeing, lunch and evening dinner cruises. Sightseeing and lunch cruises are fully narrated to showcase Chattanooga's rich history, and evening dinner cruises always offer live music for a foot stompin' good time. Check the full list of offered cruises to see which one is right for you.
11) Café 7 at Rock City 
Click here for the menu.
Café 7, an outdoor dining experience at Rock City, offers beautiful scenic views along with catchy mountain music with performances by the Old Time Traveler and other various local acts. Held on summer weekends, May through September.
12) Jim Oliver's Smoke House
Click here for the menu.  
Catch some of the most talented "rising Nashville stars" and legendary mega hit songwriters at the Smoke House every Friday and Saturday night from 6pm-10pm. Enjoy two live shows each night that feature a mix of country, pop, blues, bluegrass, and folk music. Enjoy some great live music along with a delicious meal that would make Paula Deen envious; smoked BBQ ribs, smoked roast beef, southern fried chicken, skillet corn bread, and over 300 types of BBQ sauce.
13) 1885 Grill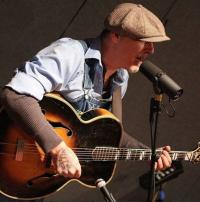 Click here for the menu.
1885 brings a grand and cabaret livelihood to the quiet St. Elmo neighborhood. They not only provide beautiful coastal cuisine, but a meeting ground and common place for people from all walks of life to enjoy live music on the patio. 
14) Embargo 62
Click here for the menu.
The sweet hum of the music of the islands will transport any visitor to this Northshore destination to the coast. This paired with some of the freshest food and cocktails in the area is sure to be a nice break from the everyday hustle and bustle.
15) The Westin Chattanooga
Click here for the menu. 
The Westin Chattanooga is one of the Scenic City's most unique entertainment and lodging destinations. The beautiful hotel is complete with two bars featuring live music everyday of the week! Once you step inside, you will find Dorato a lobby bar with indoor/outdoor seating options featuring live music Monday-Wednesday from 6-8pm and Thursday-Saturday from 6:30-9pm. Take a journey to the top floor and you will find Alchemy, a sky bar featuring sweeping views of Chattanooga and the surrounding mountains. Alchemy features live music Sunday-Wednesday from 6-8pm and Thursday-Saturday from 6:30-9pm.
16) The Backstage Bar on the Back Porch of the Comedy Catch
Click here for the menu.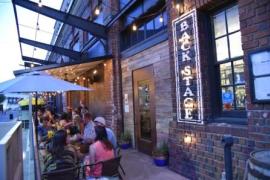 The Backstage Bar on the Back Porch of the Comedy Catch is the best place to sit and watch the people pass by on Station Street before or after a show. It features over 80 Whiskeys, 30 types of Scotch, an extensive wine list and delicious food. It features live music every Tuesday, Wednesday and Thursday from 7-10pm, showcasing some of Chattanooga's best local talent.
17) The Office at City Cafe
Click here for the menu.
The Office at the City Cafe is Chattanooga's best kept secret. This little venue comes alive every Wednesday and Friday night with funk, blues, rock, and plenty of food and beverage to keep the good times rolling.
18) Slick's Burgers
Click here for the menu.
Slick's offers one of the best places to grab a juicy burger on the Southside. They make their patties everyday, all the time, FRESH. And they take great pride in making their dressings, sauces, and other condiments and accompaniments, from scratch. Depending on the season, they offer live music outside on the patio or inside the restaurant. Wednesday nights feature The Pickers, playing some of the best old-fashioned bluegrass around, starting at 7pm. Slick's also offers live music on the weekends. Check their Facebook page to stay up to date with their live music schedule.
19) Peet's Coffee & Tea
Click here for the menu. 
Located in Chattanooga's new West Village District, Peet's Coffee & Tea brings you the freshest cup of joe or tea around. In addition to these hot drinks they offer a food menu including bagels and pastries as well as sandwiches and other yummy snacks. Live music is offered every Friday from 12-2pm. 
20) The Honest Pint
Click here for the menu. 

The Honest Pint is one of downtown Chattanooga's favorite neighborhood pubs. They host weekly "Open Mic Nights" on Monday evenings and "Bluegrass Brunches" on Saturday mornings. Be sure to check their website for occasional special events. Play some pool, throw some darts, listen to some live music, and relax with an honest pint among friends.
21) Tremont Tavern
Click here for the menu.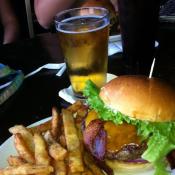 Tremont Tavern is a beer enthusiast's paradise with twenty-one beers on tap and over one-hundred bottled beers available. Enjoy one of the best burgers in town over weekly local music on Tuesday evenings and the occasional weekend.

22) The Tap House
Click here for the menu.

Join the Tap House for free live music every Friday night at 7:00pm. The rotating artists range from acoustic, rock, bluegrass, jazz and more. Featuring 30 rotating craft beers and ciders on tap, enjoy a pint or try a flight from 6 local breweries. Their food menu includes an assortment of hors d'oeuvres, including trout spread, cheese plate, pizzadilla, nuts, and more.
23 & 24) El Meson (Hamilton Place and Hixson)
Click here for menu.
El Meson provides a comfortable atmosphere and authentic family Mexican recipes that have made this restaurant a local favorite. Both the Hamilton Place and Hixson locations hosts regular live music. Call the restaurant for the schedule.
25) Moe's Original Bar B Que
Click here for menu.

Moe's Original Bar B Que features award-winning Bama-style pulled pork, ribs, wings, turkey and chicken smoked over hardwood served with two unique sauces in addition to Catfish and a Shrimp Moe-Boy sandwich. Enjoy your 'Que with some foot stomping, live local music. Call the restaurant for the schedule.
Scottie's On The River located at beautiful Cameron harbor is Chattanooga, Tennessee's newest fine dining experience. Serving Oysters Rockefeller, Stuffed Shrimp, New York Strip, and Fried Lobster Tail, their menu has something sure to please the surf and turf lovers in your group. Head there every Saturday from 4-7pm for great local, live music.

27) Mayo's Bar and Grille
Opened in 1987, Mayo's Bar and Grill is one of the best family owned and operated bars in Chattanooga. Serving American style cuisine, award winning burgers, wings and specialty sandwiches. Head there on Friday nights for live bands from 7-10pm, and Saturday nights for Open Mic from 7-10pm followed by Karaoke from 10pm-2am.

28) Bud's Sports Bar
Bud's Sports Bar is the hottest place in town for all your sports viewing. They regularly live stream NFL, MLB, NBA, NASCAR and all of your favorite collegiate sports, so you will never miss the action. Their menu includes meat & two lunches and great tasting hamburgers to prime rib dinners. Bud's offers a variety of weekly food & drink specials that would compliment anyone's budget. Bud's also has some of the best live music in town! Come out and "Rock the House" every Wednesday, Thursday & Friday Nights. Bud's also has Karaoke every Monday, Tuesday and Sunday. So come on in and discover that hidden talent you never new you had. And don't forget Bud's doesn't have a cover charge. 

29) Las Margaritas
Las Margaritas is one North Chattanooga's staple restaurants. Mexican food lovers will be delighted with its large selection of fajitas, tacos and quesadillas. Head to their rooftop on warm afternoons and enjoy a Margarita. On Wednesday nights, they offer local live music to go with your chips and salsa from 7-9pm.

30) Mexi Wings VII
Mexi Wings only serves the biggest & best wings available. Never frozen! Served with Celery and your choice of Ranch Dressing or Blue Cheese Dressing. Choose from Mild, Medium, Hot, Extra Hot, Super Hot, Nuclear, BBQ, Hot BBQ, Teriyaki, Thai Chili, Garlic Parmesan, Jamaican Jerk, Caribbean, or Lemon Pepper. Enjoy live music from a rotating roster of local musicians on Thursday evenings from 7:30-10:30pm.