Swimming holes are what Southeastern summers are all about. And while the Chattanooga area is home to some seriously incredible places to take a natural dip, it's also home to plenty of private land with a number of tricky access issues. So, disclaimer: It's likely that your favorite Chattanooga swimming hole won't appear on this list. That said, even though some of the swimming holes mentioned below require a bit more drive time than others, they're all totally worth the effort in the end—especially on hot and humid summer days. So, without further ado, here's a sampling of some of our favorite places in the Chattanooga area to (legally) cool off if you prefer your swimming pools to be of the natural persuasion.
 1. North Chick Blue Hole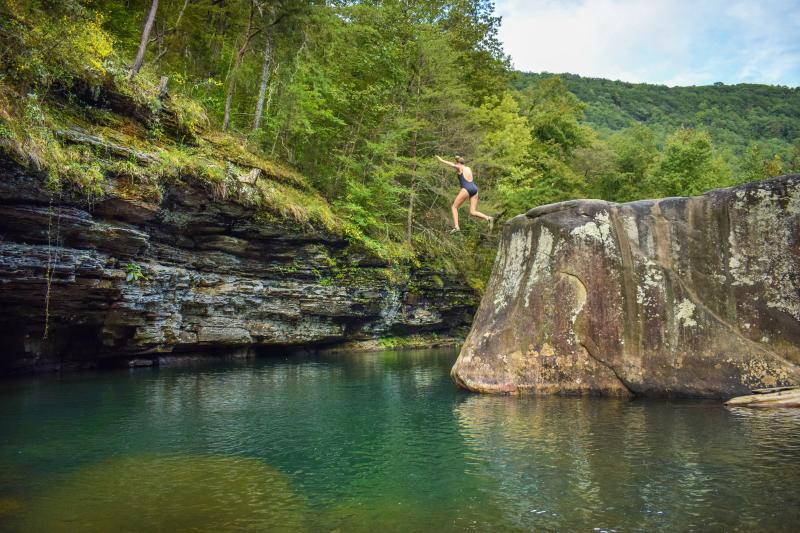 First, an obvious one: North Chick Blue Hole. Just 20 minutes from downtown Chattanooga in nearby Soddy Daisy, North Chickamauga Creek comes tumbling down the side of Walden's Ridge, carving out a steep gorge between Signal and Mowbray mountains, and creating a series of deep, welcoming pools along the way. The creek is littered with boulders that foster a number of different little pockets of swimming holes, so hike up the creek until you find the perfect spot. Like any great swimming hole, there are rocks to jump from—or for the less adventurous, to sunbathe on. Note: this spot has become quite popular over recent years. As such, there have been disrespectful visitors to the area who leave trash behind. Do not be one of them! And better yet, if you make a visit to this swimming hole, we recommend bringing along a plastic trash bag to see how much you can collect.
2. Foster Falls

Located about 40 minutes from downtown Chattanooga, Foster Falls is one of the most breathtaking waterfalls in the state of Tennessee. And for swimming hole enthusiasts, the deep plunge pool at the base of the 60-foot drop is about as good as it gets. A short hike combining the climber's loop trail with the Fiery Gizzard Trail atop the cliffs is a great way to work up a sweat before taking a summer dip. And while this place can get pretty crowded during the summer months, it's popular for a reason. Seriously awesome spot!
3. Big Soddy Creek Gulf

Owned and managed by the City of Soddy Daisy, Big Soddy Creek Gulf is 285 acres of wilderness about 22 minutes from downtown Chattanooga. The trail follows along--you guessed it--Big Soddy Creek, offering ample opportunity to cool off in the waters as the creek cuts through the gulf and cascades over and around unique rock formations. This picturesque blue hole is captivating with its emerald waters, rocky cliffs, and lush surroundings. Big Soddy Creek Gulf can get popular on hot summer days, but if you continue down the trail you're more likely to find your own oasis. To preserve the beauty of this pristine paradise, visitors are urged to adhere to Leave No Trace principles, ensuring the ecosystem remains unharmed and enjoyable for everyone.
4. Desoto Falls
DeSoto Falls Photo by Jake Wheeler
Yes, we're including another waterfall plunge pool. They're just too good not to mention! This one, in particular, DeSoto Falls, is located about 45 minutes from downtown Chattanooga on the western brow of Lookout Mountain in Mentone, Alabama. The upper reaches of this waterfall are characterized by a series of smaller cascades just below a man-made dam. Then, in a rather dramatic unfolding of events, the cascades drop off a steep precipice creating the 104-foot DeSoto Falls, which loudly crashes into the giant punchbowl beneath. It's within this punchbowl that weekend warrior swimmers can take a cool summertime dip. Getting to the bottom of the falls requires some rugged scrambling down a very steep trail, but reaching the beach and cool waters below is a just reward.
5. Blue Hole & Greeter Falls at Savage Gulf State Park

Both of these refreshing swimming spots can be found in Tennessee's newest state park, Save Gulf. Both the Blue Hole and Greeter Falls are accessed via the same trailhead across the entrance road from the Greeter Falls parking lot. Make the most of this stunning area with a full day of adventure and plan to hike both trails! From the trailhead, the .5 mile hike to Blue Hole is on your right. When you've had your fill of splashing in these waters, hike the .5 miles back to the trailhead then take the path to the left for a .8-mile loop that will take you to see three separate waterfalls: Greeter Falls Upper and Lower as well as Boardtree Falls. The base of Greeter Falls Lower is another picturesque spot for a swim. Fair warning, the hike will be a bit more than the advertised .8-mile loop if you take all optional spur trails to the falls, but it is so worth the extra steps.