Wait...Did You Say Towing Museum?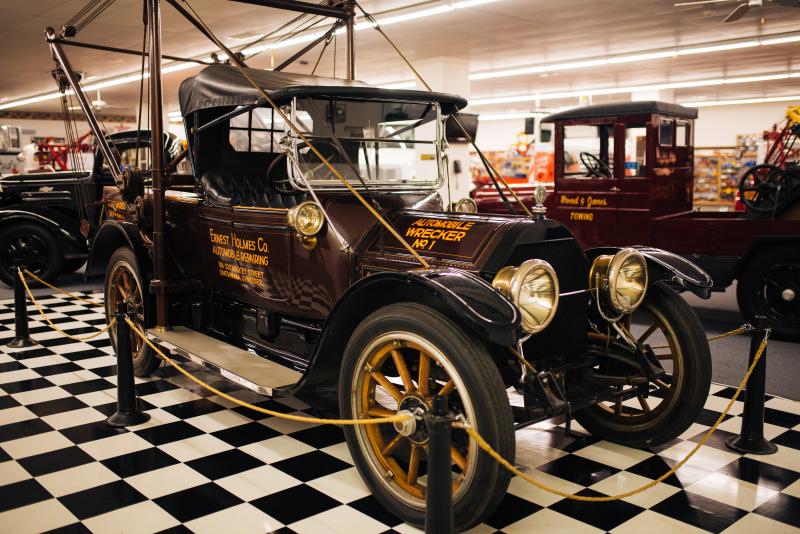 Yes, that is right. Chattanooga is home to the only International Towing Museum in the world! There's more to it than just trucks and it is pretty cool.  
One evening back in 1916, Ernest Holmes, Sr. and 10 friends spent all night using only ropes and blocks tied to trees to recover a friend's overturned Model T from a creek. Holmes immediately went home and created the first towing and recovery vehicle in his garage on Market Street. Soon after, he opened Chattanooga's first independent garage where he began selling his new invention. The business grew as the auto industry expanded and his vehicles were sold throughout the world, including to the U.S. government during both World Wars. 
The museum's collection showcases a replica of the first recovery vehicle, the world's fastest wrecker, a GMC "Bubble Nose," a massive green military beast along with an interesting variety back to 1916. The Wall of Fame (four walls actually!) features individuals from around the world who have made substantial contributions to the towing and recovery industry. 
Towing and recovery is one of the most dangerous jobs in the country; the industry loses approximately 60 operators annually. Every time a driver goes out for a call, they know they could possibly lose their life. In 2006, the Museum dedicated a beautiful monument near their entrance to honor the towing operators killed in the line of service. In addition, they established the Survivor Fund to provide immediate financial support to families of towing operators who lost their live in the line of service. 
Reflection Riding is an Outdoors Oasis 
Set on 300 breathtaking acres just 10 minutes from downtown Chattanooga, Reflection Riding is part public park, part nature center, part wild lands and all outdoor learning. 
Options for outdoor exploration abound, both on-site and off-site with outreach programs offered to 16 counties. 
A winding three-mile gravel loop can be walked, run, or bicycled, offering mature hardwood forests, wildflower meadows and wetlands habitats. Visitors also explore Lookout Creek, with easy access and a canoe put-in. Our 10 miles of trails connect to National Park lands that lead to the top of Lookout Mountain. 
Reflection Riding offers educational programming for groups, families and individuals from moonlit paddles on Lookout Creek to guided nature hikes to hands-on volunteer efforts to remove invasive plants. Behind the scenes tours bring visitors face-to-face with critically-endangered red wolves, a bobcat, sandhill cranes, owls, an American Bald Eagle, and more. Visitors can listen to the red wolves howl in unison and imagine what came before us, from Civil War battles to ancient Native American trails. 
On any given day, you'll find trail runners on the property, summer campers learning to paddle, families using the Nature PlayScape to get the kids tired before bed, and volunteers pulling privet and planting native plants. We look forward to welcoming you to explore our part of Chattanooga's scenic natural beauty!