15 of the Best Restaurants in Chattanooga with Outdoor Seating
Chattanooga's culinary scene has gained a strong reputation, with plenty of restaurants offering rooftops, decks, and patios to enjoy the fresh air. Chattanooga's combination of delicious cuisine and inviting outdoor spaces are sure to delight any culinary connoisseur. Here are a few of our favorite patios to enjoy great food on a nice warm day!
Flying Squirrel 
Flying Squirrel, an award-winning restaurant in the Southside, offers incredible house-made, locally sourced ingredients for drinks and cocktails. You have to get the popular garlic fries with a cocktail or for brunch on the comfortable modern terrace.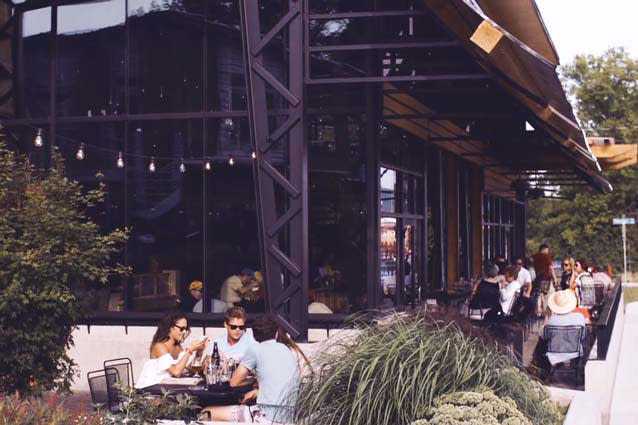 Whitebird 
Located inside the Edwin Hotel, Whitebird offers a fresh take on Appalachian cuisine with ingredients sourced from the Tennessee Valley. And you get a front-row view of the Walnut Street Bridge from their swoon-worthy patio. 
Mean Mug 
If you want to sip hand roasted, seasonal coffee among exposed brick walls, look no further than Mean Mug Coffeehouse on the Southside. Enjoy breakfast or lunch with a side of locally roasted coffee from Velo Coffee in the eclectic, private courtyard. 
Public House 
Public House pairs the best aspects of upscale restaurants—local ingredients, excellent service, and a great wine list—with a low-key atmosphere and reasonable prices. Enjoy high-quality fish and steaks and delicious seasonal vegetables on the spacious patio.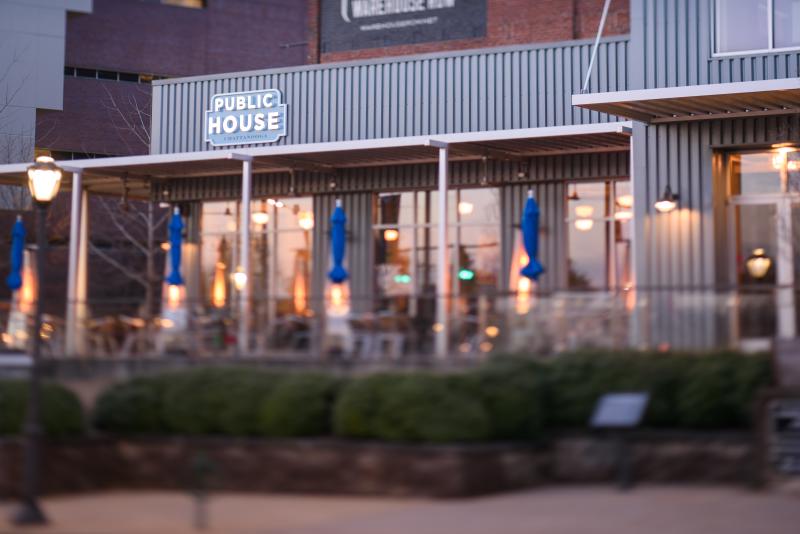 Il Primo 
Find American-Italian dishes made with locally sources ingredients at Il Primo in North Chattanooga. The shaded, plant-lined patio complements the classic, made from scratch dishes as well as the superb selection of Italian and American wines. 
Alleia 
In the heart of the Southside, Alleia specializes in creative interpretations of rustic Italian cuisine. Savor hand-made pasta dishes, Neapolitan-style pizza, and antipasta on the serene porch that features climbing Jasmine. 
Taco Mamacita 
Taco Mamacita is a casual, taco fusion joint on the Northshore. Try house-made nachos or Peruvian chicken. The dishes are made with local ingredients and pair well with a hand-mixed margarita. Enjoy your meal on the lowkey patio that always attracts a crowd. 
Brewhaus 
Chattanooga's only German-American gastropub, Brewhaus pairs classics like schnitzel, egg noodles, and brats with German-inspired beer and wines. Brewhaus is best enjoyed on the covered porch overlooking Coolidge Park or the sunny patio. 
STIR 
Enjoy your painstakingly crafted drink with artisanal ice. The restaurant's modern aesthetic blends well with the historic bones of the iconic Chattanooga Choo Choo terminal station. Dinner and drinks are best enjoyed on the spacious patio in the heart of Southside. 
State Of Confusion 
Rooted and revived on Chattanooga's Southside, State of Confusion brings a twist to traditional Peruvian and Argentinian classics like paella, chimichurri, and ceviche. Enjoy an ice-cold beer or one of their craft cocktails on the spacious and eclectic patio. 
Pickle Barrel 
A Chattanooga staple since 1982, the Pickle Barrel is the place to go for burgers, sandwiches, and, of course, enormous fried pickles. The second story patio feels like a tree house in the middle of downtown and is the perfect place for people-watching. 
The Feed Co. 
Chattanooga's historic Seed- Feed Supply Co. now houses The Feed Co. Table and Tavern. You'll find creative, farm-fresh staples like the signature Hoff-sauced wings made with local Hoff hot 
sauce. Grab a seat on the rustic deck for a perfect night out in Chattanooga. 
Old Gilman Grill 
Grab a seat on the patio and you'll feel like you've been transported to a Parisian café with twinkling lights and a glimpse of a (miniature) Eiffel Tower across the street. Enjoy cocktails, seafood, steaks, or a savory crepe on your next visit to the West Village. 
1885 Grill 
1885 specializes in fresh seafood, quality steaks, and local and fresh sides, local - all with a Puerto Rican twist. Enjoy your dining experience on a patio set in the beautifully revitalized St. Elmo neighborhood. 
Tony 's Pasta Shop & Trattoria 
A hidden gem in the Blu! View Art District, Tony's Pasta Shop and Trattoria serves house-made Sicilian dishes in a casual setting. Pair your meal with Italian wine and relax on the patio with a view of the Tennessee River.