Release Your Inner Simba at These Scenic Overlooks
Nestled in a valley amid stooped southeastern mountains, Chattanooga has plenty of places to get up high and check out the amazing scenery for miles around. The area is absolutely teeming with spectacular overlooks to enjoy serene sunrises, glorious sunsets, relaxing mid-hike picnics and just regular Tuesday afternoons. Here are some of our favorite scenic overlooks in Chattanooga to discover for yourself.
Sunset Rock
8 miles from downtown
One of the most iconic overlooks in Chattanooga, Sunset Rock beckons hikers, trail runners, and sunset watchers to enjoy its gorgeous views from Lookout Mountain. It is located less than 1/2 a mile from the small parking lot, making it easy to access. The overlook can also be incorporated into hikes of various lengths, by taking the short steep trail up from Cravens House or by tacking it onto a larger loop in the extensive Lookout Mountain trail network. However you choose to get there, Sunset Rock will be waiting for you with a place to rest and a brilliant view.
Snooper's Rock
19 miles from downtown
Located deep inside Prentice Cooper State Forest, Snooper's is probably one of Chattanooga's most tucked away overlooks. Once you find the parking lot, it's only about a quarter-mile walk to find a panoramic view of a unique S-curve in the river as it winds through a secluded section of the gorge. Snooper's can also be accessed via a 10-mile jaunt of Mullins Cove Loop, which takes you on a grand tour of the mountaintop state forest.
Signal Point
9 miles from downtown
From the parking lot, you only have to walk about 100 yards to encounter a spectacular peek into the river gorge below. You can also extend your views by heading down a tricky descent through "The Mousetrap," a set of wooden stairs and rails that take you to the very edge of the mountain. Continue down the trail to make your trip a twofer: the Julia Falls Overlook is only about a mile further and offers a glimpse at a regal waterfall pouring from the side of the mountain into the lush gorge.
Color Blind Viewfinder at Ruby Falls 
4 miles from downtown 
Yes, you read that right. This Viewfinder at Ruby Falls on Lookout Mountain gives you the chance to see the true colors of fall—or any season. The special viewfinder is outfitted with an innovative lens designed to enable people with color blindness to see a wider range of vibrant, true colors. Ruby Falls is one of 12 scenic overlooks in the state selected by the TN Dept. of Tourist Development to install this feature.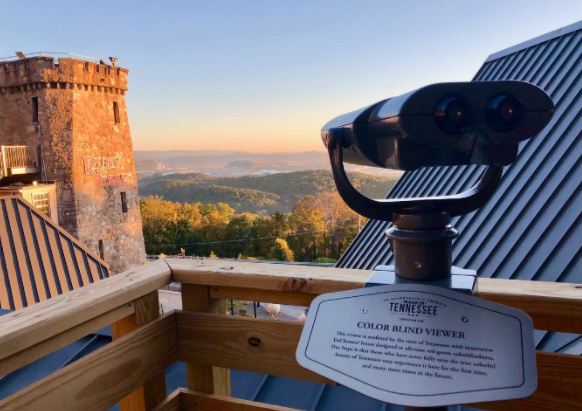 Edward's Point
11 miles from downtown
Just around the mountain from Signal Point, Edward's offers a large slab for resting or sunbathing with an unbelievable view of the river valley and the surrounding mountains. As part of the Signal Mountain trail network, there are several ways to get to Edward's Point: by foot, bike, or ATV. The most popular access point is via the ATV path, which winds about two miles from a pull-o! on Edward's Point Road to the overlook. This is a popular spot, but make the trek in the early morning or on a weekday and you might get the place all to yourself.
Point Park
8 miles from downtown
Aside from its spectacular view of Chattanooga and the Lookout Mountain Battlefield below, the 10-acre Civil War memorial Point Park is a haven for history buffs. A paved path meanders the grounds past monuments, historic tablets, and confederate artillery positions. The nearby Ochs Memorial Observatory displays exhibits on Civil War signaling, photography, and the fascinating history of Moccasin Bend, which can be seen on the riverbanks below.
Entrance to the park requires a fee of $7 per adult.
Cloudland Canyon State Park
27 miles from downtown
A one-mile roundtrip walk takes you to a legendary view in Cloudland Canyon State Park. The trail follows the canyon's rim and offers incredible scenery along the way. Cloudland Canyon requires a small day-use fee and offers campgrounds for overnighting, making it a perfect place to spend the weekend.
Lookout Mountain Flight Park
16 miles from downtown
The ultimate panoramic view would be to gaze down from a hang glider, but fortunately, you don't have to strap yourself to a giant kite to get a great view and a taste of what hang gliding is all about. The flight park offers a fantastic view of the mountains rolling into the distance. You also get an A+ view of gliders launching from the nearby ramp or being towed up by planes from the valley below. When the weather is ideal, visitors can witness a continuous stream of gliders circling, spinning, swooping, and swerving overhead. No hike is required, making this the perfect spot for an evening picnic.
Stringer's Ridge
2 miles from downtown
Popular with locals for trail running and mountain biking, Stringer's Ridge offers miles of trails right outside the heart of downtown. The park has one overlook that affords an unparalleled view of the city, displaying its unique architecture, bright colors, and the Tennessee River. From the main parking lot at Spears Avenue, the hike to the overlook is about a mile.