With more than 50 trailheads within 30 minutes of downtown, the hiking scene in Chattanooga is easily among the best in the Southeast, if not the entire country. From the slopes of Lookout Mountain to the steep crests of Signal Mountain and the Tennessee River Gorge, the Scenic City is blessed with a diverse and notable network of hiking trails. Considering the vast number of incredible hikes in the area, it's admittedly quite difficult to narrow it down, but here are several favorites from four Chattanooga locals.
Family-Friendly Trails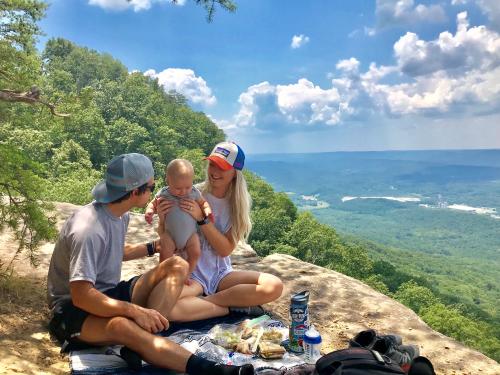 Alexis Cain | @alexishueycain 
Favorite trails? 
Our favorite hikes to do as a family are Sunset Rock and Edwards Point. Sunset Rock being the easier option of the two and Edwards Point being the longer hike with the most rewarding view. Just depends on how much time we have. 
Kid comfort is key:
I'm always sure to bring tons of snacks and a change of clothes. We currently use a child carrier to carry our now two-year-old on long hikes. If it's cold, be sure to layer; but remember, they aren't moving if you are carrying them, so they should be dressed much warmer. 
What if you're new to family hikes?
Chattanooga is such a convenient city to go hiking. You are literally within a 15-20-minute drive of miles and miles of sweet trails. Chattanooga is a hiking family's dream come true. Lastly, you should just go outside and do it! You got this! 
Accessible Trails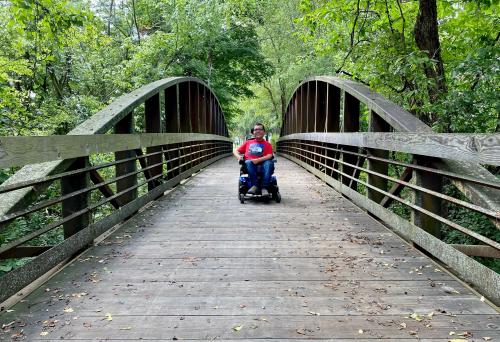 Cory Lee | @curbfreecorylee 
Favorite trail?
The Riverwalk - it's fully paved and by the river. I've done the entire thing from the Chickamauga Dam to the Hunter Museum. I do it once every couple of weeks in the summer, especially on a nice day. But a lot of it is shaded, and you're getting wind off the river even in the summer when it's 95 degrees. Pro tip: Halfway to the Hunter Museum, stop at the Boathouse Rotisserie and Raw Bar for lunch. 
In town:
Grab food from Cashew, which is vegan, and go to Coolidge Park. You can also start at the Chattanooga Theatre Center and go up to get Clumpie's Ice Cream. Then, go across the Walnut Street Bridge. It's one of my favorite views of Chattanooga, with the paddle boarders and kayakers and looking back at the Hunter. 
Other favorite spots:
Point Park is very nice and really accessible. There are paved paths all around. Chester Frost State Park has a beach, camp sites and shelters for picnics, and you can hang out by the lake. 
Trail Running
Moise Baptiste | Founder trailblazusoutdoors.com 
How'd you get into it?
My first trail run was 10 miles. When I got into trail running, I didn't see people who looked like me. I'm a unicorn; I mean I'm a Black guy and I'm trail running. People will stop me to talk, and I realized how big the trail running community is. After 7 years of being here I felt like I found my place. 
What do you like about it?
Trail running is a mindset. It's like life in that you have to slow down and look up. You have to be engaged. Now more than ever it's important to be present in life. 
Favorite trail:
Cloudland Canyon because of its unique views and a moderate trail with two waterfalls along a 4-mile loop. It's a good welcome to this part of the country. For beginners, I recommend Lookout Mountain. Cravens House to Point Park is a 3-mile round trip. 
Why TrailblazUS Outdoors?
The impact Wakanda had on people and seeing a superhero like them inspired the hiking group. 
Dog-Friendly Hiking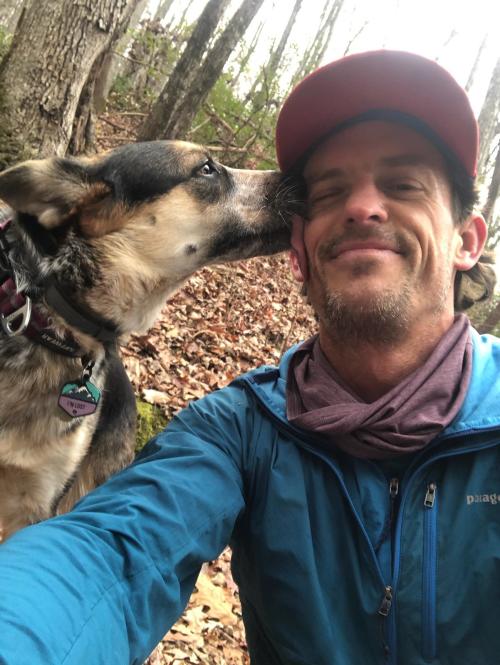 Brian Costilow & Jasper | Part-time ultrarunner & dog herder 
Best buds:
I take my dog on every trail/run with me. As a healer/Aussie mix, she tends to stick close . . . and under voice command (but squirrels do exist!). My dog is my adventure partner—an animal whose bond is shared in roaming the forests, the streams, and hills—both on and off trail. A dog's experience is a reflection of your own experiences. And I thrive in more wild places. 
Favorite trail(s):
Cumberland Trail. The spectacular scenery, waterfalls, and there are a lot of streams for water play. It tends to be less crowded than other places but may require a bit more effort. 
Why bring your dog? 
I try to get my dog in the woods almost every day. Most dogs crave a certain amount of exercise, that both stimulates their brain and keeps them happy. 
What should pet lovers know?
Chattanooga does offer some excellent dog-friendly parks, restaurants, and other urban amenities for dog owners. 
Chattanooga Hiking and Overlooks Map
Looking for popular trails and breathtaking views convenient to downtown? We've got you covered.