The National Medal of Honor Heritage Center shares the stories where history was made, and American heroes were born. Beginning this month, the public will have an opportunity to explore, learn and honor those who have received the Medal of Honor, our nation's highest military award for valor through an immersive museum experience.   
The Charles H. Coolidge National Medal of Honor Heritage Center  will host its grand opening on Feb. 22 at 10 a.m. and the doors open to the public at 1:00 p.m.   
During its opening weekend, advance tickets are available. Click here.   
Located in Aquarium Plaza, the 19,000-square-foot facility will offer immersive, life-sized exhibits and audio-visual presentations designed to create an emotional engagement and a profound, memorable experience for visitors. The Heritage Center shares the real-life stories of American soldiers who demonstrated extraordinary heroism under the most difficult circumstances.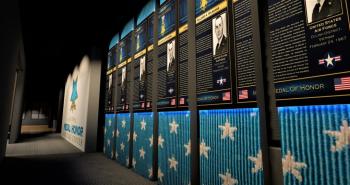 It was on March 25, 1863 that the first Medal of Honor, our nation's highest military award for valor, was presented to Private Jacob Parrott for his part in "The Great Locomotive Chase" that ended just outside of Chattanooga, Tennessee. Ultimately, 19 of the 24 members of Andrews' Raiders were awarded the Medal of Honor for their incredible acts of valor on April 12, 1862. The following year, the Chattanooga area would become hallowed ground where an additional 33 Medals of Honor were awarded – from Chickamauga to Missionary Ridge to the famous "Battle Above the Clouds" on Lookout Mountain.
These first acts of valor created an important heritage that has been entrusted to Chattanooga to preserve as the Birthplace of the Medal of Honor. And these many historic connections are why Chattanooga is the ideal location for the Charles H. Coolidge National Medal of Honor Heritage Center.  
 Chattanooga native Charles H. Coolidge, the namesake of the Heritage Center, received the Medal of Honor for his heroism in France during World War II. His story is just one of the many amazing stories you'll learn about during your visit to the National Medal of Honor Heritage Center.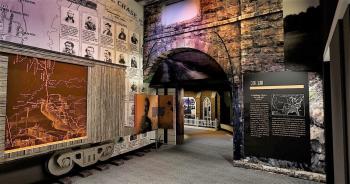 The Heritage Center is designed to educate visitors about the 6 character traits that embody the Medal of Honor: Patriotism, Citizenship, Courage, Integrity, Sacrifice and Commitment.  The Center strives to create lasting change in our youth through the Medal of Honor Character Development Program and Character Club initiatives. In addition to dedicated classroom space within the Heritage Center, further outreach is provided through its Character Club program and other educational resources in the community. 
Here are 3 things to check out:  
1. "Honoring the Sacrifice: Medals of Honor through time"  
The first temporary exhibit to be featured at the Heritage Center will highlight the stories of Medal of Honor recipients and showcase their Medals. Guests will hear stories from throughout U.S. history, including the Civil War, Vietnam, Spanish-American War and other conflicts. This collection is borrowed from individuals and institutions from all over the country with the goal to encourage guests to "be inspired by these extraordinary acts of valor by ordinary individuals…" This exhibit will run through May 13.   
2. Hacksaw Ridge  
The story of Medal of Honor recipient Desmond Doss might ring a bell to cinephiles … for good reason. Desmond Doss is the only conscientious objector to have received the Medal of Honor and his story was recounted in Mel Gibson's 2016 film "Hacksaw Ridge." He was awarded the Medal for his bravery, selflessness and compassion to save 75 men during the Battle of Okinawa despite never carrying a weapon. Visitors will learn about Doss's story in WWII and learn to tie the Double Bowland knot which he used to lower 75 men to safety.   
3. Dr. Walker  
This exhibit explores the life and Civil War actions of the only female Medal of Honor recipient, Dr. Mary Edwards Walker.  Dr. Walker grew up during a time period that restricted women.  She fought her whole life against society's expectations, ultimately rising above to be a true advocate for the soldiers. During a walk through the Civil War exhibit, visitors can see into Second Presbyterian Church where Walker treated wounded soldiers.