Cindy Todd has been boating around Chattanooga for 20 years. You can catch her out on the water, water skiing or paddleboarding just about any weekend it's warm enough. We caught up with Cindy between rides to get a few tips from some - one who started as a weekend warrior and now embodies the Chattanooga boating lifestyle.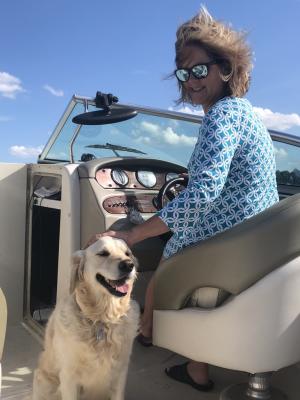 Where is your favorite spot to get out on the water?
We are fortunate to have a lake home in Possum Creek, a large, beautiful slough that's easily accessed by boat from the Main Channel of the Tennessee River/Chickamauga Lake. There's a number of Airbnb or VRBO rentals on Lake Chickamauga if you want to live the Chattanooga boating life for a long-weekend, week or longer. There's also an RV Park and Campground next to a TWRA Boat Ramp in Possum Creek so you can live like a local. 
What's so great about Possum Creek?
The water is usually calmer in the slough, making it ideal for water sports like slalom skiing, wake boarding, wake surfing, paddle boarding, canoeing or kayaking. So much of the land in the Possum Creek area is green space, so the scenery is beautiful and woodsy with a lot of wildlife. Sounds like you really are out in the wilderness and yet on the water. 
What wildlife have you seen?
One morning in April my brother and I were canoeing close to the water's edge when we spotted a red fox roving through the woods with a rodent in its mouth. We followed it to its den and found four kits scampering about. We quietly watched them for a long time from our canoe about 20 feet away, marveling at their different personalities. A couple seemed very shy and were leery of us, but two were chasing each other and tumbling around just like kittens and puppies do. It definitely felt like a National Geographic moment. I've had similar experiences watching bald eagles and other wildlife at Possum Creek.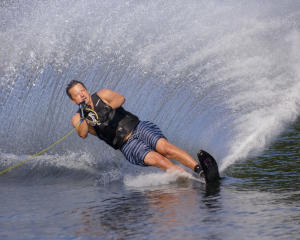 What about the more thrilling side of getting out on the water? What's your favorite water sport today?
I've been a slalom skier for nearly 50 years, and I love it, but the day I learned to wake surf behind a friend's boat a few years ago was really special. With wake surfing, you're close to the boat so you can talk with your friends and family or hear the music really well. It's a fun shared experience and learning a new sport builds confidence. If you have good balance, it's easy to do and even fun when you fall because you're not going fast. Knowing it doesn't hurt gives your friends permission to laugh, and the flipping falls are pretty hilarious to watch. 
What's an ideal day on the water look like for you?
I love to entertain on our boat. We'll start out in Possum Creek and then head to the main channel. Sometimes I head left toward the Hiwassee Wildlife Refuge for sightseeing. About 40 minutes away in this beautiful area there are 2,500 acres of land and 3,500 acres of water that are home to an amazing array of birds, including bald eagles, ducks, Great Blue Herons and migrating species. Other times I head right toward Shady Grove Harbor or Steve's Landing, which are less than a 30-minute boat ride away. You must get hungry out there. 
Where's a good spot to grab a bite?
Steve's Landing in the Pine Harbor Marina is one of our favorite places to eat. You can access it by boat or car and it's come as you are super casual. They have amazing, fall-off-the-bone ribs, excellent catfish and blackberry cobbler. The atmosphere inside is rustic and fun, or you can sit outside on their dog friendly patio. 
Thanks! Can you leave us with one final insider's tip?
Call ahead to get your name on the waiting list at Steve's Landing, 423-332-4098. Plan your trip to the area with time to hike the nearby trails on the Cumberland Plateau. You'll enjoy old growth forests, streams, waterfalls and well-maintained trails that are easy to access. 
Your Turn: Boating In Chattanooga For Boat Owners Or Renters
Find a small watercraft or boat rental and get out on the water this summer.