Summer time means hot weather and with the temps rising, everyone is looking for ways to stay cool. Even though the North Pole sounds enticing, there's no need to travel around the world to find a cool summer escape.

Chattanooga is located right on the Tennessee River and just being close to the water can bring your body temperature down. Whatever type of adventure you're looking for, Chattanooga offers an array of things to do to stay cool this summer.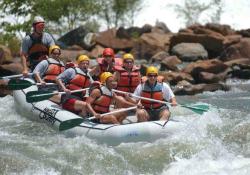 1. Enjoy some of the most thrilling Class III & IV whitewater rafting in the country as you raft down the cool rapids of the Ocoee River, home of the 1996 Olympics kayak events.

2. Let the kids frolic in the Coolidge Park interactive water fountains (not yet reopened). 

3. Jump onto the Tennessee River downtown in a kayak or on a stand-up paddleboard adventure. If you're looking for some unique and fun gear to use out on the water, head over to Adventure Sports Innovation and see their collection of water equipment! 

4. Venture deep into the heart of Lookout Mountain and explore numerous natural formations while making your way to the famous Ruby Falls underground waterfall. Discover the vast cave system at Raccoon Mountain Caverns, where there's five and a half miles of mapped passageways winding through unique formations. Both caves average a cool, 60 degree temperature all year long.

5. Cruise down the Tennessee River aboard the Southern Belle Riverboat or take a tour of downtown and then splash right into the river on a WWII amphibious Chattanooga Duck tour. Only a few minutes from downtown, you can charter a cabin yacht through Blue Heaven River Tours Chattanooga. You can even rent a boat from River Gorge Excursions or have them take you on a tour of the river!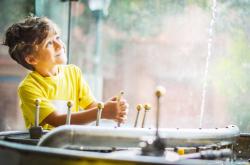 6. For some indoor aquatic fun, head to the Tennessee Aquarium and dip your hands in the tanks to touch lake sturgeon in the River Journey building or stingrays in the Ocean Journey building. Play in the interactive water course by sailing boats, building locks and dams, and shooting jets of water to make whirligigs spin in the Creative Discovery Museum's Riverplay exhibit. Take a trip back in time and learn about how the first and highest military award for valor originated in Chattanooga at the Charles H. Coolidge National Medal of Honor Heritage Center. 
We recommend contacting each business directly regarding ticketing, timed entry, and mask requirements. Or, you can check out our Clean & Safe Guide here  for more information.