Beer. America's favorite four-letter word.
From crafty drafts to classic brews, there's nothing like an ice-cold beer on a warm spring or summer day. And Chattanooga's craft beer scene is not one to be missed. With breweries popping up in every neighborhood, you can spend an entire weekend sampling all the IPAs, ales and lagers that your heart desires.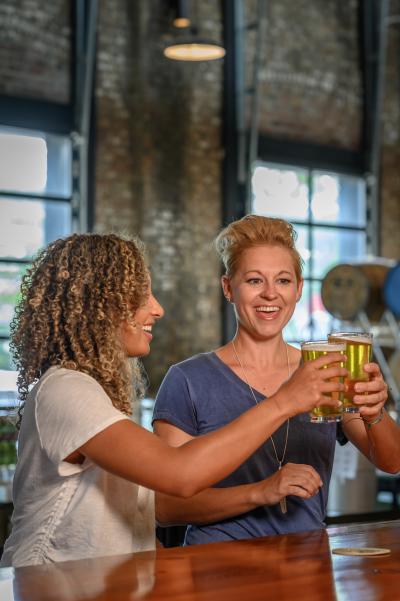 So, where do you start? Luckily for you we've done the heavy lifting and have mapped out some of Chattanooga's best breweries. Start in St. Elmo and work your way over to the MLK District or stick to the Southside. Whatever route you choose, don't miss these hop-pening beer spots.
If it were up to us, our perfect beer-scursion would start in the MLK District. Just a stone's throw away from each other, you'll find OddStory Brewing Co. and Hutton & Smith Brewing Company. Both breweries offer a rotating selection of craft brews ranging from hazy IPAs to barrel-aged stouts, but what makes them unique is how they got started in the Scenic City. Both breweries were started by Chattanooga transplants who were looking to be a part of the growing beer scene. Now, they're both staples in the MLK neighborhood and shouldn't be missed. Enjoy Odd Story's indoor beer garden while you sip on a Monkey's Heart IPA or catch climber vibes with a Basecamp Blonde in Hutton & Smith's taproom.
Once you're hopped-up (get it, hops?) on IPAs, make your way towards Chattanooga's Southside. Tucked between MLK and the Southside sits WanderLinger Brewing Co., where wandering is allowed, and lingering is encouraged. Sip on a Joose Caboose IPA before stopping by the Terminal Brewhouse over on Station Street. Located in a century-old historic building, Terminal Brewhouse has been serving up craft brews and even craftier food since 2009. The Malachi Red Ale and the Southsidenstein Oatmeal Stout are must-try beers before continuing your beer-scursion.
Now, you're ready to hit Main Street. You're headed to one of Chattanooga's newest brew spots, Five Wits. Located inside Market South, Chattanooga's first food hall, you'll find lagers, wheat ales, and pale ales a-flowing. Grab a snack from Chow Main or Slow Rise Pizza while you sip on an American Daydream Wheat Ale or Ole Heller Helles Lager.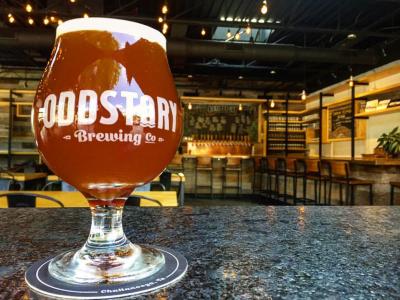 Grab a ride from Bike Chattanooga and head down Main Street to Chattanooga's oldest brewery, Chattanooga Brewing Co. Nearly a century after the brewery closed from prohibition, the brewery reopened and is crafting hoppy ales and German-style brews as a homage to their history. Hang out in the biergarten with your four-legged friend or belly-up to the bar before continuing your brewery hop. Rounding out your beer-scursion is Naked River Brewing Co., located right across from Finley Stadium, home to the UTC Mocs football team and Chattanooga Football Club. As Chattanooga's largest brewpub, there's plenty of room to hang out inside or out on the patio and sip on a Squatch Watchin Wheat Ale or their infamous MoonPie Stout.
And if that's not enough beer for you, be sure to visit Big River Grille & Brewing, Mad Knight Brewing Co., or Big Frog Brewing Co. Now you know why Chattanooga's craft beer scene isn't one to be missed.