Photo credit: Andrew Kornylak
We don't mean to brag, but our Southern sandstone is some of the best in the country. But don't take our word for it. Just ask Cody Averbeck, who wrote the book on Chattanooga sport climbing – literally – by co-authoring the new guidebook, Chatt Steel. He noted on Rock/Creek's blog:

Southern Sandstone, specifically the type found in Chattanooga, has some the greatest variety of rock characteristics and personality found in any rock type, in any region — in America. Our sandstone has so much variation in such a small area that local Chattanooga climbers can swap crags like they swap seasonal clothing styles.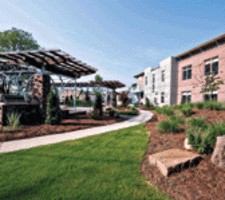 In addition to year-round access (although summer can be brutally hot), we also have some of the best amenities for traveling rock climbers. Literally hundreds of routes exist within a 45-minute drive from downtown, with most climbers opting to stay in the heart of the city to take advantage of restaurants and tourist attractions on the off days. The Crash Pad is particularly popular. Not only does it offer cheap lodging in Chattanooga's Southside, you get the priceless benefit of first-hand, local knowledge.

And we're not a one-trick pony. You can find endless opportunities in bouldering, traditional or sport climbing. "If you love all three disciplines of climbing, this place is a gold mine," says Chad Wykle, head buyer for Rock/Creek who relocated to Chattanooga more than a decade ago for climbing. "You could spend a lifetime here and never do all that you wanted to do."

And if you like bouldering – one of climbing's fastest growing segments – you'll love the Triple Crown Bouldering Series. Organized by Wykle and Jim Horton, this multi-day/multi-location competition brings together some of the region's best in bouldering. The Chattanooga portion is part of RiverRocks, the region's premiere outdoor adventure games series.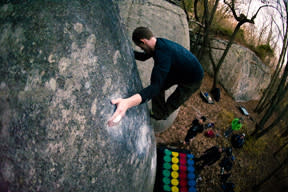 Photo credit: Andrew Kornylak

Where to Begin: Got a crash pad, shoes and chalk? Good, you're all set to tackle some of the best bouldering in the Southeast. If you're a traditional or sport climber, head to Rock/Creek for any last minute gear needs. Otherwise, the only thing you need to truly tackle Chattanooga rocks is a good guidebook (also available at Rock/Creek).
If you're a true newbie, consider taking a guided trip or class with The Adventure Guild. The Adventure Guild offers private and group options and can help you tackle Walnut Wall, a climbing route set into the 100-year old limestone supports of downtown's Walnut Street Walking Bridge.

Hit the Wall: So many options, so little time. Below are some of the most popular spots in the area, organized by discipline.
 
BOULDERING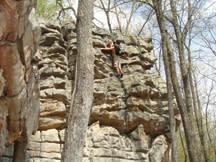 Stone Fort (aka "Little Rock City"), Soddy Daisy, TN
Very few areas in the country offer the diversity of Stone Fort, making it a do-not-miss locale. Located on a golf course on private land, the owner simply asks that you sign in and pay a $3 day use fee.

Rocktown, Pigeon Mountain, GA
Rocktown closes for hunting during some dates in the fall, and a pass is now required to climb there. But the hoops are well worth jumping through because this pristine climbing spot offers some of the best bouldering in the Southeast.

TRADITIONAL
The Tennessee Wall, Prentice-Cooper State Forest, Chattanooga?
Located in the picturesque Tennessee River Gorge, the Wall offers world-class crags and is arguably one of the best traditional climbing areas in the country.

Sunset Rock, Lookout Mountain, TN
Not only does Sunset Rock boast stout grades and jaw-dropping views, it's also steeped in history as part of the Chickamauga/Chattanooga National Military Battlefield. That said, the relationship between climbers and Rangers is tenuous, so mind your manners on this hallowed rock. 

SPORT
Foster Falls, Jasper, TN
Challenging routes in an idyllic setting make Foster Falls a major sport climbing destination. Be sure to check out the beautiful waterfall on your hike into the crag.

Deep Creek, Mowbray Mountain, Soddy Daisy, TN
Once a best kept secret with locals, Deep Creek is now poised to become one of Tennessee's premier sport climbing destinations with more than 150 routes. Access was a hard won fight, so the Southeast Climber's Coalition requests that you keep a low profile and follow the rules.
Indoor Climbing 
While the Triple Crown remains Chattanooga's only outdoor rock climbing competition, area gyms regularly offer indoor challenges. Check their websites for details: Tennessee Bouldering Authority, Urban Rocks, High Point Climbing Gym.

Special Events: Triple Crown Bouldering Series, October 12 - November 2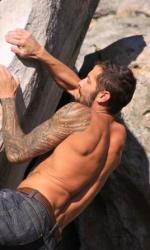 Sponsored by Marmot, this event has been happening in some form for nearly 20 years. This year access to one of the locations was dropped, but you can still enjoy world-class bouldering and friendly competition at Stone Fort (October 12, part of RiverRocks) and Horse Pens 40 (November 2).

Reel Rock Film Tour, IMAX Theater, October 11
This annual, worldwide tour offers a glimpse into the life of a climber, compiling the best climbing and adventure films of the year. Expect giveaways, guest appearances and a party-like atmosphere.