Whether it's long-distance road biking, singletrack trail riding, or casual urban cruising, there's a lot to be said for exploring a city on two wheels. And with it's thriving downtown area, surrounding countryside, and a huge network of nearby trails, Chattanooga is a prime destination for all types of cyclists.
The city was ranked a Silver Level Bike Friendly Community by The League of American Bicyclists, and it plays hosts to several prestigious cycling events each year, including IRONMAN Chattanooga and the Five Points 50. If you don't have a bike of your own, you can always rent one for the day from Bike Chattanooga. With 42 stations and 400 bikes located throughout the city, it's an enjoyable and cost-effective way to explore the Riverwalk, MLK District, or the Southside.
Chattanooga has a huge range of cycling opportunities, whether you're seeking an epic challenge or a family-friendly outing. To get you rolling, here are a few of the best local spots to go for a ride.
In-Town Adventures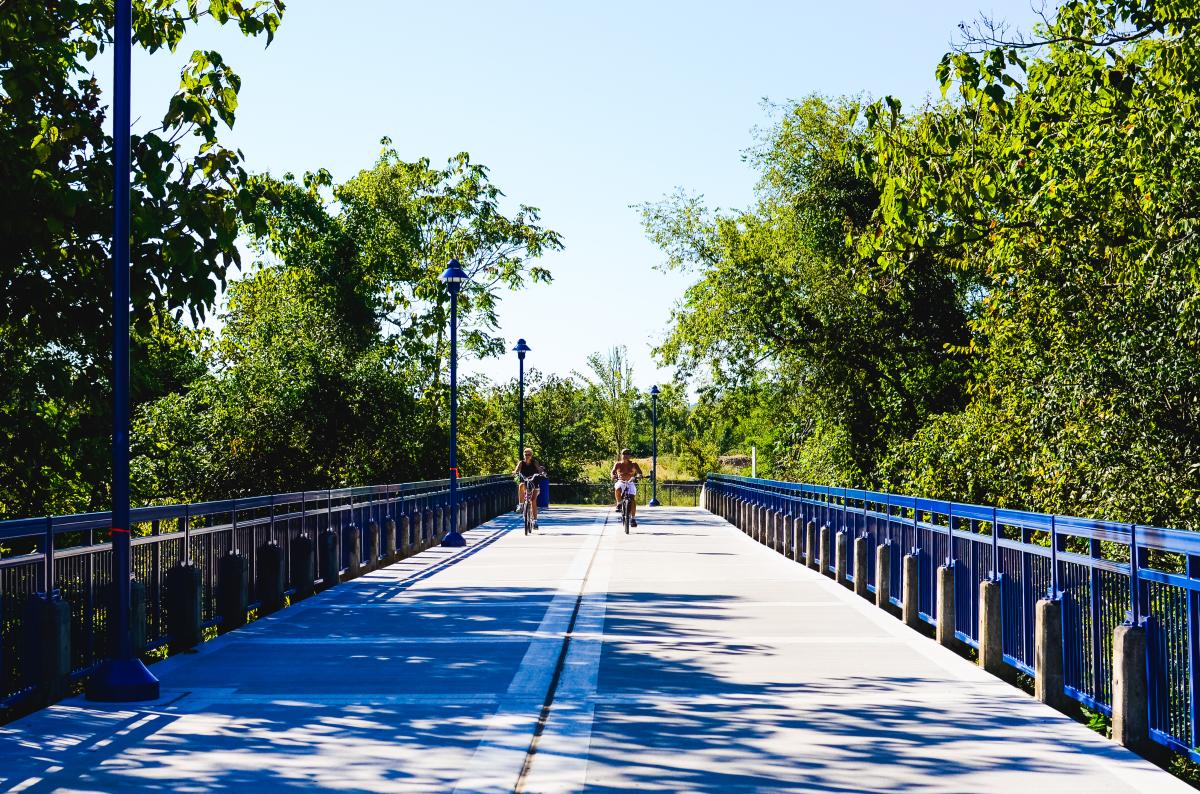 1. The Riverwalk
In its entirety, Chattanooga's Riverwalk park spans more than a dozen miles from St. Elmo to the Chickamauga Dam. At the center of the Riverwalk are the Bluff View Art District and the Tennessee Aquarium, two major attractions that are great jumping-off points for the multi-use path. From the Art District, you can follow the Riverwalk east about 8 miles to the dam, with restrooms, picnic areas, and riverfront views along the way. From the aquarium, hop on the Riverwalk in the opposite direction for a flat, less-traveled route to St. Elmo at the foot of Lookout Mountain.
2. Walnut Street Bridge & Northshore Parks
Built in 1890, the Walnut Street Bridge is one of the longest pedestrian bridges in the world. Its blue trusses have become a symbol of Chattanooga, and it serves as a link between Downtown and Northshore, two of the city's most popular areas. The bridge is perfect for a slow, scenic bike ride, and it leads right into Coolidge and Renaissance Parks on Northshore's riverfront.
3. MLK District
This recently renovated street now offers a wonderful bike lane and a center turning lane, making it ideal for an urban cycling excursion. The MLK District is the perfect neighborhood to create your own bike and brew tour of Chattanooga, with two local breweries and several great bars within just a few blocks of each other. You can also check out the nearby Miller Plaza, which hosts outdoor events like Nightfall, a free summer concert series, and Noontunes, a free midday concert series with food trucks and vendors.
On the Trails
4. Raccoon Mountain
This extensive trail system hosts what many locals think of as the best mountain biking in Chattanooga. With more than 30 miles of singletrack trails and endless ways to string them together, you'll feel like you have the place to yourself even on a busy weekend. While there are a couple of trails suitable for beginners, much of the riding on Raccoon Mountain is technical and challenging, offering an authentic southeastern mountain biking experience.
5. Enterprise South
This nature park on Chattanooga's outskirts offer the ultimate beginner-friendly trail adventure. Its four bike trails, one of which is brand new in 2018, are well-marked and directional, so you need not worry about rounding a turn into another rider. While it has some elevation change, Enterprise South is known for being fast, flowy, and smooth. It's easy enough for first-timers, but remains an ultra-fun option for advanced riders as well.
6. Stringers Ridge
Only have time for a quick ride on your visit to Chattanooga? Located just outside of downtown in Northshore, Stringers Ridge is the prime option for folks looking to get outdoors in a hurry. Nearly all of its seven miles of trails are bike-friendly, with the directional 4-mile "blue loop" being the most popular route for riders. Though short, this loop packs a punch with its constant ups and downs. An old paved path bisects the trail system and offers one of the best overlooks of downtown Chattanooga to be found anywhere.
7. Five Points
The newest addition to Chattanooga's mountain bike scene, Five Points was opened in 2011 after major efforts by Southern Off-Road Bicycle Association and local partners. About 20 miles of trails radiate from a central intersection, and almost any selection will eventually return you to this starting point. One of Five Points' major draws is that all but one of the trails are bike-only, so riders can be worry-free from hikers and runners.
Long Road Rides
8. Moccasin Bend Loop
This ride is one of the most popular and easily accessible road rides in Chattanooga. Starting anywhere in Northshore, this route offers a scenic trip to the tip of the Moccasin Bend peninsula, passing through an industrial area before entering a beautiful forest where wildlife can often be spotted. Many riders use this flat, straight road for sprints and time trials, and you'll usually find more bikes than cars on this section of the route.
9. Suck Creek Road
Perhaps one of the most scenic rides in Chattanooga, Suck Creek is a 20-mile out-and-back ride with about 1,700 feet of elevation gain. The first few miles are quite flat and follow the Tennessee River into the "Grand Canyon of the South," offering views of the dramatic bluffs that frame the river. Once the ascent begins, the road's namesake creek hugs the right side of the pavement and babbles with mini-waterfalls and rushing cascades all the way to the turnaround. For a longer ride, this route can be turned into the 68-mile Henson Gap Loop, which drops down into Sequatchie Valley and takes a scenic, roundabout way back into the city. If you choose to ride in the afternoon or during rush hour, be aware of fast-moving cars on blind curves on your ascent.
10. Flintstone
This 49-mile loop begins downtown and traces the base of Lookout Mountain south to Flintstone, Georgia, before climbing up and over Lookout to descend back to Chattanooga. The climb is steady, but can be challenging with parts nearing a 20% grade. Once you reach the top, you'll achieve some well-earned speed on the Ochs Highway descent, but be sure to watch out for traffic and sharp turns.
11. Chickamauga Battlefield
The flat, little-trafficked roads of Chickamauga Battlefield make it the perfect place for both fast training laps and leisurely bicycle trips. A mixture of forests and pastures, this seemingly remote countryside is dotted with restored war monuments and historical markers. Loops range from 6 to 14 miles, so pick up a map at the visitor center to determine which route is best for you.
There are dozens of reasons to let your bike tag along on a visit to Chattanooga, whatever your two-wheeled forte may be. From casual urban exploring to gnarly day-long mountain climbs, there's no doubt that Chattanooga is home to an array of cycling adventure that will leave you wanting more.