Let a Local Take You on a Guided Tour to Explore Chattanooga
Visiting a fun and vibrant city like Chattanooga means the opportunity to try all kinds of new adventures. In fact, there are so many spectacular things to see and do here that it often helps to have a local expert show you the ropes. Whether you enjoy history, outdoor recreation, or craft beer, Chattanooga has a guide and a tour that will perfectly suit your interests and teach you all about this wonderful city. These are just a few of the very best guided tours to check out during your time in the Scenic City. 
---
Food & Drink Tours
Bike & Brew Tour
Beer lovers, this tour's for you! The Chattanooga Bike and Brew Tour with Bike the South hits up four of Chattanooga's best craft breweries with guided tours, beer samples, and additional discounts along the way! 
Pints and Pedals
Chattanooga's ultimate party on wheels brings friends together for a unique and fun way to visit some of the city's most popular bars and pubs. Pints and Pedals tour participants receive drink discounts at local bars, can book a private tour, and even create their own musical playlist to enjoy during the tour.  
Chatt Taste Food Tours
Experience the unique cuisine of Chattanooga on one of Chatt Taste's food tours. Foodies can get a taste of that classic Southern cuisine within Chattanooga's historic MLK district on the MLK Southern Cuisine Food Tour, take in the vibrancy of downtown while dining at restaurants that serve food from across the globe on the Downtown Chattanooga Tour, or revel in the excitement of Nooga's Southside via four local restaurants on the Southside Food Tour. 
ChattaBrew Tour
The craft beer scene in Chattanooga is booming, and a trip with Chattabrew is a great way to dip your toes in. The tour includes tastings at four local breweries, plus an introductory brewing lesson. The tours change frequently, so you can sample different breweries on every trip to town. 
---
Cave Tours
Raccoon Mountain Cave Tours
For the true adventurer, a Wild Cave Expedition inside Raccoon Mountain is a must-do while in Chattanooga.  Explore the limestone cavern in its natural state as you crawl and climb through a maze of formations and passageways. These expeditions aren't for the faint of heart and are known as some of the most rigorous excursions in the Southeast. Whether you choose the Canyon Crawl, Waterfall Dome, or Gypsum Crawl Expedition, be prepared to get dirty and put your spelunking skills to the test! 
Ruby Falls
If you love caves and caverns but aren't so sure about crawling through the mud to explore them, Ruby Falls' Lantern Tour is for you. Discover the cavern like Leo Lambert in 1928. The cavern and falls are illuminated by hand-held lanterns during this after-hours specialty tour. Rock formations and shadows take on intriguing dimensions as your guide shares stories exclusive to this tour. 
---
Hiking Tours
Experience Chattanooga
Experience Chattanooga offers guided hiking tours that showcase the natural beauty of Tennessee. Transportation and a professional photo gallery are included with every tour. Visit the area's best waterfalls & mountain views! Experience Chattanooga's hiking tours are designed for all ages + ability levels, so they're perfect for families with kids, couples, and even solo travelers. Additionally, all customers receive recommendations & discounts for some of the top local restaurants. 
TrailblazUS Outdoors
This inclusive community welcomes all to join them in the great outdoors! TrailBlazUS Outdoors hosts multiple guided hiking tour events throughout the year to connect people of all backgrounds through education, movement, and reflection.    
The H2O Life
Hiking Healing (H2) and Outdoors (O) leads guided hiking tours and other outdoor activities and provides guidance and resources to facilitate natural and spiritual healing in the outdoors.  
---
Paddle Tours
Rock/Creek Adventures Ocoee Rafting Trips
For adventures outside of Chattanooga proper, Rock/Creek and Nantahala Outdoor Center offers guided whitewater rafting trips on six rivers in the Southeast, including two trips on the infamous Ocoee River in Eastern Tennessee, full of fun rapids, leaving you soaked and smiling. 
L2 Outside Sunset Paddles
Perhaps one of the best places to experience a Chattanooga sunset is from right on the Tennessee River, The and this guided tour allows you to do just that. The 90-minute trips are offered on Saturdays and Sundays and explore downtown's favorite sights via paddleboard before finishing with a serene sunset. 
Whitewater Rafting Tours
Located about an hour from Chattanooga in the Cherokee National Forest, the Ocoee River is home to Class III and Class IV rapids, making the Ocoee one of the top whitewater rafting locations in the country. With all the so many exciting rapids and waves, there are many outfitters to choose from when planning your whitewater rafting trip.   
River Canyon Adventures
Whether you want to go with a guide or on your own, River Canyon Adventures will help get on the water. Rent a kayak or paddle board and start your self-guided tour paddle through the beautiful Tennessee River Gorge. 
Outshine Adventures
Explore Chattanooga's scenic waterways and natural landscapes with immersive outdoor eco-tours. Outshine Adventures offers many adventurous experiences including paddling down the Tennessee River and to Nickajack Cave at sunset and provides custom tours just for your group!  
---
See the City Tours
Chattanooga Segway Tours
Hop onto a zippy Segway PT and see the city with ease on one of these spectacular and informative sightseeing trips. Chattanooga Segway Tours offers two options: a two-hour excursion around the historic downtown area, and a 1.5-hour outing through Northshore and Coolidge Park. You're likely to enjoy it enough to do both. 
Chattanooga Ducks
This iconic Chattanooga activity is a fascinating one-hour land and water tour all in one. The amphibious WWII duck boats take passengers on a drive around downtown Chattanooga before plunging straight into the Tennessee River for a trip around Maclellan Island. Along the way, your driver will regale you with interesting facts and humorous anecdotes about the city and the river. 
Tennessee Valley Railroad
This beautiful early 20th-century passenger train whisks its passengers out of the city and into some of the most peaceful and pleasant scenery in the region. Tours range from one hour to all day and include destinations like Missionary Ridge, Summerville, and Chickamauga, plus special holiday outings for Christmas, Valentine's Day, and more. 
Southern Belle Riverboat Cruises
Chattanooga's elegant riverboat offers several fabulous sightseeing tours on the Tennessee River all-year long. Cruises range from two to three hours and include options like sunset tours, fall foliage trips, and moonlight cruises. Food and beverages are served on board, so you can kick back and relax as you admire the Tennessee River Gorge. 
Chattanooga Ghost Tours
See the spooky side of the city with one of five different tours that explore ghostly happenings throughout the downtown area. You'll visit and learn about places in the city with documented ghost sightings, and some tours even let you use special devices to monitor paranormal activity. 
Little Vehicle Tours with Adventure Sports Innovation
Adventure Sports Innovation offers a Little Vehicle Tour of Downtown Chattanooga. Choose from their "little vehicle" fleet of electric bikes, scooters, and more. You'll get an insider's view of the city while having a blast riding an innovative personal transportation device. 
---
New
Tennessee Aquarium's Deep Dive Tours
There are plenty of fish in the sea, and even more to see at the Tennessee Aquarium! With the Deeper Dives guided tours, you'll say "Good morning!" to some of the amazing animals at the Tennessee Aquarium. During this in-depth exploration, an aquarium educator leads you through both River and Ocean Journeys for an exclusive 1.5-hour tour before the aquarium opens to the public. 
---
Bonus
Swincar Tour
On this high-tech trip with Adventure Sports Innovation, you can explore trails while driving a rugged four-wheeled vehicle called a Swincar. The backcountry tours can be 60 or 90 minutes and launch from Reflection Riding Arboretum and Nature Center's scenic property at the base of Lookout Mountain. 
---
Chattanooga Travel Inspiration Magazine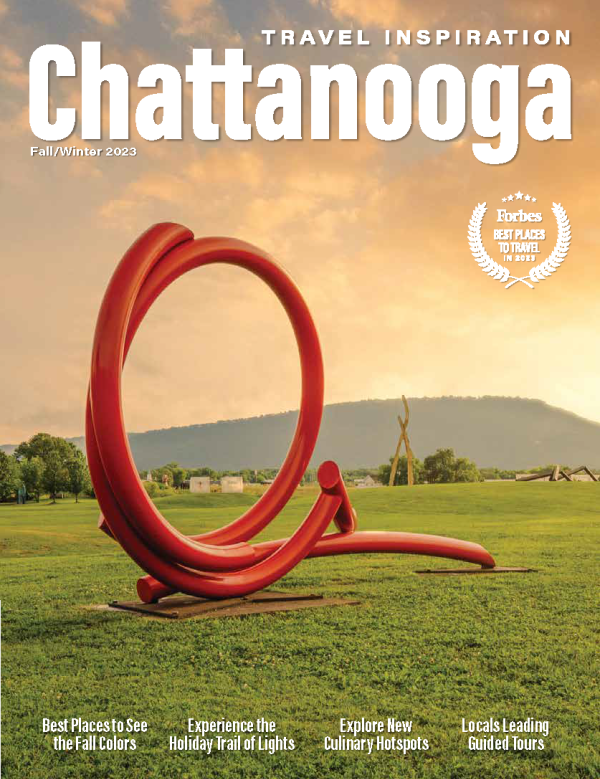 A version of this story was previously published in the 2023 Fall & Winter edition of our Travel Inspiration Magazine.