Check out Chattanooga Tourism Co. staff's summer PLAYlist! These are our go-to's for exploring the Chattanooga area in the summer when the sun is hot, the drinks are cold, and the creeks + evening jams are just beckoning you to visit. And who knows, you just might discover some hits you want to put on repeat for yourself!
Elena – Sunsets and Sweet Treats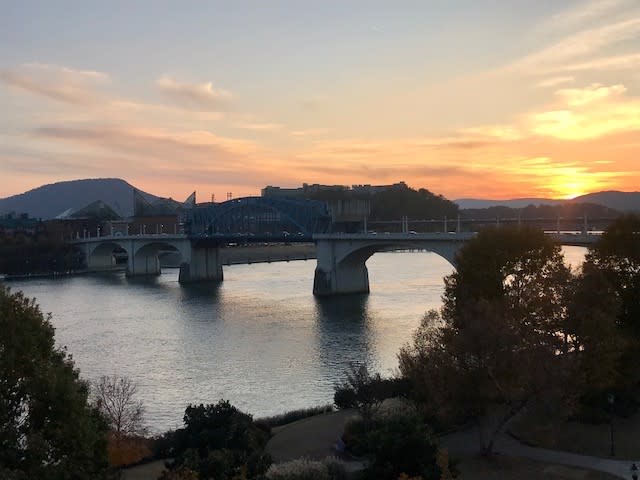 During the summer, my husband and I like to go to the Walnut Street Bridge for sunsets. The sunset view is perfect from the bridge, as it sets behind the mountains and shines across the river. It's also energizing and refreshing to walk across a body of water on a hot day and see boats passing by, and people having fun at Coolidge Park and Ross's Landing.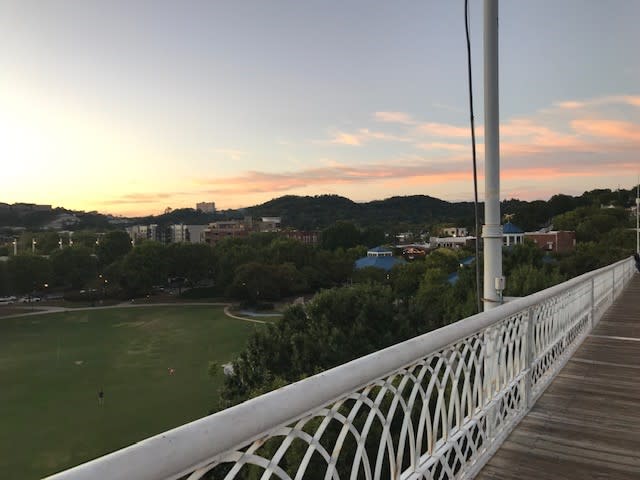 For dinner, we try to rotate between the restaurants on each side of the bridge. They all offer great food and enough variety to keep us feeling adventurous throughout the summer evenings.
We usually grab refreshments and dessert after dinner at Rembrandt's Coffee House. I love their tea selection and the variety of pastries. They have a daily flavored iced tea choice, and my favorite pastry there: chocolate rum balls.
Sarah – Waterfall Hikes and Peanut Butter Milkshakes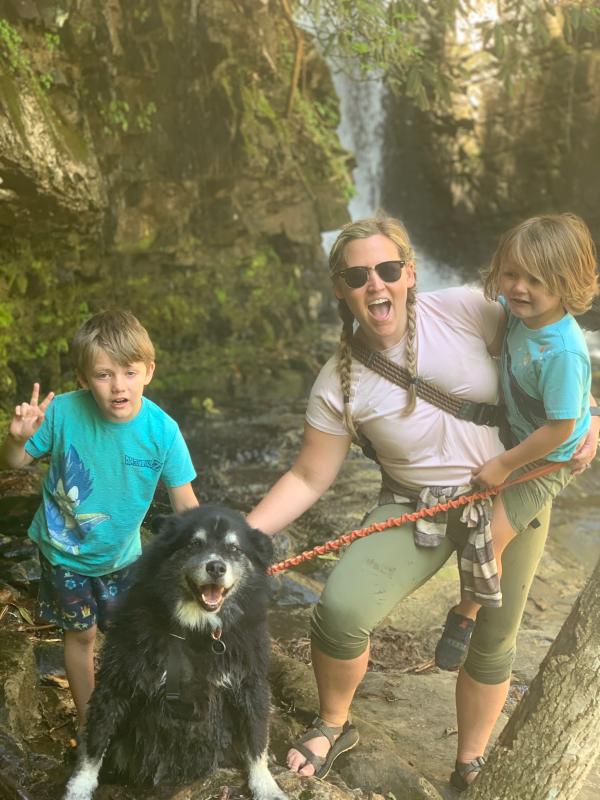 When it's really hot, we love to head to the Ocoee for one of our favorite hikes: Clemmer Trail. Now that we have young kids, we don't hike the full 9+ mile trail, but follow the trail beside (and through) the creek about 1.5 miles upstream to the first waterfall. A couple of creek crossings keep you cool going up and back down again for a 3-mile trek. I definitely recommended exploring more of the trail if you can!
On our way out, we always stop at Shake Shack because we've totally earned the calories! This isn't the chain fast-food joint, but a 1950s, family-owned drive-in that has great homemade burgers + more. Their curly fries and peanut butter milkshake are my favorite.
Ellen—Farms, Live Music, Local Chef Creations + More
Kid-friendly:
Every year I have my nephews come visit and last summer I took them to Flat Top Mountain Farm in Soddy Daisy and they LOVED it. You can buy a bucket to keep forever and use it to pick flowers right out of their field and I think in total (bucket + flower picking) it's around $20.
Then you can head over to North Chickamauga Creek Gorge for hiking and splashing – wears the kiddos out and they have their flowers to admire after. They love it when I take them to Slick's on Main Street for burgers too then over to visit the firefighters at station 1 across the street.
Adult-friendly:
Dinner at Proof Incubator on MLK to check out new chefs and eat a huge variety of different styles of food then head over to Nightfall – if the music isn't to your taste walk back down MLK and check out local breweries.
Michelle – Accessible Outdoors and a Truly Immersive Southern Experience
I love to hike and enjoy outdoor trails. My dog loves to hike too but his breed (Pekingese/Poodle/Chihuahua mix) cannot get overheated because his snout is so short. I like to explore and swim in creeks. I've got a trick knee so I need accessible hiking and easily accessible blue holes.
Every summer we make sure to go to the 285-acre wilderness, Big Soddy Gulf. The best place around where we can hike, enjoy the trail, Lasley Falls waterfall, natural rock formations, overlooks  AND swim in the creek.
More adventurous hikers can investigate Stone Fort and hike around the area some call "Little Rock City". Lots of rock climbers practice their sport here.
Anyone interested in historic towns can stop and explore the 100-year-old bank building in Soddy Daisy which houses their Good Old Days Museum.
On our way there we stop for breakfast at Wimpie's or on our way back for lunch or dinner. They always provide a true southern restaurant experience.
Hannah – Summer Date Nights and Afternoon Family Fun
Kid-friendly:
We start by visiting some of our favorite animals at the Tennessee Aquarium's Ocean Journey—butterflies and stingrays.  (We only visit one building each visit.) Playing in the water streams and the Passage on the Aquarium plaza is another hit. Then we top it off with some tacos at Agave and Rye and enjoy a sweet treat from Cold Stone Creamery Ice Cream at Ross's Landing.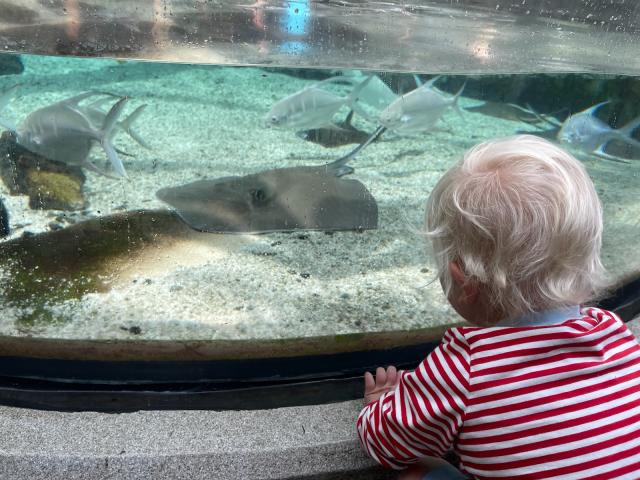 Adult-friendly:
We love to cheer on the Chattanooga Lookouts and stay for the Friday Night fireworks. Then, we'll hit up Mike's Hole in the Wall for late-night drinks and eats.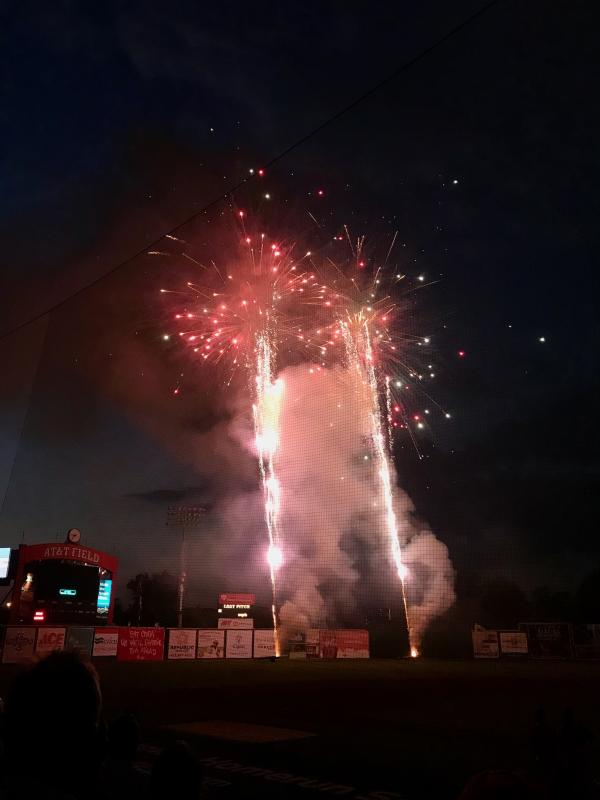 Sean – Chattabrew Tour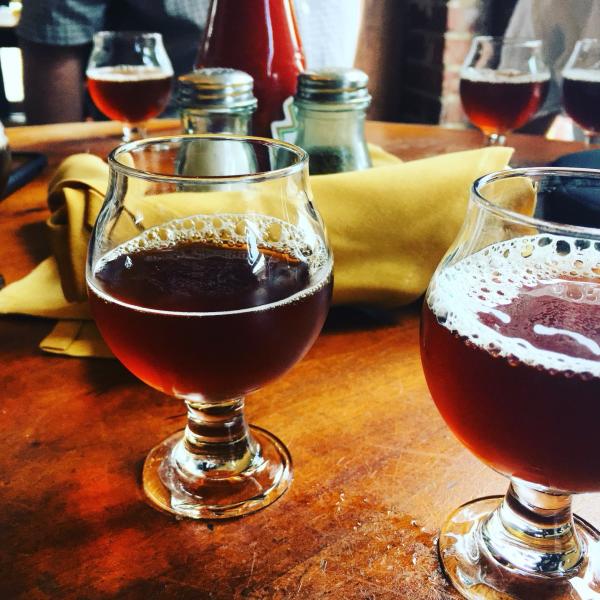 What could be better than the hot summer heat and a craft beer? How about SEVERAL craft beers? My wife and I enjoy going on a ChattaBrew Tour, riding a bright yellow bus around and sampling some of the city's best brews.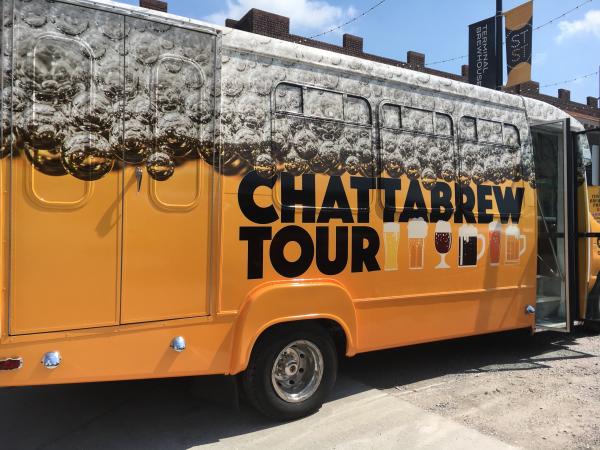 Bus tours are on Saturdays starting Memorial Day through Labor Day, but you can also book a walking tour. It's a great way to spend a few hours. And you learn a lot about our craft brew scene. I highly recommend the experience.
Allison – Boats, Burgers, and Frosé
There's one place you can find me every summer, and that's on the water. We love to rent a pontoon from River Gorge Excursions with friends or amp up the excitement and go white water rafting with Cherokee Rafting.
Afterward, we'll head straight to Main Street Meats for one of the best burgers in town. And, after a long day in the sun, I'm ordering their frosé, a frozen rosé, to cool off!
Ursula – Classic Chattanooga Hikes + La Tienda Antigua's Smoothies
My go-to summer spot will always be Rainbow Lake to Edward's Point. It's a moderate 4.5-mile hike that has you debating if you were truly ready for an uphill hike. During the springtime, you can spot a few wildflowers blossoming as well as some overgrown grass/weeds? Either way, watch out for ticks.
A great spot to refuel is La Tienda Antigua. It's a fruit smoothie bar that embraces Mexican culture plus their staff is bilingual! You can catch me ordering a strawberry and pineapple smoothie.
Lori – Lookouts, Ice Cream, and Coolidge Fountains
My kids and I spend our summer going to Lookouts games as well as spending time in Coolidge Park and walking the walnut street bridge - before crossing the bridge we always make a stop at The Ice Cream Show before going to play in the fountains in Coolidge!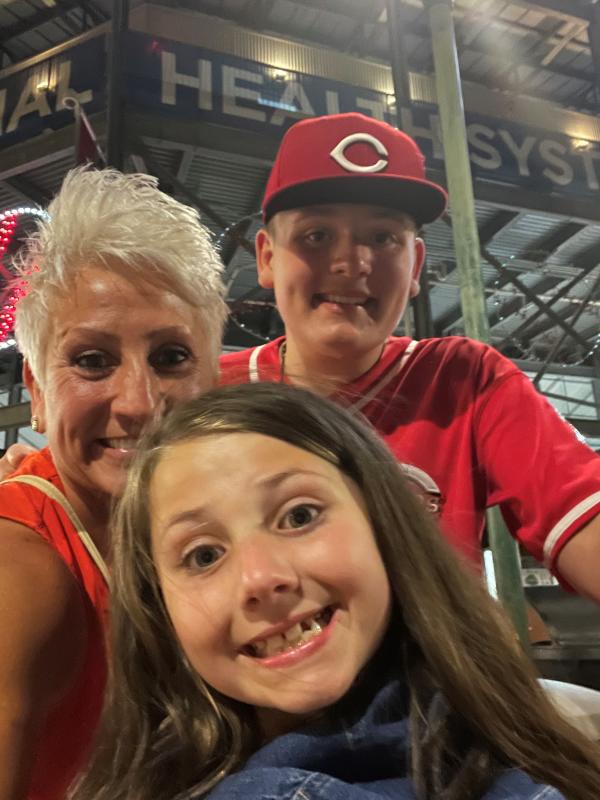 Dave – Scenic Trail Runs + Farmhouse Biscuits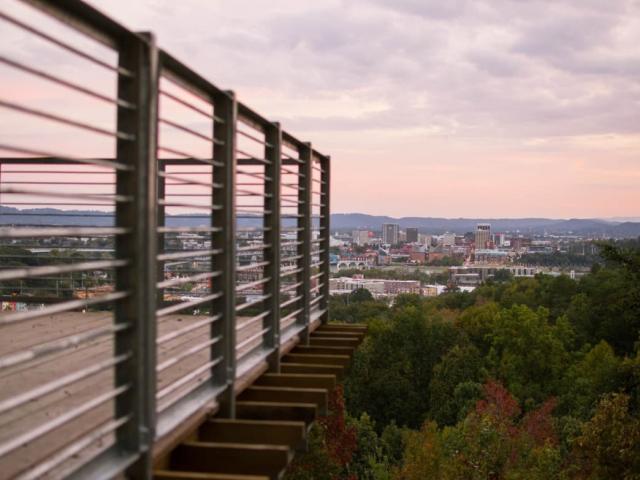 I love the well-marked trails that create seemingly endless options of length and variety of terrain at Stringer's Ridge. The viewpoints back over the city and river make for a great excuse to stop, stretch and catch your breath.
While I'm trail running, I like to listen to Moon Taxi, a great Tennessee band that I discovered at Riverbend a decade ago and is one of the headliners at Riverbend in 2022.
After my run, I love to stop by Milk and Honey in North Chattanooga for a biscuit. The Farmhouse biscuit with that local Benton's bacon is out of this world good.
Chris - Bike Chattanooga
Bike Chattanooga is an awesome and cost-effective way to get around the city! The Chattanooga Bicycle Transit System is an on-demand bike share program available to all visitors and locals and features over 40 stations + 400 bikes with miles of cycling trails. Bike Chattanooga is a fun, healthy, and cost-effective way to navigate and explore the city.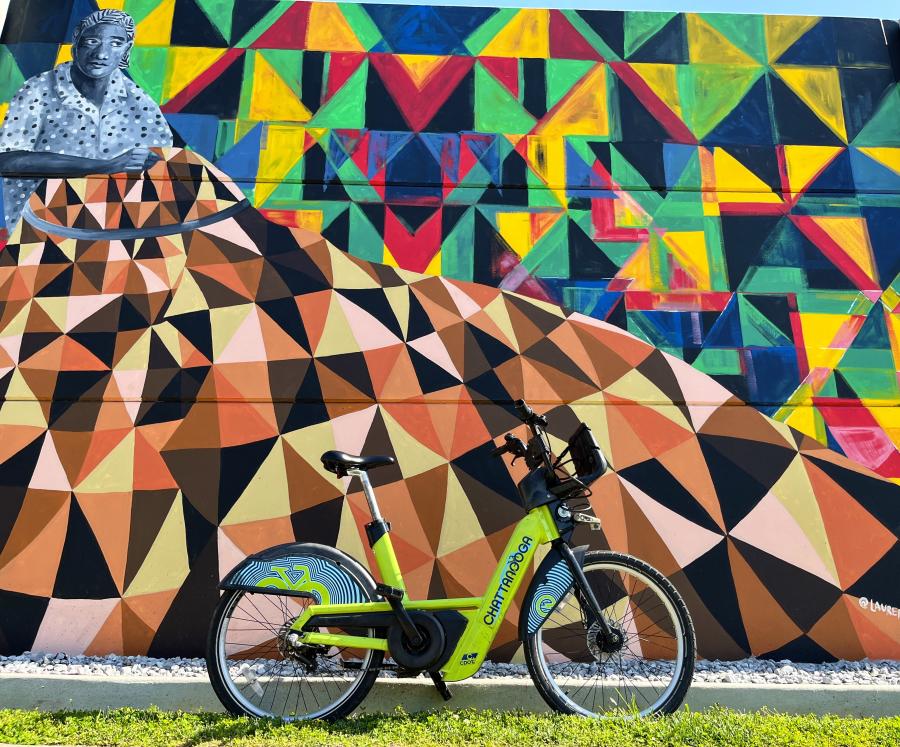 If you're looking for an enjoyable way to experience more of Chattanooga on two wheels, this is the way!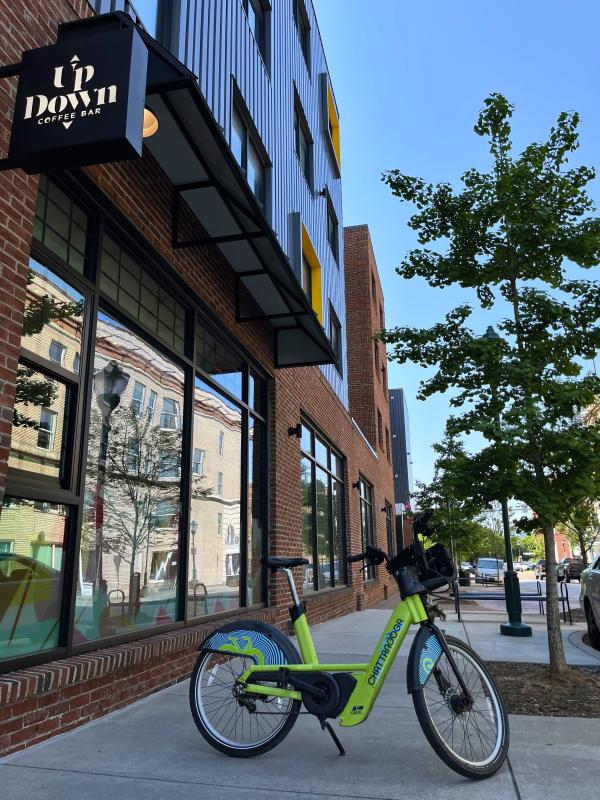 Map it!
Find all the places we mentioned on this map. 
This summer, experience the city like a local and create lasting memories with Chattanooga's Summer PLAYlist. All summer long, the Scenic City will be filled with sounds from soulful beats by Rick Rushing at Riverbend, leaves crushing under your feet on a hike at Stringer's Ridge, laughter...
Press Play