Labor Day marks that time of the year when summer starts to wind down and fall becomes the star of the show. But before swinging into autumn, it's the perfect time to make a last stand on the warm weather. Here's the rundown on Labor Day weekend happenings in Chattanooga.
FOR THE FAMILY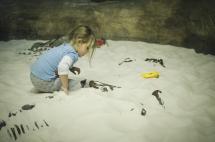 Creative Discovery Museum
Sept. 4-6 
Whether creating a clay sculpture in the Artists' Studio, zooming a message through a pneumatic tube in Inventors' Clubhouse, digging for dinosaur bones in Excavation Station, or creating an ensemble cast of characters in the Back Alley Theatre, this museum is full of hands-on family fun. The museum is following the CDC recommended guidelines to ensure customer safety. 
Dinner on the Diner
Sept. 4 & 5
Enjoy a meal aboard a restored dining car at the Tennessee Valley Railroad Museum this Labor Day. Guests will leave from Grand Junction Station around 6:30 p.m. Friday evening and 6 p.m. Saturday evening to travel through portions of urban Chattanooga returning back to the station around 9 p.m. Get your tickets for Dinner on the Diner and enjoy a night out seeing the city in a whole new way.
Chattanooga Market 
Sept. 6, 10 a.m - 2 p.m.
Spend a Sunday morning at the Chattanooga Market like a local. Come explore vendors from local farms, food artisans, body and self care and a few places dedicated to rotating artists. It's a great way to get out and spend time with the family while exploring local Chattanooga vendors. The market is open every Sunday through November 22. 
Ruby Falls Lantern Tour
Sept. 4, 9:30 p.m.
If a late-night, underground adventure sounds exciting, then head to Ruby Falls for a Lantern Tour. This intimate experience allows visitors a unique view deep within Lookout Mountain. Limited sized tours begin with a 260-foot elevator ride down into the mountain. Once in the cave, the commercial lights go off and you'll get to explore your surroundings with a handful of small hand-held electric lanterns.
FOODIES
Outdoor Dining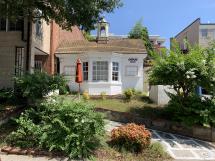 Everybody loves a restaurant with a good outdoor patio option. Lucky for you, Chattanooga offers many different spots for all your different taste buds. Click here to see a list of 14 of the best restaurants in Chattanooga with outdoor seating. From tacos to fine dining, there's something for everyone. 
Hidden Gems
If you like to venture off the beaten path for your meals, click here to get a list off grub you won't find anywhere else. Experience Greek cuisine from Opa that transports you to Santorini, Greece all the way to the Chatter Box where you'll find the best brisket and pulled pork in town. 
ART LOVERS
The F Word: We Mean Female!
Aug. 21, 2020-Jan. 2021
On the occasion of the 100th anniversary of women's suffrage in the U.S., the Hunter Museum of American Art celebrates many of the incredible works in its collection by female artists. Spotlighting larger installation pieces, many of which are rarely on view, the exhibition will include a range of artworks with a mix of subjects, styles and media. Come and check this special exhibit out as well as the limited time exhibit Depicting the Invisible.
Depicting the Invisible
Aug. 20, 2020-May 9, 2021
Depicting the Invisible, the Hunter's newest Collection Focus exhibition, which presents the lasting impact of wartime trauma. The title of this exhibition is borrowed from artist Susan J. Barron's series, Depicting the Invisible: A Portrait Series of Veterans Suffering from PTSD. Two of Barron's large-scale, black-and-white portraits anchor the gallery, alongside historic works from the Hunter's collection by artists Leonard Baskin, Miriam Beerman, Leon Golub, and Jeffrey Wolin. Together, these works represent somber images that respond to the brutality of war and the spirit of human survival.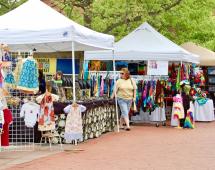 Chattanooga River Market
Sept. 5 & 6, 10 a.m.-5 p.m.
Against the beautiful Tennessee River, the Chattanooga River Market boasts the unique talents of local and regional artists, offering handmade arts and crafts. Special engagements are featured each week, such as free yoga classes at 10 a.m. (bring your own mat please) and live performances by local musicians. The Chattanooga River Market is a great way to spend a Saturday afternoon.
NATURE ENTHUSIASTS
Riverboat Cruises 
Chattanooga prides itself on its river and floating the cool waters has never been easier. From steamers to historic WWII landing crafts, there's plenty of ways to get your riverboat cruise on. If a more hands-on approach is your style, try renting a kayak/SUP board from L2 Outside or River Drifters. You can even try out the Kymera E-Jet Bodyboard or the Lift E-Foil Surfboard from Adventure Sports Innovation to change things up. 
Adventure to a Swimming Hole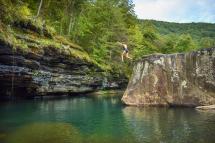 Swimming holes are what Southeastern summers are all about. Chattanooga is home to some seriously incredible places to take a dip – especially on hot and humid days. Here's a sampling of some of our favorite places in the Chattanooga area to cool off.
Hiwassee River Trip (Class 2 Rapids) 
Sept. 4-Sept.7
Enjoy a weekend on the River with Hiwassee Outfitters! The Hiwassee is one of the most beautiful rivers in the South and is designated as a Tennessee State Scenic River. The Class I and II whitewater is great for a family raft float or trying out a funyak. This experience includes 2 hours on the water, total trip time approximately 4 hours. Bring the family and enjoy the outdoors this Labor Day. Click here for more information.