Loading up in the RV brings anticipation of adventures ahead – what will you see on the road? Who will you meet in the campground? What stories will you share around the campfire? Road trips are an American pastime and more popular than ever this year. RV travel allows you to bring a piece of home with you and a familiar, safe place to rest your head at night. During the day, the experiences to be had are endless, especially in Chattanooga. 
Located less than a two-hour drive from Atlanta, Nashville, Knoxville, Huntsville and Birmingham, Chattanooga is an easy road trip for a RV getaway. The Scenic City's natural wonders, miles of trails and Tennessee River flowing through the heart of downtown offer hours of fun and adventure. 
Whether you and your family are trying RV travel for the first time or are experienced campers, we have tips and insights to plan a successful trip. We'll share where to park, where to stay, what to do and where to eat in this helpful guide to planning your RV trip to Chattanooga. 
Our friendly Visitors Center staff are available by phone for any additional questions/recommendations. Call us any time between 8:30 a.m. and 4:30 p.m., Monday-Friday, at (800) 322-3344. 
Chattanooga's Location and Geography 
Chattanooga is centrally located in the south, at the intersection of Interstate 24 and 75 and just east of Interstate 59. The Tennessee River winds its way through Chattanooga, which is surrounded by Lookout and Signal Mountains as well as Missionary and Stringer's Ridges. The river, mountains and valleys offer hours of fresh air and outdoor exploring. 
Where to Stay in Your RV 
There is not overnight RV parking in downtown Chattanooga, so the best option is to snag a spot at one of the many RV parks in the area. Start searching our Where to Stay Listings, by selecting "Categories" and filtering for "Campgrounds and RV Parks." Here are a few RV parks we recommend: 
Located about a 30-minute drive up I-75 from downtown Chattanooga, campsites are set amid the rolling hills between the Cumberland Plateau and the Appalachians. The KOA features RV sites, lodging and tent sites and amenities like games, a swimming pool, pavilion and dog park. Nearby is the Ocoee River, one of the most impressive whitewater rivers in the nation, as well as Red Clay State Historic Park, where you can enjoy a picnic, hike the trail to Overlook Tower and stop by Blue Hole Spring. 
Raccoon Mountain Caverns & Campground 
Only a 10-minute drive west of downtown Chattanooga, Raccoon Mountain Campground offers the closest camping to Chattanooga and Lookout Mountain.  The campground offers RV sites, tent sites and rustic cabins. Amenities include a pool, playgrounds, fitness center, pavilion, club house and various games. Enjoy a relaxing stay with a great view of Lookout and Aetna Mountains. For extra adventure, hike up the mountain for a beautiful view of Lookout Valley or visit the campground's natural cave to see wonders below. The top of Raccoon Mountain includes a manmade lake used as Tennessee Valley Authority's (TVA) pumped storage facility as well as trails for mountain biking and hiking. The overlook at the Visitors Center provides awe-inspiring views of the river and valley below. 
Located only half a mile off I-75 at the East Ridge exit south of Chattanooga, the campground is close to Chattanooga's attractions and the Chickamauga Battlefield, one of six units that make up the Chickamauga Chattanooga National Military Park. Holiday Travel Park has pull-thru sites, cabins & cottages, an oversized pool, playground, dog park, a fully accessible bath house and outdoor pavilion. 
Nestled in the foothills of the Appalachian Mountains, historic Lookout Mountain is to the east, and downtown Chattanooga is only 15 minutes away. The campground has 37 acres of native Appalachian forest, beautiful mountain views, rustic cabins and RV and tent sites. Amenities include a saltwater pool, inflatable jumping pillow for kids, gemstone panning, frisbee/disc golf, pet playground and obstacle course.
Navigating in an RV 
Traveling by RV can be challenging when planning a day away from the campground, but getting to see Chattanooga is oh-so rewarding. We've rounded up a couple easy ways to experience Chattanooga when your RV is your only way to get around. We've also listed some additional excursions if you have a car with your RV as well as options for rideshare like Lyft/Uber. 
Park Your RV & Play Downtown 
Once you know where you're staying for the night, it's time to venture out and explore Chattanooga. The Tennessee Aquarium and other points downtown offer RV parking. To explore downtown attractions, restaurants and more, we recommend the parking for oversized vehicles near the aquarium on the south side of Riverfront Parkway under Olgiati Bridge (160 Riverfront Pkwy, Chattanooga, TN 37402). This is a great starting point to leave the RV parked for the day and explore all of downtown using the free electric shuttle. Looking for more parking options? View the Chattanooga Parking Authority maps.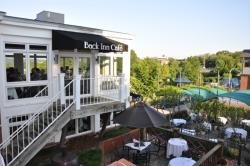 Beginning at the Tennessee Aquarium, meet thousands of creatures in the exhibits at the River's Journey and Ocean's Journey buildings, located on the banks of the Tennessee River. Afterward, wander up First Street to the Walnut Street Bridge, one of the longest pedestrian bridges in the world. Then, meander through the gardens and sculptures at Bluff View Art District. This is a great spot for your family to have lunch outdoors at Tony's Pasta Shop or Rembrandt's.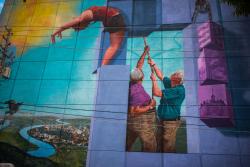 After lunch, walk back down First Street and pick up the free electric shuttle at Shuttle Park North (215 Broad St.). There are a couple route options. Take the shuttle across the Tennessee River to the NorthShore, and enjoy the 13-acre Coolidge Park, numerous shops and restaurants on Frazier Avenue. Or ride it all the way to Shuttle Park South at the Chattanooga Choo Choo campus on the Southside. Along the way, hop off to explore the Creative Discovery Museum, Bessie Smith Cultural Center and public art like the city block-sized MLK Mural, "We Will Not Be Satisfied Until" by Meg Saligman. 
Once at the Chattanooga Choo Choo campus, you'll find plenty of family fun like the Escape Experience and the Glenn Miller Gardens. For dinner, restaurants STIR and the Terminal Brewhouse are a couple of the many options on the Southside, which also offer outdoor seating. Across Market Street, load up on campfire treats at the Hot Chocolatier or enjoy an ice cream from Clumpies. 
Once you've explored the Southside by foot, you can ride the shuttle back to the Riverfront. The Southern Belle Riverboat is a perfect opportunity for an evening cruise on the Tennessee River before you head back to your campground. 
Bring Your RV to Explore Lookout Mountain 
Start at the base of Lookout Mountain and park at the Lookout Mountain Incline Railway, featuring America's Most Amazing Mile. A roundtrip ride in new air conditioned and fully wheelchair accessible rail cars provides sweeping views of the Tennessee Valley. At the top of Lookout Mountain, enjoy the view of the horseshoe bend in the Tennessee River from Point Park. 
Once back down, drive your RV up Lookout, stopping at Ruby Falls, the largest waterfall open to the public in the U.S., located in the heart of the mountain. Ruby Falls has limited parking for RVs and recommends arriving before 10 a.m. or after 4 p.m. Upon arrival, a parking lot attendant will direct you where to park.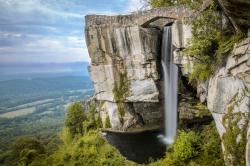 After diving deep into the earth to marvel at this wonder, continue onto Rock City. Known for its unique geological and botanical wonders, the enchanted walking trail is a true marvel of nature, featuring massive ancient rock formations, a 140-foot waterfall that cascades down Lookout Mountain, a panoramic view of seven states and a swinging bridge. Rock City has parking to accommodate buses, RVs and trailers. When approaching, watch for the big black and white Rock City arrow sign and then, the signs that direct "Buses, Campers, & Trailers." 
When making your way to and from Ruby Falls and Rock City, note that you will be traveling on two-lane mountain roads through a residential community that requires a commitment to safe driving. Just take it slow, and you're good to go. 
Excursions by Car 
Other can't-miss family experiences you can get to by car or by taxi, Uber or Lyft include the Chattanooga Zoo and its new giraffes or the Tennessee Valley Railroad Museum and the Missionary Ridge Ride. Both of these also have plenty of RV parking if you don't have a car or don't want to use rideshare. 
Chattanooga has miles of trails, waterfalls, creeks and mountains throughout local, state and national parks – some are even in the backyard of your campground! Check out these additional ideas for 5 Great Hikes or 5 Awesome Swimming Holes for even more adventure.