Spring Break Safari: National Medal of Honor Heritage Center
What if you could. . . 
. . . become a Hero after learning more about patriotism, courage, integrity, sacrifice and commitment that our country's Medal of Honor recipients have shown at the National Medal of Honor Heritage Center? 
Become a Hero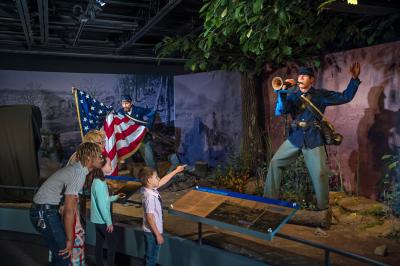 No matter who you are, you can be a hero!
A visit to the National Medal of Honor Heritage Center will inspire you with the values demonstrated by Medal of Honor recipients - Patriotism, Citizenship, Courage, Integrity, Sacrifice, and Commitment.  Every recipient has a narrative that is relevant to what we do – whether it be on a battlefield, in the classroom or board room or in everyday life. Kids are sure to leave encouraged knowing that they too have the potential to be a hero.
The National Medal of Honor Heritage Center located in the heart of downtown Chattanooga offers an immersive experience that puts visitors in the boots of Medal of Honor recipients and brings their heroic stories to life. Stories of ordinary people who demonstrated extraordinary heroism under the most difficult circumstances.
"Being a HERO means overcoming tremendous odds through sacrifice, service, and holding to important values." 
Details
PPE: Free masks are available for any guests who wish to wear them. 
Tickets: Timed entry tickets can be purchased online.
Hours: Hours: Mon.– Sat., 9 a.m. – 5 p.m. & Sun. 10 a.m. – 3:30 p.m.
Website  |  Facebook |  Instagram |  Twitter |  YouTube
2 W. Aquarium Way, Chattanooga, TN 37402 (on the TN Aquarium plaza)  |  423-877-2525