ChattaBOOga! - Where Thrilling Adventures Await
Chattanooga Transforms to ChattaBOOga! 
In October, Chattanooga transforms into ChattaBOOga! The fun and frights to be had are not of the typical haunted city. For the bravest of souls, test your nerves with an intense haunted experience crawling with terrifying creatures, chilling ghost tours of Chattanooga's most haunted spots or a race against time to stop a runaway train at an escape room. For more mild experiences, gather the family to enjoy trick-or-treating at the zoo or an aquarium visit on weird creatures with abilities and behaviors that seem stranger than any legend or myth. ChattaBOOga! offers thrilling, chilling adventures you can't experience anywhere else. 
Dread Hollow ($)
September – October 2020
Nightmares know no boundaries as Ruby Falls Haunted Cavern and Fear Connection team up for a frightening experience. Hidden in plain sight in Lookout Valley, Dread Hollow appears to be like any other unassuming small town found in the shadows of highways and byways. Visitors are unaware of what truly lies within - until it is too late. Dread Hollow's cryptic reality and appalling past loom ominously inside 20,000 square feet of pure terror. Dread Hollow is a "10 Best Haunted Attraction" in Tennessee according to Best of American Towns. Not recommended for children under 12 years old. 321 Browns Ferry Rd., Chattanooga, TN 37419. 
Chattanooga Ghost Tours ($)
Nightly Tours Through November | Friday & Saturday From December to February
Named one of the "Top 10 Ghost Tours in the U.S." by TripAdvisor and USA Today, Chattanooga Ghost Tours takes you on a chilling adventure to the city's most haunted spots. Be prepared to open Pandora's Box of apparitions and hear stories of the city's restless dead during the Murder & Mayhem Tour. Special ghost hunt tours use the SLS Ghost Viewer, Ovilus X, and the new Poltercom. Don't forget to bring your camera as ghost orbs, mists & even fully formed figures occasionally appear in photos at some sites on the tour. Kids are welcome at parents own discretion. Reservations strongly recommended. Tours are rain or shine. Be sure to wander through the haunted steampunk theme gift shop!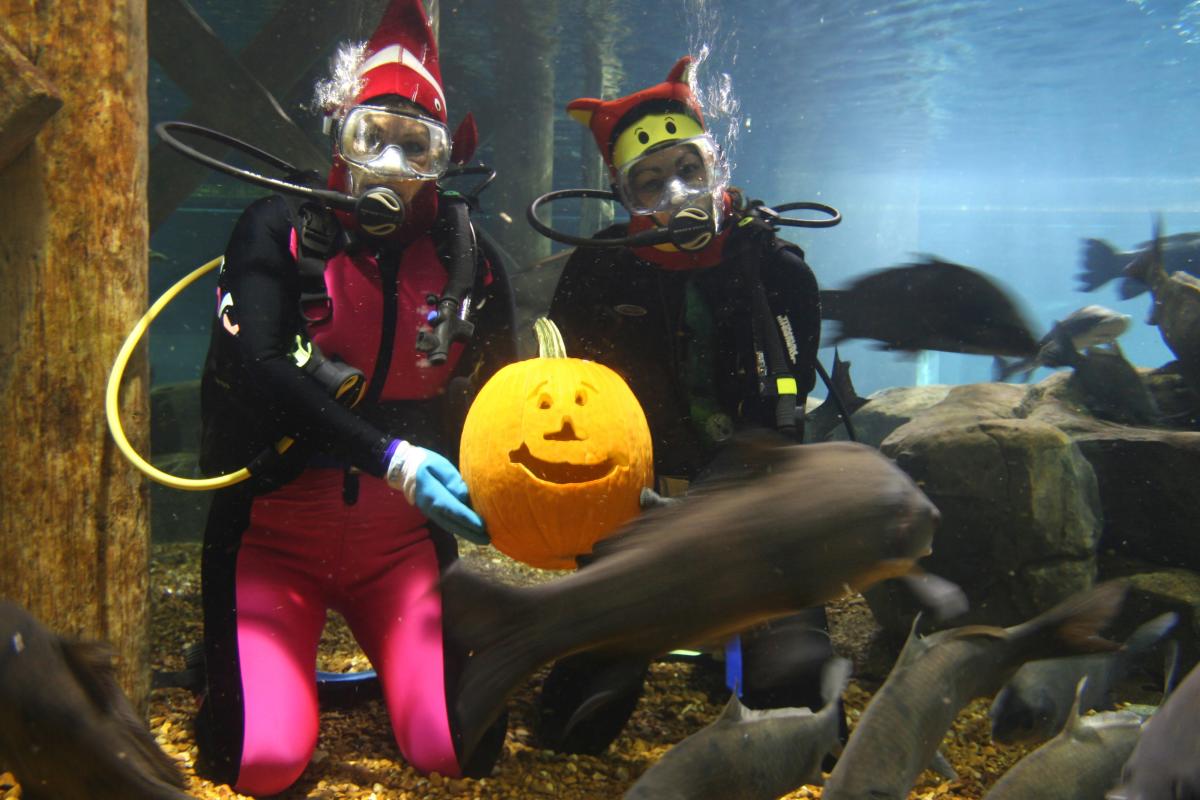 Tennessee Aquarium's ODDtober: When Nature is Stranger than Fiction ($)
October 2020
During ODDtober, the Tennessee Aquarium celebrates wonderful and weird creatures whose abilities and behaviors seem stranger than any legend or myth. Get up close to not-so-creepy crawlies that are way too cool to be scary – a chameleon that changes colors; a Blue Morpho butterfly that goes from brownish-grey to vivid, iridescent blue; and a Pufferfish that inflates with water or air, changes its skin color and moves its eyes independently! The Featured Creature schedule varies per day. On Saturdays, see SCUBA divers carve spooky pumpkins underwater as fish and turtles swim by. Come in costume and celebrate a family-friendly night of spooky critters and yummy treats at AquaScarium. Make friends with mermaids, lounge with lemurs, get your groove on at the Monster Mash dance party and enjoy candy stations. 
Chattanooga Zoo's Boo in the Zoo ($)
October 2020
Boo in the Zoo is a family-oriented Halloween celebration with some of the Chattanooga Zoo's most lovable animals. Activities for children include photos with costumed characters, a scavenger hunt, animal enrichment activities, trick or treating, costume contest, games, haunted bounce house, ghost grab, Monster Smash, Mystery Maze, haunted hayrides, snacks and more. This non-scary Halloween event is sure to create lasting memories for the whole family! 
Escape Experience Chattanooga ($) 
Times and Dates Vary 
Escape Experience in Chattanooga creates truly immersive experiences designed to stimulate your senses, pull at your emotions and place you in environments that are believable and above all fun. The breakout games look, feel and sound realistic. They create much more than just escape room games. They create Escape Experiences! Get in the Halloween spirit by trying the thrilling experiences like Runaway Train Transport, Inheritance Mystery Room and The Bunker.